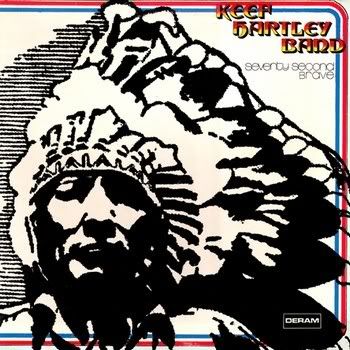 Keef
Hartley
Band -
Seventy Second Brave -
1972 -
Deram

Seventy Second Brave was the last Keef Hartley Band studio album. Hartley, often dressed as an American Indian, in full headdress and war paint, and was very popular on the small club circuit. His was one of the few British bands to play the Woodstock Festival, where critics compared him with Blood, Sweat And Tears. Not a bad comparison! Evidence of Gary's future signature style was more evident on this album than on any of the other KHB albums. Check out the killer "funky chicken" bass on the album. Quite a good recording, with some excellent funky jazz rock passages. Check out his 1970 "The Time Is Near" album, which is the best example of the Keef Hartley sound.
TRACKS
A1.Heartbreakin' Woman
Written-By - J. Kerr
A2.Marin County
Written-By - C. Mercer
A3.Hard Pill To Swallow
Written-By - P. Wingfield
A4.Don't You Be Long
Written-By - J. Kerr
B1.Nicturns
Written-By - C. Crowe
B2.Don't Sign It
Written-By - C. Mercer
B3.Always Thinkin' Of You
Written-By - C. Crowe
B4.You Say You're Together Now
Written-By - G.Thain
B5.What It Is
Written-By - C. Crowe
BAND
Junior Kerr - Guitar, Vocals
Pete Wingfield - Piano, Vocals
Gary Thain - Bass Guitar, Vocals
Chris Mercer - Tenor Sax, Baritone Sax
Nick Newell - Alto Sax, Flute
Keef Hartley - Drums
Mick Weaver - Organ
BIO
b. 8 March 1944, Preston, Lancashire, England. Together with Colosseum, the Keef Hartley Band of the late 60s, forged jazz and rock music sympathetically to appeal to the UK progressive music scene. Drummer Hartley had already had vast experience in live performances as Ringo Starr's replacement in Rory Storm And The Hurricanes. When Merseybeat died, Hartley was enlisted by the London-based R&B band the Artwoods, whose line-up included future Deep Purple leader Jon Lord. Hartley was present on their only album Art Gallery (now a much sought-after collector's item). He joined John Mayall's Bluesbreakers and was present during one of Mayall's vintage periods. Both Crusade and Diary Of A Band highlighted Hartley's economical drumming and faultless timing. The brass-laden instrumental track on John Mayall's Bare Wires is titled "Hartley Quits". The good-natured banter between Hartley and his ex-boss continued onto Hartley's strong debut Half Breed. The opening track "Hearts And Flowers" has the voice of Mayall on the telephone officially sacking Hartley, albeit tongue-in-cheek, while the closing track "Sacked" has Hartley dismissing Mayall! The music intervening features some of the best ever late 60s jazz-influenced blues, and the album remains an undiscovered classic.
The band for the first album comprised Miller Anderson (b. 12 April 1945, Johnston, Renfrewshire, Scotland; guitar and vocals), Gary Thain (b. 15 May 1948, Wellington, New Zealand, d. 19 March 1976; bass), Peter Dines (b. 17 December 1944, Hertford, England, d. 28 January 2004; organ) and Spit James (guitar). Later members to join Hartley's fluid line-up included Mick Weaver (aka Wynder K. Frog) organ, Henry Lowther (b. 11 July 1941, Leicester, England; trumpet/violin), Jimmy Jewell (saxophone), Johnny Almond (flute), Jon Hiseman (who guested on percussion and congas) and Harry Beckett. Hartley, often dressed as an American Indian, sometimes soberly, sometimes in full headdress and war paint, was a popular attraction on the small club scene. His was one of the few British bands to play the Woodstock Festival, where his critics compared him favourably with Blood, Sweat And Tears. The Battle Of NW6 in 1969 further enhanced his club reputation, although chart success still eluded him. By the time of the third album both Lowther and Jewell had departed, although Hartley always maintained that his band was like a jazz band, in that musicians could come and go and be free to play with other aggregations.
Dave Caswell and Lyle Jenkins came in and made The Time Is Near. This album demonstrated Miller Anderson's fine songwriting ability, and long-time producer Neil Slaven's excellent production. They were justly rewarded when the album briefly nudged its way into the UK and US charts. Subsequent albums lost the fire that Hartley kindled on the first three, although the formation of his Little Big Band and the subsequent live album had some fine moments. The recording at London's Marquee club saw the largest ever band assembled on the tiny stage; almost the entire British jazz/rock fraternity seemed to be present, including Chris Mercer, Lynn Dobson, Ray Warleigh, Barbara Thompson, and Derek Wadsworth. By the time Seventy Second Brave was released, Anderson had departed having signed a contract as a solo artist. He was clearly the jewel in Hartley's crown (or headgear) and the cohesion that Anderson gave the band as the main songwriter, lead vocalist and lead guitar was instantly lost. Future recordings also lacked Slaven's even production. Hartley and Anderson came together again in 1974 for one album as Dog Soldier but Hartley has been largely inactive in music for many years apart from the occasional tour with John Mayall and sessions with Michael Chapman. In the mid-90s he had a carpentry business in Preston, Lancashire, and although it is alleged that he no longer owns a drumkit attempts were made in the mid-90s to re-form the original line-up. A highly undervalued band requiring reappraisal.
DISCOGRAPHY: Halfbreed (Deram 1969)****, Battle Of NW6 (Deram 1970)***, The Time Is Near (Deram 1970)****, Overdog (Deram 1971)**, Little Big Band (Deram 1971)***, Seventy Second Brave (Deram 1972)**, Lancashire Hustler (Deram 1973)*, as Dog Soldier Dog Soldier (Deram 1975)**.
COMPILATIONS: The Best Of Keef Hartley (Decca 1972)***, Not Foolish Not Wise (Mooncrest 1999)**.
Encyclopedia of Popular Music
Copyright Muze UK Ltd. 1989 - 2004