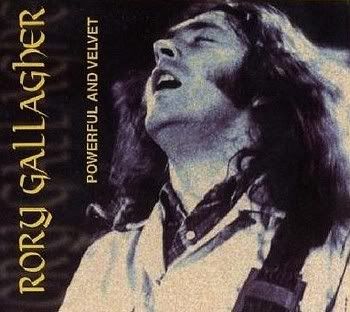 Rory Gallagher -
Powerful And Velvet -
1980 -
Frog Eater Records
A great unofficial recording from the late
Rory Gallagher,
the
Donegal
born Blues King, and one of
Ireland's
greatest sons. Jimi Hendrix was once asked in an interview, "What does it feel like to be the World's Best Guitarist", he replied "I don't know, ask
Rory Gallagher."
Fair comment from Jimi! Tracks like "I Could Have Had Religion" are played in the purest blues fashion.
Rory's
rendition of the great "Bullfrog Blues" which may be from a Lille concert in 1978 is another terrific track. .Can anybody help me out on exact dates, locations, musicians, etc. According to the vague sleeve notes, Tracks 1 - 6 were never released before? Can this be true? I doubt it! Track 4 is supposedly from his
"Irish Tour 74"
album, but I am not certain about this. Please excuse the sound quality, and comments are most welcome. Check out his landmark "Live In Europe" album @
D/LOAD
TRACKS / DETAILS (WHERE KNOWN)
01 Do You Read Me
02 Secret Agent
03 Moonchild
04 Too Much Alcohol (Short Acoustic Version) - (From his
Irish tour 74
)
05
Going To My Hometown
06 Bullfrog Blues
07 Bought And Sought - (Live Lille, October 10th 1978)
08 Right Mama - (Live French TV)
09 Too Much Alcohol (Electric Long Version) - (Recorded in Europe, March 1972)
10 I Could Have Had Religion - ( Live, Recorded in Europe, March 1972)
11 Shin Kickers - (Live 1980)
12 All Around Man - (Live - Taken from "The Old Grey Whistle Test" BBC TV Rock Show