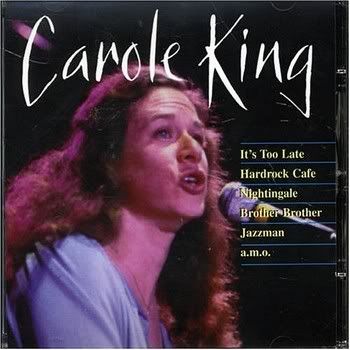 Carole King
-
Hardrock Cafe
-
2005
-
Falcon
Good compilation album featuring many of the classic King, King/Goffin numbers. There is no need to elaborate on the talents of this lady. Suffice to say that the lady is a legend, and her "Tapestry" album is probably owned by half the world's population. At one point in time, the album spent over six years in the charts, and is still selling today, especially with the new edition on release. Although she has written many memorable songs for other artists, her song, "You've Got a Friend," a huge hit for James Taylor has got to be one of the most beautiful and endearing pop songs ever written. There is info on her "One To One" album @
CKING/121
TRACKS
1. It's Too Late
2. So Far Away
3. I Feel The Earth Move
4. Been To Canaan
5. Brother Brother
6. It Might As Well Rain Until September
7. Jazzman
8. Smackwater Jack
9. Believe In Humanity
10. Only Love Is Real
11. Sweet Seasons
12. Corazon
13. Nightingale
14. Hardrock Cafe
N.B:
It is not easy to find detailed info about this album. It has definitely been released as a 45 track, 3 CD set by Falcon (UK) records in 2005. Falcon also issued a condensed 14 track single CD album which is posted here. Another Carole King "Hardrock Cafe" album has been issued on PHANTOM SOUND AND VISION records. Any info would be appreciated on this release.

BIO
[ © David Collins [ from Contemporary Musicians, December 1991 , Volume: 6, by David Collins , www.concentric.net/~Jjones24/carole.html]

An introspective, stage-frightened woman with a wispy though resonant voice, Carole King seemed an unlikely bet in the early 1970s to become one of the top-selling recording artists of all time. But she moved quickly into that elite class with just one album, 1971's Tapestry, which by itself has sold more than 14 million copies worldwide and was the best-selling LP of all time until the Bee Gees surpassed it at the height of the disco craze with their Saturday Night Fever soundtrack. While Tapestry made King a household name as a singer, her previous career as a songwriter had already firmly established her reputation in recording industry circles. As Jon Pareles and Patricia Romanowski reported in the Rolling Stone Encyclopedia of Rock, "King has had two outstanding careers. Throughout the Sixties, she was one of pop's most prolific songwriters, writing the music to songs like 'Will You Love Me Tomorrow' and 'Up on the Roof,' with most lyrics by her first husband, Gerry Goffin. Then in 1971, with her multimillion-selling Tapestry, she helped inaugurate the Seventies' singer/songwriter style." King seemed to arrive at the peak of her talents just in time to take advantage of a post-psychedelic generation that yearned for songs with a more personal, acoustic sound and lyrics that reflected simpler values. Actually, King's arrival at the superstar level was due more to a long fermentation in the shadows of the music industry. Born Carole Klein on February 9, 1942, in Brooklyn, New York, King took an early interest in music and had formed her first band, the Co-sines, while still in high school. While attending Queens College, King met Goffin; the two began what would become a long personal and professional relationship. Along with notable songwriters Neil Sedaka--a childhood friend of King's--Cynthia Weil, and Barry Mann, King and Goffin joined Al Nevins and Don Kirshner's Aldon Music company and composed hundreds of songs in the Brill Building's cubicles, famous for incubating hit songs for decades. In 1961, King--who was not yet 20--and Goffin had their first hit when "Will You Love Me Tomorrow" became a Number One single for the Shirelles. In the early 1960s there was a strong push among music publishers for songs written exclusively for black artists; King's longtime interest in rhythm and blues stylings gave her a head start on the competition, as evidenced by the Drifters's Top Ten hit with the King-Goffin composition "Up on the Roof." Soon, Goffin and King were the hottest songwriters in the business. They followed their chart-topping success with the hits "Hi-De-Ho" for Blood, Sweat, and Tears, "One Fine Day" for the Chiffons, "Natural Woman" for Aretha Franklin, "Oh, No, Not My Baby" for Maxine Brown, and "Locomotion," the Number One hit the Goffins wrote for their seventeen-year-old baby-sitter, Little Eva. As Jon Landau wrote in Rolling Stone: "The songs of Goffin and King are superb examples of the songwriting craft of the Sixties. Finely honed to meet the demands of the clients who commissioned them, and written with the requirements of AM radio always firmly in mind, they still managed to express themselves in a rich and personal way. Like Hollywood directors who learned how to make the limitations of the system work for them and in the process created something of their own pop vision." A mid-1960s attempt by Goffin, King, and Al Aronowitz to launch their own Tomorrow label failed, as did the Goffin marriage, which ended in divorce and King's move to Los Angeles with their two daughters. King was relatively inactive during this period, although she did continue to write both music and lyrics. In 1968 she formed a group called The City with bassist Charles Larkey--who would become her second husband--and Danny Kortchmar, a former member of the New York City club band Flying Machine, who introduced King to that group's vocalist, James Taylor. Because of King's stage fright, The City never toured; their only LP was an unsuccessful effort for Lou Adler's Ode label called Now That Everything's Been Said . At this point it was Taylor who provided the encouragement King needed to take the next logical step in her career. Taylor had been much impressed by many of King's compositions for The City, particularly "You've Got a Friend," which he later turned into a hit himself. Taylor urged King to continue to write and record her own songs; the result was the 1970 album Writer, which displayed flashes of a new maturity in King's writing along with her richly textured piano chords. Writer enjoyed just enough success to merit another solo effort, Tapestry, which featured the hits "I Feel the Earth Move," "So Far Away," "It's Too Late," and King's own version of "You've Got a Friend," which Taylor had already taken to Number One on U.S. charts. Tapestry made it to Number One on the album charts, scored four Top Ten hit singles, and remained on the charts for 302 straight weeks--until 1977. Understandably, King could never quite duplicate the incredible success of Tapestry, but for a period of years after its release she continued to produce quality work on LPs like Music, Rhymes and Reason, Fantasy, and Wrap Around Joy. King switched to Capitol Records in 1975 and immediately produced the gold record Simple Things, but it seemed clear by this time that her most productive period had passed. She continued recording into the 1980s, but sporadically and never with as much success as in earlier years. By that time she had become something of a recluse, preferring to live quietly in her Idaho home and make only a few concert appearances. King did, however, break new ground in her career in 1988 by appearing in an off-Broadway play called A Minor Incident.