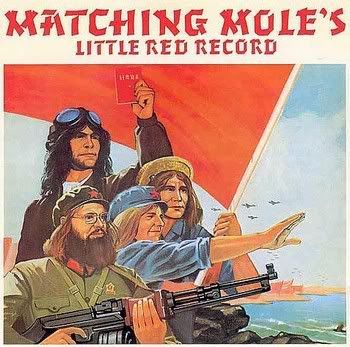 Matching Mole
-
Little Red Record
-
1972
-
CBS
UK
Matching Mole's second album is, to me, their more definitive hour. Here, the rest of the band has more of an input, as opposed to being more of a Wyatt project, with Robert only contributing the lyrics to this release. This functions as somewhat of a tradeoff for most listeners. On one hand, Little Red Record lacks the charming Wyatt-penned ditties like "O Caroline" and "Signed Curtain", but we do get to enjoy a full and focused album of biting jazz fusion more akin to the middle portions of the first album. The album takes what I feel were Matching Mole's real strengths and builds on them, with great contributions from Phil Miller and new full-time keyboardist Dave McRae. "Marchides" rocks out with some thundering drums and fuzzed out bass lines providing the basis for Miller's sizzling guitar attack. The band's disjointed take on jazz rock and Canterbury works supremely for me throughout the next three songs. They include great playing from all parties, along with an angular sense of daring and dissonance, and snatches of surreal melodies. This is all coupled with wry English humor, tongue-in-cheek socialist propaganda, and a female voice whispering amusing sexual innuendoes -- blending together in what seems like one extended jam. "Gloria Gloom" breaks down into a more ambient feel, with snippets of conversation going on over more of Wyatt's subtle and humorous lyrics ("How can I pretend that music is more relevant, than fighting for a socialist world?"). "God Song" is a brilliant piece of trademark Wyatt lyricism, a sarcastically clever shot at religion. The album closes out with "Flora Fidgit", with a melodic guitar riff and shimmering electric piano, and the atmospheric "Smoke Signal". The album was produced by Robert Fripp and features Brian Eno guesting on synthesizer for "Gloria Gloom", though neither's involvement in the project is eminently noticeable. Overall, this is a sublime piece of exceedingly unique Canterbury, blending a number of influences and balancing the Wyatt factor with more of a Hatfield & The North vibe. The little bits socialist commentary are, of course, only half joking (Robert Wyatt was in fact a dedicated communist) and add a unique charm, not to mention the fact that Little Red Record possesses one of the most subtle, amusing album covers in progressive rock. Neither of Matching Mole's albums are particularly good places to start exploring Canterbury, and one would probably have to be well versed with bands like National Health, Caravan and the Hatfield albums to really be able to get into this, but if you're feeling adventurous, Little Red Record is a must. © Greg Northrup [April 2001] © 2002, The Giant Progweed
Eccentric progressive Canterbury jazz rock fusion. You may not be impressed with this type of music. Most music critics lambasted the album, calling it meaningless garbage, among other compliments! The truth is - you either like Matching Mole's unique sound, or you use it for a frisbee!
A.O.O.F.C
praises it for it's totally unorthodox and nonconformist style of progressive jazz rock. It's very original,. very English, especially Robert Wyatt's vocals, and has the great Wyatt's "like it or lump it" attitude stamped all over it. Some of the inane background voices are reminiscent of The Goon Show,Syd Barrett or Monthy Python, again very English, and are very humorous. Not to be taken seriously, these insane ramblings add to the musical eccentricities, and somehow fit in with the surrounding music. The nusicians, including Dave MacRae, and Brian Eno produce some brilliant innovative musical passages that could have come from 2002 rather than 1972. Some of the tracks are very short, leaving no room to develop the music, but this is a common trait of these early works by groups like Egg, Gong, etc. The longer tracks are more inventive, and really worth listening to.This is a great Canterbury rock album, and is HR by
A.O.O.F.C
. Check out MM's "Smoke Signals" album and listen to Robert Wyatt's "Rock Bottom" album. For other Canterbury Rock albums, give Hatfield & The North's "The Rotters Club" a listen, or Caravan's "For Girls Who Grow Plump In The Night". It is also worthwhile listening to albums by Can, Gong, and Henry Cow. And please give these albums more than one listen!
TRACKS / COMPOSERS
A1 Starting In The Middle Of The Day We Can Drink Our Politics Away - (MacRae/Wyatt) – 2:31
A2 Marchides - (MacRae) – 8:25
A3 Nan True's Hole - (Miller) – 3:37
A4 Righteous Rhumba (aka "Lything And Gracing") - (Miller) – 2:50
A5 Brandy As In Benj - (MacRae) – 4:24
B1 Gloria Gloom - (MacCormick/Wyatt) – 8:05
B2 God Song - (Miller/Wyatt) – 2:59
B3 Flora Fidgit - (MacCormick) – 3:27
B4 Smoke Signal - (MacRae) – 6:38
MUSICIANS
Bass - Bill MacCormick
Drums, Vocals - Robert Wyatt
Guitar, Keyboards - Phil Miller
Fender Rhodes electric piano, piano, organ, synthesizer - Dave MacRae
Synthesizer (on "Gloria Gloom") - Brian Eno
Vocals -
Ruby Crystal
, David Gale,
Little Honest Injun
Producer - Robert Fripp
BIO (Wikipedia)
Matching Mole was a UK progressive rock band from the Canterbury scene best known for the song "O Caroline". Robert Wyatt formed the band in October 1971 after he left Soft Machine and recorded his first solo album The End of an Ear. He continued his role on vocals and drums and was joined by David Sinclair, of Caravan, on organ and piano, Phil Miller on guitar and Bill MacCormick, formerly of Quiet Sun, on bass. The name is a pun on Machine Molle, the French translation of the name of Wyatt's previous group Soft Machine. Their first, eponymous album was released in April 1972, the bulk of which was composed by Wyatt himself, with the exception of the lush mellotron-laced "O Caroline" (a Dave Sinclair composition with lyrics by Wyatt about his recent breakup with girlfriend Caroline Coon) and Phil Miller's "Part Of The Dance". For their second album, Matching Mole's Little Red Record, released in November 1972 and produced by Robert Fripp, Sinclair was replaced by New Zealand-born keyboard player and composer Dave MacRae who had already played a guest role on the first album. This album was more of a team effort, with Wyatt concentrating on lyrics and vocal melodies and leaving the composing to his bandmates. Matching Mole disbanded in late September 1972 immediately upon completion of a European tour supporting Soft Machine, with Sinclair and Miller going on to form the more successful Hatfield and the North. A new lineup - consisting of Wyatt, MacCormick, ex-Curved Air keyboardist Francis Monkman and jazz saxophonist Gary Windo - was due to record a third album in 1973, but this was cancelled when Wyatt fell from a window and was paralysed from the waist down and was therefore unable to continue drumming.