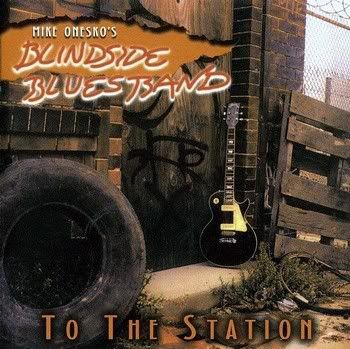 Mike Onesko's
Blindside Blues Band
-
To The Station
-
1996
-
Blues Bureau Int'l

A very experienced musician, Mike Onesko has produced and performed with great musicians like Pat Travers ,Leslie West, Rick Derringer, Aynsley Dunbar ,and Neal Schon. There are no outstanding tracks here, but this is not blues rock in the Mick Abrahams or Peter Green tradition, and is obviously produced for the commercial stadium rock market. However, it is still a very enjoyable rock 'n blues album, full of energy, with great vocals, and guitar. The band is ably assisted by the great Aynsley Dunbar on drums, and Jody Counter on guitar. Buy Mike Onesko's "Smokehouse Sessions" album, which has a more traditional blues rock style, and is better suited to Mike Onesko's vocals and great guitar skills. "Smokehouse Sessions" covers many classic blues songs by Leadbelly, Robert Johnson, Jimi Hendrix, and Robert Johnson.
TRACKS / COMPOSERS
1 To the Station - Onesko
2 I'm Not Your Man - Yenrav
3 Take His Keys - Onesko
4 Whirlwind - Yenrav
5 Natural Thang - Onesko
6 Worn Out Shoe - Yenrav
7 Fade Away - Onesko
8 Get Outta My Way - Yenrav
9 Hurting Me - Onesko
10 All I Need - Yenrav
MUSICIANS
Mike Onesko - Guitars, Vocals
Aynsley Dunbar - Drums
James Lomenzo - Bass
Mike Varney - Guitars
Parris Bertolucci - Organ
Jody Counter - Second middle guitar solo on "Get Outta My Way"
REVIEW
For To the Station, Mike Onesko assembled a hard rock soupergroup and set out to record a heavy blues power-trio album. Though much of the album comes across as slick AOR, not gritty downhome blues, there are moments when Onesko's throaty, impassioned vocals kick the record into high gear. During those times, you wonder why he didn't just make a striaght blues-rock album instead of diluting his music in an attempt to broaden his appeal with dated arena rock production. © Thom Owens, All Music Guide
MIKE ONESKO BIO
At the ripe old age of 17 Mike Onesko left his native Fairview Park Ohio for the greener pastures of San Francisco with just $60 and his guitar he hitchhiked his way across country till he
arrived in S.F. Upon arrival he formed a power trio called Sundog and started exploring his musical journey playing long jams and heavy sabbath type riffs. Next was Steelwind a five piece outfit with keyboards, That featured John Warmouth on drums and Walker Kaeck(I Think I,m in Love) On vocals. They Headlined at Kezar Stadium just three years after Led Zeppelin played there!The Kwik and Three Man Army were next and they opened for many acts such as Robin Trower,Montrose,Nazareth,Great White,Mitch Ryder, and Clarence Clemons. Mike was discovered in the clubs of Marin County California by Shrapnel records President Mike Varney! They formed the Blindside Blues Band with Scott Johnson on guitar,and Jeff Martin on drums and Gregg Chaisson on bass guitar.They put out three records with this lineup.Although Gregg played on the records he never did any live shows with the band!That duty was filled admirably by Kier Staeheli. The last Shrapnel lineup for the Blindside Blues Band was Mike Onesko,Mike Varney,Aysnley Dunbar,James Lomenzo. Mike produced and played on Cream of The Crop a tribute to Cream where he produced and performed with Pat Travers,Leslie West Tim Bogert,Rick Derrigner,Glenn Hughes,Neal Schon ,and many more!Mike went on to Comet Records in Italy to record many great records such as Mike Onesko,s Guitar Army,Smokehouse Sessions, Live At The Torrita Blues Festival,Italy,and Voodoo Crossing and Gypsy Blood both hendrix tributes.Recently,Mike and The Blindside Blues Band just completed their new release with the help of many friends! Davey Pattison,Mike Varney,Derek Reeve,Barry Prior,Jeff Martin is back in the fold! Those lineups included Emery Ceo current Blindside Blues Band MemberEmery Ceo ranks as one of the great unknown drummers of all time.Combining great jazz improvisation with the killer rock chops to balance it out! You can catch them all on the new Blindside Blues Band release, "Keepers Of The Flame". © www.mikeoneskoband.com/MUSIC.html