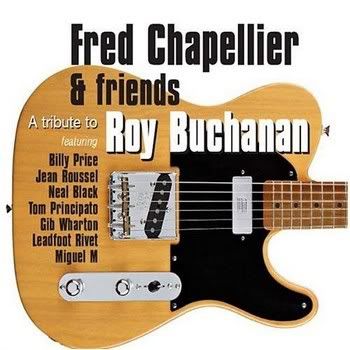 Fred Chapellier
&
Friends
-
A Tribute To Roy Buc
hanan
-
2007
-
Dixiefrog
Roy Buchanan is among a long list of brilliant blues guitarists, who spent their lives creating great music, and yet remained relatively unknown to global audiences. The award winning French blues guitarist Fred Chapellier was impressed by Roy Buchanan's wonderful skills from an early age, and Roy has always been an immense influence on Fred's playing. This album contains some great blues guitar work with songs by Roy Buchanan, Fred Chappelier and other blues standards. For this tribute Fred Chapellier runs through a few of Roy Buchanan's most popular songs with the help of some ace musicians, including the great US guitarist Neal Black, Tom Principato, a regular jamming pal of Roy Buchanan, Miguel M, Gib Wharton and Lightfoot Rivet. Billy Price, the former lead vocalist with Roy Buchanan, pays his own special tribute here by providibg lead vocals, and he makes this album really special. The album was produced by Jean Roussel, who also produced one of Roy's last albums,"You're Not Alone". He also produced, composed and recorded with great artists like Cat Stevens, Bob Marley, The Police, 10cc & Thin Lizzy. Jean plays keyboards on this album, which is a fitting tribute to the genius of the late great six-string guru. Fred Chapellier was quoted as saying this about Roy's guitar playing, - " The sound of a guitar that grabbed my soul and pieced my heart like nothing I had ever heard before." This is a first class album which is full of quality and pays suitable homage to the late bluesman's unique talent. Buy Roy Buchanan's great 1973 "Second Album" album. His "Roy Buchanan American Axe: Live In 1974" is also an outstanding album. There is info on Roy Buchanan's "Messiah On Guitar" album @
RBUCH/MONG
It is also worth your while to listen to the 2003 "Blues Devil" album by The Fred Chapellier Blues Band, although it's not easy to find. Info on this album may possibly appear on this blog in the near future.
TRACK INFO
High Wire
I can't lose the blues
My baby says she's gonna leave me (feat. Miguel M)
After hours
Blues for Roy (feat. Tom Principato and Leadfoot Rivet)
Further on up the road (feat. Neal Black)
A nickle and a nail (feat. Billy Price)
Reelin' and rockin'
Beer drinking woman (feat.Tom Principato and Leadfoot Rivet)
The chokin' kind feat. Miguel M
That's what i'm here for
The Messiah will come again
Rockin' Roy
That's what i'm here for (instrumental)
MUSICIANS
Fred Chapellier - Guitar
Billy Price - Vocals
Neal Black - Guitar
Tom Principato - Guitar
Gib Wharton - Pedal Steel Guitar
Jean Alain Roussel - Keyboards
Miguel M
Lightfoot Rivet
REVIEW
Finally an tribute project that was due a long time. We have witnessed plenty of various tribute albums dedicated to different music people, but it took a relatively unknown musician (at least in this part of Europe!) to do a tribute to one of the most important blues and rock guitarists in music history, Roy Buchanan. And what a fine tribute it is! Fred Chapellier is an excellent guitarist who emphasizes big influence Roy Buchanan has on his music and this tribute is almost perfect homage to guitar great. Fred has managed to intrigue some very interesting people to take part in this project, some of them were directly connected with Buchanan (producer, arranger and keyboard player Jean Roussel and Billy Price, vocalist in Roy's band for years). They all did justice to Buchanan's material whose legend will live on through Fred's project. This is one class product which is heartily recommended to all fans of Roy Buchanan and music fans in general. All tracks are great, but my personal favorites are "After Hours", "The Chokin' Kind", "Blues for Roy" and "A Nickel and a Nail". © Vasja Ivanovski, © Blesok 1998-2009, all rights reserved
ABOUT FRED CHAPPELIER
Fred was born in 1966 in Metz, France . He started playing drums he was 12 years old until 1981... Then, at the tender age of 15, he started playing guitar. "EUREKA" - the revelation ! Immediately, he felt the call of the blues and along the years, found himself accompanying the likes of : Don Ray Johnson, Boney Fields, Audrey Madison, Nina Van Horn, Neal Black and many other "blues" giants (in Fred's eyes). In his search for more creative freedom, he formed his own band, "The Fred Chapellier Blues Band" with Pat Machenaud, Abder Benachour & Damien Cornelis, and they recorded two albums - "Blues Devil" (2003) and "l'Oeil du Blues" (2005) ! In 2004, he was acclaimed "Best New Blues Artist of The Year" and "Best Guitar Player of The Year" by "Les Trophées France Blues" ... In January 2007 Fred called upon his friend - producer, arranger, composer & keyboard Maestro Jean Alain Roussel, with whom he had struck up a solid friendship while playing on an album Jean had produced for world music artist N'Tomo in 2006, to embark on a joint-adventure, a "Tribute to Roy Buchanan" album - Fred's main "guitar hero/reference"...Terms agreed, and songs chosen, Fred proceeded to record & engineer the basic tracks at his "Dream Records Studio" in Châlons en Champagne, calling upon several long-time friends & guests, including Tom Principato, Billy Price, Neal Black, Miguel M, as well as members of Fred's own "Blues Band", to perform, with Jean assuming the "Producer" role (Jean had produced & composed for Roy Buchanan, & recorded with Cat Stevens, Bob Marley, The Police, 10cc & Thin Lizzy etc)... Then, off Fred went to Jean's "Shakti Studios" near Paris to complete the production under the guidance of Jean behind the recording console, after transferring the original HD recordings to computer. After several "back & forths" to re-record two original songs by Fred & Jean, they recruited Jean's right-hand man, guitar playing engineer Thomas Ottogalli(www.myspace.com/thomasottogalli) to mix the album... The finished product was immediately picked up for France, by "DIXIEFROG RECORDS"... The album, "Fred Chapellier & friends - A Tribute to Roy Buchanan" will be available throughout France, as of the 9th. November, 2007.They are working on a worldwide distribution deal. Fred will be playing some dates in November with Billy Price who sang with Roy Buchanan from 1973 to 1976 (www.billyprice.com)... You wanna know what the blues is all about ? Then - go to see Fred on stage ! You WILL be AMAZED ! ! !.....
ABOUT BILLY PRICE
Billy Price, blue-eyed soul man, is the former lead vocalist with Roy Buchanan and founder of Billy Price & the Keystone Rhythm Band. He has been entertaining Pittsburgh and east coast audiences for more than 35 years. The Billy Price Band began in 1990. Current members are Steve Delach, Paul Thompson, Jimmy Britton, Dave Dodd, Rick Matt, Eric DeFade, and Joe Herndon. Check out his "East End Avenue" album.