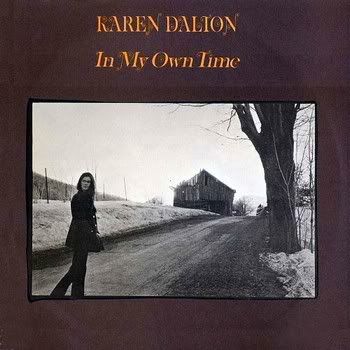 Karen Dalton
-
In My Own Time
-
1971
-
Just Sunshine Records
There are voices, and then there are voices. Sometimes the ones that move us most are those most on the edge: the ones racked with pain, the ones that sound beyond hope. One such belongs to the late Karen Dalton, a tragic half-Cherokee, half-Irish beauty who left a paltry but bewitching legacy of two official albums, the second (In My Own Time) reissued for the first time by a tiny label called Light In The Attic. © Barney Hoskyns, Rock's Backpages, May 2008
In My Own Time, was recorded at Mercury Sound Studios, and the famous Bearsville Sound Studios near Woodstock, N.Y., over a six month period in 1970/71 with Dylan sideman Harvey Brooks directing an elite gathering of session players. The album was originally released on the Just Sunshine Records label which was owned by Michael Lang, famous for his promotion of the great sixties Woodstock Festival. It was a more polished recording than Karen's loose, and "rough at the edges" debut album, but it totally flopped. It was not easy to make an impact on the folk/blues record scene in America in the early seventies, as artists like James Taylor, Carole King, and many other talented singer/songwriters were coming to the forefront of American popular music. Karen was very uneasy in the environment of a recording studio She also suffered from stage fright and her material was written by other composers. All these factors did nothing to help or promote Karen's new album or career. After the commercial failure of the album, Karen spent little time with music, and developed an alcohol and drugs problem, which was a prevalent problem at that time, affecting the humblest musicians, to megastars like Hendrix and Morrison. Dylan sideman Harvey Brooks stated that - "I only knew her as an addicted personality," "She had drug problems the whole time I knew her. She had a painful personality, and I think she did drugs to soothe the pain." How she lived her final years and how she died is not completely certain.. Lenny Kaye, guitarist for Patti Smith, described Karen's last days as "living on the New York streets, destitute, her health gone," but Dalton's friend, guitarist Peter Walker tells a different story. "Let me put to rest these ideas that she died in destitute poverty and drug addicted homelessness," he states. "She was perfectly functional mentally. She was living in Hurley, in upstate New York. She lived with AIDS for more than eight years, but with an excellent quality of life considering the disease." Whatever the story, since the 1960s Karen Dalton has been an ongoing inspiration to many folk rock musicians, including Bob Dylan, Devendra Banhart, Lucinda Williams and Joanna Newsom. There has never been a singer to equal the late Karen Dalton's voice of intense passion, and raw beauty, which sometimes sounds as if it's "cracking" with a "pent up" emotion. She remains an important lady in the development of great folk and blues music" In My Own Time" was re-issued on Vinyl LP, and remastered CD on Light In The Attic Records in 2006. Try and listen to her "It's So Hard to Tell Who's Going to Love You the Best" album. If anybody is aware of any other recordings by Karen,
A.O.O.F.C
would be most appreciative of any info.
TRACKS / COMPOSERS
A1 Something On Your Mind - Valente
A2 When A Man Loves A Woman - Lewis, Wright
A3 In My Own Dream - Butterfield
A4 Katie Cruel - Traditional
A5 How Sweet It Is - Dozier, Holland, Holland
B1 In A Station - Manuel
B2 Take Me - Jones, Payne
B3 Same Old Man - Traditional
B4 One Night Of Love - Tate
B5 Are You Leaving For The Country - Tucker
MUSICIANS
Vocals, Guitar [12 String], Banjo, Arranged By - Karen Dalton
Bass, Recorded By, Producer, Arranged By - Harvey Brooks
Clarinet [Belch] - Robert Fritz
Drums - Dennis Whitted , Dennis Siewell , Greg Thomas
Guitar - Amos Garrett , Dan Hankin
Guitar [Steel] - Bill Kieth
Organ - Ken Pearson
Piano - John Simon , Richard Bell
Saxophone [Tenor] - Hart McNee
Trumpet - Marcus Doubleday
Violin - Bobby Notkoff
REVIEW
In My Own Time is the second and last album the mercurial singer Karen Dalton ever cut. Following It's So Hard to Tell Who's Going to Love You the Best, producers Michael Lang and Harvey Brooks (Dalton's longtime friend and the bassist on both her records) did something decidedly different on In My Own Time (titled after the slow process of getting the album done — in Dalton's relaxed and idiosyncratic manner of recording), and the result is a more polished effort than her cozy, somewhat more raw debut. This time out, Dalton had no trouble doing multiple takes, though the one chosen wasn't always the most flawless, but the most honest in terms of the song and its feel. The album was recorded at Bearsville up in Woodstock, and the session players were a decidedly more professional bunch than her Tinker Street Cafe friends who had appeared on her first effort. Amos Garrett is here, as is Bill Keith on steel, pianist John Simon, guitarist John Hall, pianist Richard Bell, and others, including a star horn section that Brooks added later. If Lang was listed as producer, it was Brooks who acted as the session boss, which included a lot of caretaking when it came to Dalton — who began recording in a more frail condition than usual since she was recovering from an illness. In My Own Time is the better of her two offerings in so many ways, not the least of which is the depth she is willing to go inside a song to draw its meaning out, even if it means her own voice cracks in the process. The material is choice, beginning with Dino Valente's gorgeous "Something on Your Mind." Brooks' rumbling single-note bassline opens it with a throb, joined by a simple timekeeping snare, pedal steel, and electric guitars. When Dalton opens her mouth and sings "Yesterday/Anyway you made it was just fine/Saw you turn your days into nighttime/Didn't you know/You can't make it without ever even trying/And something's on your mind...," a fiddle enters and the world just stops. The Billie Holiday comparisons fall by the wayside and Dalton emerges as a singer as true and impure as Nina Simone (yet sounds nothing like her), an artist who changed the way we hear music. The band begins to close in around her, and Dalton just goes right into the middle and comes out above it all. She turns the song inside herself, which is to say she turns it inside all of us and its meaning is in the sound of her voice, as if revelation were something of an everyday occurrence if we could only grasp its small truth for what it weighs. When the album moves immediately into Lewis and Wright's "When a Man Loves a Woman," Dalton reveals the other side of Percy Sledge's version. This woman who was so uncaged and outside the world that she died homeless on the streets of New York in the 1990s was already declaring the value of loving someone even if that someone couldn't return the love as profoundly — which doesn't mean it isn't appreciated in the depths of the Beloved's being. Dalton sings the song as if wishing that she herself could accept such a love. Her voice slips off the key register a couple of times, but she slides into her own, which is one of the hidden places in the tune that one didn't even know existed. The layered horns don't begin to affect her vocal; they just move it inside further. And the woman could sing the blues in a way that only Bob Dylan could, from the skeletal framework of the tune toward the truth that a blues song could convey — just check her reading of Paul Butterfield's "In My Own Dream," with some gorgeous steel playing by Keith. Her version of Holland-Dozier-Holland's "How Sweet It Is (To Be Loved by You)" has her singing completely outside the time and beat of the tune; floating through the tune's middle, she glides, slips, and slides like a jazz singer in and around its changes. Another standout is Richard Manuel's "In a Station." As a piano, rolling tom-toms, and an organ introduce it, Dalton is at her most tender; she feels and communicates the understatement in the original, and lets her voice flow through even as the band plays on top of her. And when her voice cracks, it's as if the entire tune does, just enough to let in the light in its gorgeous lyric. Of course, it wouldn't be a Dalton album if there weren't traditional tunes here, and so there are three, including "Katie Cruel," with Dalton playing her banjo and finding the same voice that Dock Boggs did, the same warped cruelty and search for the brutality of love. "Same Old Man" is another banjo-based tune set in an Eastern modal drone. Only the stark loneliness and outsider presence of Dalton's voice shift and move through the large terrain provided by that drone and create the very substance of song from within it. It's spooky, otherworldly. George Jones' "Take Me" is transformed from a plea to a statement; it's a command to the Beloved to deliver her from her current place outside love to become its very substance. It's still a country song, but there's some strange transgender delivery that crosses the loneliness of Hank Williams with the certainty of Tammy Wynette, and is rawer than both. If one can only possess one of Karen Dalton's albums, In My Own Time is the one. It creates a sound world that is simply unlike any other; it pushes the singer outside her comfort zone and therefore brings listeners to the place Dalton actually occupied as a singer. Without apology or concern for technique, she could make any song her own, creating a personal narrative that could reach outside the song itself, moving through her person and becoming the truth for the listener. The fine Light in the Attic label reissued this set — originally on Paramount — on compact disc in 2006. It's in a handsome package with remastered sound and a beautiful booklet that includes a slew of photos and essays by Lenny Kaye, Nick Cave, and Devendra Banhart. It's a handsome tribute to a nearly forgotten but oh so necessary © Thom Jurek, allmusic.com
ABOUT KAREN DALTON
A cult singer, 12-string guitarist, and banjo player of the New York 1960s folk revival, Karen Dalton still remains known to very few, despite counting the likes of Bob Dylan and Fred Neil among her acquaintances. This was partly because she seldom recorded, only making one album in the 1960s — and that didn't come out until 1969, although she had been known on the Greenwich Village circuit since the beginning of the decade. It was also partly because, unlike other folksingers of the era, she was an interpreter who did not record original material. And it was also because her voice — often compared to Billie Holiday, but with a rural twang — was too strange and inaccessible to pop audiences. Nik Venet, producer of her debut album, went as far as to remark in Goldmine, "She was very much like Billie Holiday. Let me say this, she wasn't Billie Holiday but she had that phrasing Holiday had and she was a remarkable one-of-a-kind type of thing.... Unfortunately, it's an acquired taste, you really have to look for the music." Dalton grew up in Oklahoma, moving to New York around 1960. Peter Stampfel of the Holy Modal Rounders, who was in her backup band in the early '70s, points out in his liner notes to the CD reissue of her first album that "she was the only folk singer I ever met with an authentic 'folk' background. She came to the folk music scene under her own steam, as opposed to being 'discovered' and introduced to it by people already involved in it." There is a photograph from February 1961 (now printed on the back cover of the It's So Hard to Tell Who's Going to Love You the Best reissue) of Dalton singing and playing with Fred Neil and Bob Dylan, the latter of whom was barely known at the time. Unlike her friends she was unable to even capture a recording contract, spending much of the next few years roaming around North America. Dalton was not comfortable in the studio, and her Capitol album It's So Hard to Tell Who's Going to Love You the Best came about when Nik Venet, who had tried unsuccessfully to record her several times, invited her to a Fred Neil session. He asked her to cut a Neil composition, "Little Bit of Rain," as a personal favor so he could have it in his private collection; that led to an entire album, recorded in one session, most of the tracks done in one take. Dalton recorded one more album in the early '70s, produced by Harvey Brooks (who had played on some '60s Dylan sessions). Done in Bearsville Studios in Woodstock, it, like her debut, had an eclectic assortment of traditional folk tunes, blues, covers of soul hits ("When a Man Loves a Woman," "How Sweet It Is"), and contemporary numbers by singer/songwriters (Dino Valente, the Band's Richard Manuel). The Band's "Katie's Been Gone," included on The Basement Tapes, is rumored to be about Dalton. © Richie Unterberger, allmusic.com
BIO (Wikipedia)

Dalton, whose heritage was Cherokee, was born Karen J. Cariker in Enid, Oklahoma. Her bluesy, world-weary voice is often compared to that of iconic jazz singer Billie Holiday. She sang blues, folk, country, pop, Motown -- making over each song in her own style. She played the twelve string Gibson guitar and a long neck banjo. In his 2004 autobiography, Bob Dylan wrote this in his description of discovering and joining the music scene at Greenwich Village's Cafe Wha? after arriving in New York City in 1961: "My favorite singer in the place was Karen Dalton. Karen had a voice like Billie Holiday and played guitar like Jimmy Reed... I sang with her a couple of times." Dalton's second album, In My Own Time (1971), was recorded at Bearsville Studios and originally released by Woodstock Festival promoter Michael Lang's label, Just Sunshine Records. The album was produced and arranged by Harvey Brooks, who played bass on it. (Harvey Brooks played bass also on the Miles Davis album Bitches Brew, on the Bob Dylan album Highway 61 Revisited and on the Richie Havens album Mixed Bag.) Piano player Richard Bell guested on In My Own Time. Its liner notes were written by Fred Neil and its cover photos were taken by Elliot Landy. Less well-known is Dalton's first album, It's So Hard to Tell Who's Going to Love You the Best (Capitol, 1969), which was re-released by Koch Records on CD in 1996. Both Dalton's albums were re-released in November 2006: It's So Hard To Tell Who's Going To Love You The Best, on the French Megaphone-Music label, included a bonus DVD featuring rare performance footage of Dalton. In My Own Time was re-released on CD and LP on November 7, 2006 by Light In The Attic Records. The version of the song Something on Your Mind (composed by Dino Valenti) that is sung by Dalton on her album In My Own Time is the soundtrack during the ending credits of the 2007 film Margot at the Wedding, which was written and directed by Noah Baumbach and starred Nicole Kidman and Jennifer Jason Leigh. Known as "the folk singer's answer to Billie Holiday" and "Sweet Mother K.D.", Dalton is said to be the subject of the song Katie's Been Gone (composed by Richard Manuel and Robbie Robertson) on the album The Basement Tapes by The Band and Bob Dylan. She struggled with drugs and alcohol for many years. It has been widely reported that she died in 1993 on the streets of New York City after an eight-year battle with AIDS. However, an article in Uncut magazine confirmed that Dalton was actually being cared for by the singer-songwriter Peter Walker in upstate New York during her last months.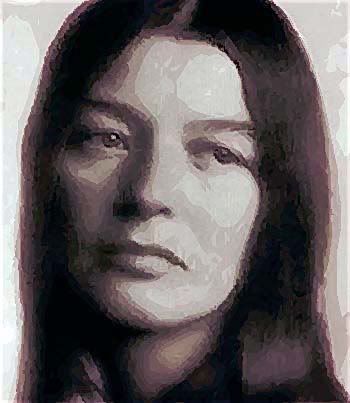 KAREN DALTON
BIOGRAPHY

The best singer you've never heard of. - Bob Dylan was a big fan, like most of those who heard the late, great vocalist. Now, 14 years after her death, Karen Dalton's time has come. 'Karen's voice is a voice for the jaded ear; a combination of Billie Holiday, Ella Fitzgerald and Jeannie Ritchie, the Appalachian singer." The country singer Lacy J Dalton is on the line from Nevada, trying to put into words the voice of Karen Dalton, whose surname she adopted in tribute. "There's a horn quality to it and her phrasing is exquisite," she says. "I once heard it described as cornmeal mush, but it's more than that. When she sang about something, you believed her." Dalton is the great lost voice of the New York's Greenwich Village folk scene in the 1960s. Hers was a voice to make the listener feel sad and lost. At times it was warm and supple, rippling over Something on Your Mind, for example; at others it was twisted and other-worldly, as when wrapped around Katie Cruel. It was a voice that earned her the tag "folk music's answer to Billie Holiday" - a comparison she loathed, but which was inevitable, Dalton's voice possessing that same welling, bluesy sadness. "She sure can sing the shit out of the blues," is how another singer on the Greenwich Village scene, Fred Neil, put it. Dalton died in 1993, but you can see her now on YouTube, standing stock still, long black hair parted in the centre, her lower two front teeth missing, that voice seeming to rise up out of nowhere. Despite her talent, Dalton has remained largely unknown, a cult favourite whose name is muttered like a secret handshake: Nick Cave labelled her his "favourite female blues singer". She has inspired Joanna Newsom and Devendra Banhart, as well. As the great folk revival wagon rolls on, Dalton, too, is starting to become known beyond a coterie of musicians. Her first record, It's So Hard to Tell You Who's Going to Love You the Best (1969), was rereleased last year, and was followed recently by her second and final album, In My Own Time (1971). It is a strange and bewitching record. That it was made at all is as remarkable as the fact that it has now been reissued. Dalton turned up in Greenwich Village in the early 60s. She had left behind her husband in Enid, Oklahoma, and arrived with her 12-string guitar, a banjo and at least one of her two children. She began to sing at the pass-the-hat folk venues that were flourishing at the time and played with Bob Dylan, Fred Neil and Richard Tucker. Dylan recalls her as "funky, lanky and sultry". "My favorite singer in the place was Karen Dalton," he remembers in Chronicles. "Karen had a voice like Billie Holiday's and played the guitar like Jimmy Reed." Lacy J Dalton rented out a room to Karen and her boyfriend, and they became firm friends. Karen served as a mentor to the younger singer, teaching her to speak songs, not sing them. "Why do you think you have to sing so loud?" she once told Lacy. "If you want to be heard you have to sing softer." Lacy was captivated, too, by Karen's story. "Her mother, Evelyn, was Cherokee. She would sleep on a brass bed in her backyard," she remembers. "And Karen was willowy with long, black native American hair. She was perfect for those times.The thing I remember most about her is a certain gentle warmth and, in her best moments, a sort of cleanness that you don't see very often in this world. She was a wonderful cook, and she could make anything grow. She was magical." Although Dalton was in the right place at the right time, hanging with the right people and boasted a rare talent, she was also self-destructive. She drank heavily, used drugs and had a tendency to disappear on a whim. She played only cover versions, and her decision to not play her own material in an era that belonged to singer-songwriters perhaps also hindered her success. She was uncomfortable performing live, and she also loathed recording - It's So Hard to Tell You Who's Going to Love You the Best was only recorded because Fred Neil fooled her into believing the tape wasn't rolling. The follow-up, In My Own Time, was recorded at Bearsville studio, near Woodstock in upstate New York, which was set up by Bob Dylans's manager, Albert Grossman. In order to make herself feel more at ease with recording, Dalton returned to Oklahoma to fetch her two teenage children, her dog and, reputedly, her horse, before going to the studio. Producer Harvey Brooks, who had played bass on Dylan's Highway 61 Revisited, recalls the sessions as fraught. "The fact that she wasn't a writer meant that we really had to create something for her," he says. "It was a lot of work, because her emotional personality had to be dealt with every step of the way. And respected." The very nature of the record brought its own problems. "This was a folk-rock record that tilted towards pop, and on pop records you concentrate on getting the performance out of someone," Brooks explains. "On folk records you accept what it is. With pop you have to work the singer. So I worked her. It took some cajoling, but she let me do it, and she liked the idea of the more pop-sounding record, but she made sure that she had Katie Cruel on there. But my favourite track is Take Me. It was done in the middle of winter and I can feel the chill in my bones when I listen to that song." Despite the album's impeccable cast, In My Own Time failed commercially. "It just didn't work out for her," says Brooks. "For some people it's just like that; they give, but they don't get. And it just broke her heart. After that, she couldn't get her life together and in the music business you have to be able to promote your product. That album didn't sell and nobody was gonna put the money up to make another." After the failure of In My Own Time, Dalton seemed to drift out of view, participating less in music and more in drink and drugs. "I only knew her as an addicted personality," says Brooks. "She had drug problems the whole time I knew her. She had a painful personality and I think she did drugs to soothe the pain." Lacy recalls that Dalton and her boyfriend "were probably dealing drugs. They did dangerous things, heavy things like heroin." Dalton once overdosed at her house. "She called me up after that and she said 'I guess it's been three weeks. It's taken me this long to call and say I guess I oughtta thank you for something.' She was furious at me for bringing her back." Dalton's unhappiness was partly personal - the failure of her marriage and her later estrangement from her children hurt her considerably, according to Lacy. But it was also part of a wider cultural despondency. "She was of the old beat generation that felt you had to be burning the candle both ends and dying of hunger to call yourself an artist," says Lacy. "I've always called them canaries in the coalmine, because they were in some ways hypersensitive to what was going on in the world. They were expressing their feelings of powerlessness and they felt they should live, do drugs, drink, whatever to take the pain away." By the early 90s Dalton was living on the streets of New York. "Whenever I performed there she would show up," Lacy remembers. "She didn't look too bad. She had an odour and her teeth were awful, but she was a very clean person and very beautiful to everyone, so I don't think people noticed her teeth." As Dalton drifted steadily downwards, Lacy pulled some strings to get her into rehab in Texas. "We got her guitars out of the pawnshop, we got her damn cat from Pennsylvania and we got her on a plane to Texas. There was a recording session set up for her for when she'd finished. She called me when she got there. She said, 'I oughtta stick my cowboy boot up your ass! One of us oughtta change her name. Get me a plane ticket home now!' I said, 'Karen, stay long enough to get your teeth fixed,' but what I didn't realise at the time was that her teeth was how she was getting access to codeine. And so she went back to New York and died on the streets a year later." Quite how she died remains muddled. "Some said it was a drug overdose," says Brooks. "But from what I understand, she ran out of steam." "Karen had true, true greatness that had not been recognised," says Lacy. "I said to her, 'It's going to annoy the hell out of you but you'll probably only get recognised after your death.' I think her time is coming now, because people are fed up of slick, over-produced voices. And this old world is not a child any more, we need the truth. It doesn't need to be in words, it needs to be in delivery." The song Lacy most remembers Dalton singing is Just a Little Bit of Rain: "If I should leave you/ Try to remember the good times," she says, singing softly down the line, the way Dalton taught her. "Warm days filled with sunshine/ And just a little bit of rain." · It's So Hard to Tell Who's Going to Love You Best is out now on Megaphone; In My Own Time is out now on Light in the Attic [The best singer you've never heard of. © Laura Barton The Guardian, Friday 23 March 2007. This article was first published on guardian.co.uk at 23.56 GMT on Friday 23 March 2007. It appeared in the Guardian on Friday 23 March 2007 on p14 of the Features section. It was last updated at 23.56 GMT on Thursday 22 March 2007. guardian.co.uk © Guardian News and Media Limited 2009