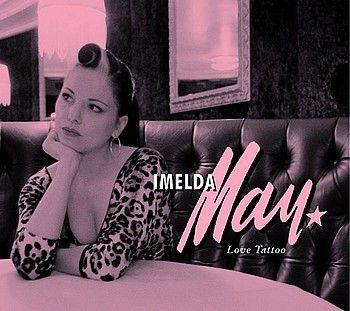 Imelda May
-
Love Tattoo
-
2008
-
Universal Music Ireland
Vintage hip-swinging rockabilly, and some beautiful blues jazz. You are not listening to Connie Francis, or Patsy Cline, or any 40's or 50's style jazz/blues singer, but Imelda May has a voice to equal any one of them stars of days gone by. This Dublin belle is one hell of a talented lady. She looks beautiful, and she sings beautifully. She also penned ten of the tracks on this album,
HR by A.O.O.F.C.
This Irish lady is already a star, but she deserves a much bigger audience.
N.B:
Sound quality on this post is @ 128 Kbps, but Imelda's voice can still be appreciated. It would be worthwhile buying the original album.
Buy her great "No Turning Back" album, and promote the rare talent of Imelda May
TRACKS
Johny Got A Boom Boom
Feel Me
Knock 123
Wild About My Lovin'
Big Bad Handsome Man
Love Tattoo
Meet You At The Moon
Smokers Song
Smotherin' Me
Fallin In Love With You Again
Its Your Voodoo Workin'
Watcha Gonna Do
All songs composed by Imelda May, except "Wild About My Lovin'" (Trad.), and "It's Your Voodoo Working" by C. Sheffield

N.B: The album was also released in Ireland as a limited double CD, and includes eight live tracks.

MUSICIANS
Vocals, Bodhrán - Imelda May
Guitar - Darrel Higham
Bass [Double], Bass Guitar - Al Gare
Piano, Organ [Hammond] - Danny McCormack
Drums - Dean Beresford
Trumpet, Flugelhorn, Percussion - Dave Priseman
ABOUT IMELDA
Dublin-born Imelda May has the rare kind of raw talent and timeless glamour that truly illuminates the stage. You don't just watch Imelda perform, you experience it, "She holds her audience by the scruff of the throat, reaches down and tears out your heart". Whether it's her infectiously unique fusion of rockabilly, blues and jazz, her extensive self-penned repertoire, her sassy burlesque-inspired performances or her distinctive interpretation of classic standards, her appeal is both seductive and undeniable. As such, she is fast emerging as one of the finest vocalists from the UK Roots music scene today. Winter 2007 saw Imelda tour with Jools Holland, culminating in her debut at The Royal Albert Hall in December. She's also performed various tracks for Jools's Radio 2 show. Inspired by such Jazz greats as Billy Holiday, Dinah Washington, and the undisputed queen of rockabilly, Wanda Jackson, Imelda is forging a contemporary sound all of her own. With a nod to the glory days of old but with her heart and soul very much in the present, this rockin' little minx belts them out with all the musical force of a veteran Rockabilly wildcat! As one reviewer put it, Imelda has a "voice so throaty and powerful, it suggests that this young twentysomething actually lived through the1950s" (METRO). Recent winner of Best Newcomer at the Irish Music Awards, Imelda has recently opened for Van Morrison and just finished her summer festival season having appeared at Glastonbury, Cornbury, Innocent and Chiswick House Festivals. A last minute addition to perennial musical showcase, Later…with Jools Hollands second episode of the season – gave Imelda one in a million chance to perform 2 songs from her forthcoming album 'Love Tattoo'. With rave reviews Imelda is embarking on an extensive UK tour early November . © Universal Music Ireland 2007
BIO
(WIKI)

Imelda Mary Higham (born 10th July 1974, Dublin, Ireland), known as Imelda May and previously as her maiden name Imelda Clabby, is an Irish female vocalist from the Liberties area of Dublin city. Imelda May specializes in Rockabilly music, she has a repertoire of covers and self-penned songs. In 2003, Imelda released "No Turning Back" under her maiden name Imelda Clabby, which has been rerecorded and reissued under her current name. She is married to band member Darrel Higham. Her sisters are Edel Foy and Maria O'Reilly and her brothers Brendan Clabby and Fintan Clabby. She has one dog and speaks with a distinct Dublin accent. She currently spends her time residing in London, United Kingdom and Dublin, Ireland. Imelda is the singer for The Candy Box Burlesque Club in Birmingham. She has appeared alongside The World Famous Palookaville! Burlesque Orchestra at every Candy Box show since it started in February 2006. In 2006, Imelda featured as vocalist on the Blue Harlem jazz band's CD Talk to Me. At the Cornbury Festival in Oxfordshire in July 2007 she opened both days of the festival. Imelda appeared twice again at the 2008 Cornbury Festival, Oxfordshire, England, UK. She played on the Sunday of the 2009 Cornbury Festival, and after her set joined Eddi Reader on stage for a duet. Imelda performed on Later... with Jools Holland in September 2008 playing two songs from "Love Tattoo". On 4 January 2009, Imelda, along with her husband Darrel Higham, made a guest appearance on the BBC Radio 2 Johnnie Walker Sunday Show. On 23 January 2009, Imelda appeared and performed on Ireland's most popular and ever prestigious television show, The Late Late Show, which is the longest running chat show in the world and was presented by the veteran broadcaster Pat Kenny at the time. He has since retired and had his job taken by Ryan Tubridy. On 26 January 2009 Imelda and the band also appeared on the Radcliffe and Maconie Show where they played several songs live. On 11 February 2009 she appeared on Other Voices where she played three songs from her album "Love Tattoo". On 17 March 2009 she received the award for Best Irish Female, and performed live at the 2009 Meteor Music Awards. On 29 May 2009 she once again played on the Late Late Show for Pat Kenny's final night on the show. On 19 June 2009 she once again played at Arlington Arts theatre in Newbury. In June 2009 she appeared on The Colm & Jim-Jim Breakfast Show on 2fm but Colm beat her on his quiz which contained quotes from Imelda's wikipedia page. In June 2009 she appeared at Glastonbury Festival in England. In July 2009 she opened for Jeff Beck at the Royal Albert Hall in England. In July 2009 she appeared at Splendour Festival in Nottingham. On 26 July 2009 she appeared at the iTunes Live music festival in Camden On 14 August 2009 she appeared on RTÉ's Other Voices Singing 'Johnny Got a Boom Boom' and an unplugged version of 'Big Bad Handsome Man' On 5 September 2009 she performed on the Crawdaddy stage at the Electric Picnic festival, Stradbally, County Laois, Ireland. On 24 September 2009 she performed in Bruxelles, Harry Street, Dublin 2, Ireland as part of The Arthur Guinness 250 Years Celebration. On 3 October 2009 she performed in the RDS Dublin at 'The Music Show'. She played a short acoustic set with Darrel Higham at the 2fm stand hosted by radio DJ Larry Gogan. This was followed by a performance on the live stage. Imelda has shared the stage with Alison Moyet, Dionne Warwick, Bryan Ferry, Anastasia, The Supremes, Sister Sledge, Scissor Sisters,The Dubliners, Madeleine Peyroux, Matt Bianco, Elvis Costello, Jools Holland, Jeff Beck and Elton John. She didn't actually share the stage with Costello but has reported sharing a toilet with him on one occasion. During a show with Elton John she has said she watched from over a balcony. She also spent four years as a vocalist in Mike Sanchez's seven-piece rhythm and blues band. In 2009, Imelda recorded the official Children In Need single alongside Cara Dillon, Sir Terry Wogan, Hayley Westenra and others at Abbey Road Studios. She also made an appearance with louis walsh on the late late show.