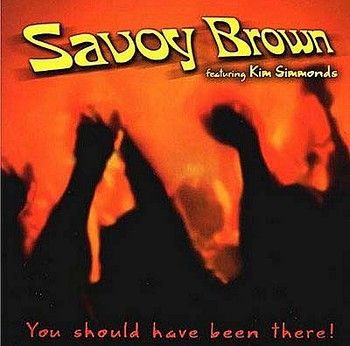 Savoy Brown
featuring
Kim Simmonds
-
You Should Have Been There
-
2005
-
Panache
What can you say about Savoy Brown. For over forty years, and through numerous personnel changes, this great British rock band have played the same brand of blues and hard-edged rock. Recorded live in Vancouver, BC during SB's 2003 tour, Kim Simmonds & Co. pull out all the stops, and produce stellar performances. This is one hell of a great album with smooth, laid back, tight arrangements, and
VHR by A.O.O.F.C.
Listen to the band's "Raw Sienna" album. Check out the band's "Live At The Record Plant 1975" album @
SAVB/LATRP75
Kim Simmond's "Struck By Lightning" album can be found @
KIMSIM/SBL
and "The Savoy Brown Collection (Featuring Kim Simmonds)" is @
SAVB/COLL/KIMSIM
TRACKS / COMPOSERS
1. When It Rains - Kim Simmonds
2. Where Has Your Heart Gone - Kim Simmonds
3. Poor Girl - Tone Stevens
4. Blues Like Midnight - Jimmie Rogers, Kim Simmonds
5. Street Corner Talking - Kim Simmonds
6. Hellbound Train - Andy Silvester, Kim Simmonds
BAND
Kim Simmonds - Guitar, Vocals
David Malachowski - Guitar
Garry Sorrentino - Bass Guitar
Dennis Cotton - Drums
BIO
(Wikipedia)

Savoy Brown is a British blues band formed in the 1960s. Originally known as the Savoy Brown Blues Band, their 1969 single "Train to Nowhere" (with singer Chris Youlden), was viewed by many as the last gasp of the blues scene in Great Britain. Although Savoy Brown never reached much acclaim in their home nation, they developed a loyal core following in the United States, due to songs such as "I'm Tired" (from their album, A Step Further), a driving, melodic song. They were one of the bands that UK Decca (US London/Parrot) stuck with through the lean times until they started selling records (it took 4 or 5 albums until they started to sell in the US). In the late 1960s and 1970s, the band managed to penetrate the Billboard Hot 100. Superstardom perpetually evaded them, perhaps in part because of their frequent lineup changes, but despite that, "Hellbound Train" was a big album for them in the US.
While the band is still active today, only Kim Simmonds has stayed since the beginning. Guitarist "Lonesome" Dave Peverett, bassist Tone Stevens, and drummer Roger Earle went on to form Foghat. Original member and harmonica player, John O'Leary, is still active on the British blues circuit with The John O'Leary Band. Savoy Brown's first album, Shake Down, featured lead vocalist Bryce Portius. Portius was one of the first black blues musicians to be a part of a British rock band. Another singer, Dave Walker, would later join Fleetwood Mac and Black Sabbath. Savoy Brown also provided an outlet for the keyboardist and guitarist, Paul Raymond, who later went on to join UFO. Other notable members include Jeff Howell, who went on to play with Foghat and the Outlaws before returning to central New York, where he is considered the best carpet installer in Ithaca.
MORE ABOUT
SAVOY BROWN
Part of the late-'60s blues-rock movement, Britain's Savoy Brown never achieved as much success in their homeland as they did in America, where they promoted their albums with nonstop touring. The band was formed and led by guitarist Kim Simmonds, whose dominating personality has led to myriad personnel changes; the original lineup included singer Bryce Portius, keyboardist Bob Hall, guitarist Martin Stone, bassist Ray Chappell, and drummer Leo Manning. This lineup appeared on the band's 1967 debut, Shake Down, a collection of blues covers. Seeking a different approach, Simmonds dissolved the group and brought in guitarist Dave Peverett, bassist Rivers Jobe, drummer Roger Earl, and singer Chris Youlden, who gave them a distinctive frontman with his vocal abilities, bowler hat, and monocle. With perhaps its strongest lineup, Savoy Brown quickly made a name for itself, now recording originals like "Train to Nowhere" as well. However, Youlden left the band in 1970 following Raw Sienna, and shortly thereafter, Peverett, Earl, and new bassist Tony Stevens departed to form Foghat, continuing the pattern of consistent membership turnover. Simmonds collected yet another lineup and began a hectic tour of America, showcasing the group's now-refined bluesy boogie rock style, which dominated the rest of their albums. The group briefly broke up in 1973, but re-formed the following year. Throughout the '80s and '90s Simmonds remained undeterred by a revolving-door membership and continued to tour and record. Their first album for the Blind Pig label, Strange Dreams, was released in 2003. Steel followed in 2007 from Panache Records. © Steve Huey, allmusic.com
ABOUT
KIM SIMMONDS
For over 30 years Kim Simmonds has been synonymous with 'legendary British blues guitar', being mentioned in the same breath as Eric Clapton, Peter Green and Mick Taylor in the hierarchy of England's best guitar slingers from the 60s golden era of British blues. Kim started his career in London, England in 1966 by forming the group Savoy Brown and has since enjoyed international fame. He's been featured on the front cover of Guitar Magazine, made over 3 dozen records and performed around the world. He has an international fan club based in Wales and a web site at www.savoybrown.com. Kim's records with Savoy Brown (many produced by himself) have sold millions, with albums such as Looking In and Hellbound Train reaching the Billboard Top 40 charts. Many of his songs have been covered by such diverse artists as Rare Earth, Hugo Montenegro and Great White. In 1995, a two CD boxed set, The Savoy Brown Collection released by Polygram Records, chronicled his and the band's astonishing career. As a solo artist and in the acoustic field Kim has released three CDs - Savoy Brown's 1986 Slow Train, his own 1997 Solitaire, and the 2001 release Blues Like Midnight. Born in Wales in 1947 and playing the pubs of London with Savoy Brown at the very tender age of 18, Kim Simmonds recorded albums that helped start the 60s blues boom. While others have strayed from their roots, Simmonds has stayed the course .... a true journeyman and road warrior, who's comfortably settled into an elder statesman role at the same time as burning up the fretboard on the concert stage while remaining at the top of his game.(c) The British Blues All Stars 2004, www.thebritishbluesallstars.co.uk/kim_simmonds.htm