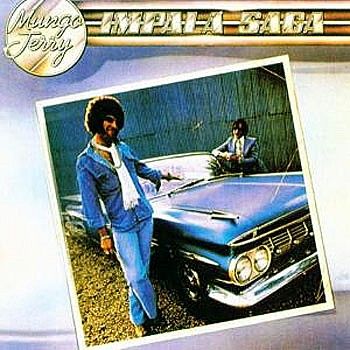 Mungo
Jerry
-
Impala Saga
-
1976
-
Polydor
"either with lots of orchestration as they had been doing, and sounding like ELO, or more to my roots with skiffle and great honest sounds like Mungo Jerry" - John Lennon, (Replying to being asked in the 70's what music The Beatles would be playing now)
Impala Saga was Mungo Jerry's first LP for Polydor, released in early 1976. The title track was a screaming, high-energy roots rock song, with a loud lead guitar, growling vocals, and full-on drumming in the best metal/arena rock manner. It showed off a hard rock side to this band that wasn't necessarily its best, although that song certainly shook up fans who associated the group exclusively with good-time music. Elsewhere, however, Impala Saga was a direct carryover from the group's Pye Records years, opening with the delightful acoustic rocker "Hello Nadine," which they'd first recorded (but never released) for their earlier label. Other highlights included the bluesy, laid-back "Quiet Man" and the nostalgia-laced "Never Mind I've Still Got My Rock N Roll," which bookended the album with "Hello Nadine." The record never sold in large numbers and is considered a rarity in England. © Bruce Eder, All Music Guide
Mungo Jerry are probably best known for their mammoth hit 'In The Summertime', which sold over six million copies globally in the first six months of it's release. To date, the song has sold nearly forty million. It's the most played "summer song" of all time. The song, and it's writer, MJ's Ray Dorset, won Ivor Novello, MTV, and Sony awards. MJ were regarded as a "pop" band, but they had many hit singles, and released quite a few albums, which all featured elements of blues, boogie, rock, rockabilly, and skiffle. MJ's music could be serious, and was definitely not all "sunshine pop", like their ITS hit. Mungo Jerry supported bands like Rod Stewart, Status Quo, Free, Canned Heat, Grateful Dead, Genesis, and Jimi Hendrix, and the band often topped the bill. In 1983, Ray Dorset was part of the blues band, Katmandu with Peter Green and Vincent Crane, who recorded the great "A Case For The Blues" album.
TRACKS
A1 Hello Nadine
A2 Never Mind I've Still Got My Rock and Roll
A3 Ain't too Bad
A4 Too Fast
A5 Ain't Gonna Work No More
A6 Impala Saga
B1 Bottle of Beer
B2 Get Down on My Baby
B3 Hit Me
B4 Quiet Man
B5 Never Mind I've Still Got My Rock and Roll (Reprise)
All songs composed by Ray Dorset
Album also released on CD with bonus tracks "English Girl", "It's A Secret", "Something On My Mind", "How Can I Live A Lie", and "Hey, What's Your Name"
MUSICIANS
Ray Dorset - Guitar, Percussion, Vocals, & Mungo Jerry
BIO
Mungo Jerry is one of rock's great one-hit successes. Outside of England, they're known for exactly one song, but that song, "In the Summertime," is a seasonal anthem known by listeners who weren't even born when it was released. Mungo Jerry was a solid blues outfit as well — in fact, one suspects they were the kind of blues band that purists Alexis Korner and Cyril Davies would have loved, had they ever intersected — and knew how to get the most out of their jug band sound, which has helped them survive for three decades. Mungo Jerry was formed in 1970 by singer/guitarist Ray Dorset (born March 21, 1946), who had a fascination with early rock & roll sounds, as well as skiffle and blues. The other original members were Mike Cole on upright bass; Paul King on guitar, kazoo, and jug; Joe Rush playing washboard; and Colin Earl at the keyboards. Dorset and Earl had first hooked up in the Good Earth, a group with a mixed rock & roll and blues sound, which cut some tracks for the mid-priced label Saga, none of which sold. Cole, King, and Rush came aboard and the lineup was complete. The name Mungo Jerry — from a T.S. Eliot poem — came next, with a contract from Pye Records. The quartet had a pleasing, low-key jug band sound, folk-like but also bluesy, which was unusual in 1969, a time when most British bands that were into blues were shooting for high-wattage virtuosity. They sounded less like Cream or Blind Faith and a lot more like Jesse Fuller or Tampa Red, or even Piano Red (aka Dr. Feelgood). Mungo Jerry became one of the very first acts placed on the Pye label's new Dawn Records imprint, a progressive label that was intended to update Pye's image. In May of 1970, following an appearance at the Newcastle Hollywood Festival, their debut single "In the Summertime," written by Ray Dorset, was released. The record, an easygoing, catchy skiffle-like piece reflecting the mood of the season in its title and the sexual ethos of the late '60s was an instant hit, shooting to number one in England in only two weeks and riding the charts for much of the summer. Concerts and television appearances followed in profusion, although the most often seen among the latter is a performance mimed to the single. It was a Top Ten hit in America, riding the charts for weeks, and was a success in practically every country in which it was released, ultimately selling between eight and 16 million copies around the world. A self-titled debut album was rush-released that summer to capitalize on the hit. By the time the LP was recorded, washboard-player Rush was gone, and Cole had left by the time the record was issued, the beginning of a dizzying series of personnel changes. The group's second single, "Baby Jump," was a chart-topper in England but didn't fare as well overseas, and heralded a second album, Electronically Tested, and was followed by a third, You Don't Have to Be in the Army, that same year, with a parallel U.S. release, Memoirs of a Stockbroker (Janus Records). "Maggie," "Johnny B Badde," "Mighty Man," "Lady Rose," and "You Don't Have to Be in the Army to Fight in the War" all charted in England and got decent, if not spectacular, airplay at various other points around the globe. The membership of Mungo Jerry began coming apart almost from the outset of their success. Cole, who was replaced by John Godfrey, was followed out of the lineup by King and Earl, although their exit was somewhat more acrimonious. They attempted to take the name Mungo Jerry, but Dorset, as the singer, guitarist, and songwriter, held onto the name. Instead, King and Earl cut solo albums for Pye and went on the road as the Earl King Boogie Band with former bandmate Rush in the lineup. Meanwhile, Dorset recruited keyboard player Jon Pope and drummer Tim Reeves for Mungo Jerry. Essentially, from 1972 onward, Dorset was Mungo Jerry, even more than Ian Anderson was Jethro Tull. Drummer Paul Hancox (ex-Chicken Shack), bassist (and future Ozzie Osbourne alumnus) Bob Daisley, and keyboard man John Cook passed through, as did piano player Ian Milne and guitarist Dick Middleton, and that was just during the band's time on Pye through 1975. In the later '70s, when the band was signed to Polydor, original members Earl and Rush were back in the lineup. Earl and King later formed a group called Skeleton Crew. Mungo Jerry's chart hits stopped coming, but they continued to attract audiences on-stage everywhere from Eastern Europe to the Middle East. Ironically, Dorset found himself unable to emerge from the shadow of his group's identity. His solo albums, including 1987's A Case for the Blues, featuring Peter Green on guitar, failed to attract any attention. Twenty-nine years after its founding, Mungo Jerry, which can consist of any lineup from a quartet down to Dorset with taped accompaniment, continues to work on-stage and "In the Summertime" remains their signature tune. © Bruce Eder, allmusic.com/cg/amg.dll?p=amg&sql=11:jjfpxq95ldse~T1