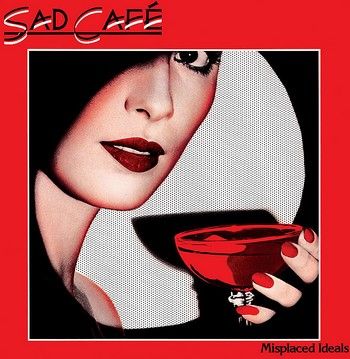 Sad Café
-
Misplaced Ideals
-
1978
-
RCA
Sad Cafe's fourth album is filled with blues-rock songs with a touch of soft rock -- or vice versa, depending on the song. Standouts like "Black Rose" and "Babylon" showcase the band's love for Styx and the Stones, respectively, and the occasional ballad ("Feel Like Dying") doesn't cause the album to lose its spirited momentum. Vocalist Paul Young tries very hard to be Mick Jagger on some tracks, but he's so dead-on that he deserves some credit. Overall, this is Sad Cafe's best. © Gina Boldman, All Music Guide, http://www.answers.com/topic/misplaced-ideals [ N.B: This review is obviously based on an alternative album release, as "Black Rose" and "Babylon" are not included on the original 1978 vinyl release ]
Perhaps best known for their great pop rock hit ""Every Day Hurts", Sad Café were a sophisticated pop rock band who created some great albums. Their music could be classified as "soft rock", but not of the sugary, sweet harmony "sound the same" type that was being churned out by many bands in the seventies, and early eighties. This is not a criticism of "soft rock". Artists like The Eagles, Mamas & Papas, David Gates and others turned out some fabulous songs and albums, and were never boring. Good music comes in every shape, form, and genre, and as stated before,
A.O.O.F.C
will not exclude any artists with musical merit. But Sad Café's music was real quality "soft rock"(for want of a better term). Good song structures, great musicians, and good lyrics. Also, the late Paul Young was a really talented vocalist. The band played an intelligent blend of "English Pop/Soul", with plenty of bluesy instrumental touches, incorporating great sax and guitar work, very much in the Hall & Oates style. A very much underrated band, and definitely worth listening to today. Many people regard "Misplaced Ideals" as the band's "best" album. What do you think? Listen to the group's "Facades" album. You will find info on the band's 1980 s/t album @
SADCAFE1980
N.B
: This album has also been released as part of a double CD with the band's first album, "Fanx-Ta-Ra". It is also available as a 10 track CD, which omits the tracks "Let Love Speak For Itself","No Place To Go","Mario", and "Relax", but includes the tracks, "Black Rose", "I believe (love will survive)", "Babylon", "Shellshock", and "Hungry Eyes". All of the latter five tracks mentioned are from the band's first album, "Fanx-Ta-Ra". In effect this "other" US "Misplaced Ideals" CD is a compilation of the original "Misplaced Ideals", and "Fanx-Ta-Ra" albums!

TRACKS / COMPOSERS
A1 Restless - Mulford,Wilson,Stimpson,Young
A2 Here Come The Clowns - Young
A3 Run Home Girl - Wilson,Young
A4 Let Love Speak For Itself - Wilson,Stimpson,Young
B1 No Place To Go - Wilson
B2 Mario - Stimpson,Young,Emerson
B3 Relax - Young
B4 Feel Like Dying - Young
B5 On With The Show - Mulford,Wilson,Stimpson,Young,Emerson
MUSICIANS
John Stimpson (vocals, acoustic guitar)
Ashley Mulford (guitar)
Vic Emerson (keyboards, string synthesizer)
Tony Cresswell (drums, percussion)
John Punter (percussion)
Lenni Zaksen (saxophone)
Liza Strike, Irene Chanter (background vocals)
BIO
Sad Café was a British soft rock outfit, that enjoyed a recording somewhat successful career from the mid-'70s through the early '80s. The group's leader, singer Paul Young (not the same Paul Young that scored the '80s hit "Every Time You Go Away"), got his start with music in the mid-'60s, when he fronted a forgotten Manchester group called the Toggery Five, which included a few members that would later go on to join prog rockers Jethro Tull — guitarist Mick Abrahams and drummer Clive Bunker. By the early '70s, Young was fronting another forgotten outfit, Gyro, and by 1976, opted to leave the band — taking Gyro guitarist Ian Wilson with him. Young then formed Sad Café, along with members of another Manchester band, Mandalaband (Ashley Mumford [guitar], Vic Emerson [keyboards], John Stimpson [bass], Tony Creswell [drums]), who had issued an obscure self-titled release in 1975. The fledgling group signed a deal with the Chrysalis label, but for reasons unknown, the record company shelved a debut album finished in 1976. Switching to RCA, some of the songs from their proposed 1976 debut were included on Fanx Ta-Ra, issued a year later, which was followed by such further releases as 1977's Hungry Eyes, 1978's Misplaced Ideals, and 1979's Facades (the latter of which spawned the group their biggest hit single, the U.K. Top Five "Every Day Hurts"). It was also around this time that Mandalaband briefly re-formed for an album (which Young supplied vocals to), The Eye of Wendor. Sad Café was never able to follow up their single with another substantial hit, and decided to call it a day in 1981, after a few more underappreciated albums saw the light of day (1980's self-titled release, plus 1981's Live and Olé). Young would later re-submerge as one of the singers of Mike + the Mechanics, a side project of Genesis guitarist Mike Rutherford (sharing the vocal duties with Paul Carrack), that scored a big hit with their self-titled debut in 1985. The late '80s saw Young join up once more with Ian Wilson under the Sad Café moniker, issuing 1986's The Politics of Existence (with guest spots by both Rutherford and Carrack). From here on out, Young split his time between Sad Café (1994's Whatever It Takes) and Mike + the Mechanics (1988's The Living Years, 1991's Word of Mouth, 1995's Beggar on a Beach of Gold, and 1999's self-titled release), and in 1993, took part in a benefit concert for a British hospital, that featured an unusual line-up that was a combination of both Mike + the Mechanics and Pink Floyd — David Gilmour (guitar, vocals), Rick Wright (keyboards, vocals), Nick Mason (drums), Tim Renwick (guitar, vocals), Mike Rutherford (bass, vocals), Gary Wallis (drums), and Young. On July 15, 2000, Young passed away in Cheshire, England, at the age of 53, effectively ending any hope of further Sad Café offerings. © Greg Prato, allmusic.com, http://www.allmusic.com/cg/amg.dll?p=amg&sql=11:hpfqxq95ldke~T1