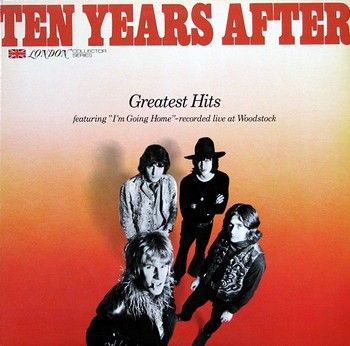 Ten Years After
-
Greatest Hits
-
1975
-
London
(London Collectors Series)

Good early blues rock compilation from Ten Years After. The album features a live version of "Woodchopper's Ball", and also the band's "I'm Going Home". The present line up have been around for many years now. TYA are one of the greatest blues rock bands to emerge from Britain. They were hugely popular in the late sixties, when they played Woodstock, but during the early seventies, they produced some of their finest work.The brilliant axeman Alvin Lee, co-founded TYA, and two of the bands early albums with Alvin Lee, "Stonehenge" and "Cricklewood Green" are classics. Many people thought that without the "Main Man", Alvin Lee, the band would never survive, but they have, and TYA have prroduced a few above standard albums in recent years, reminiscent of the glory days. Alvin Lee still appears at the occasional concert with the band, but Joe Gooch who joined the band in 2003, permanently replacing Alvin Lee has proved himself as a brilliant guitarist and great vocalist. Joe fits in with TYA, as if he was always part of the band, and alongside the founding member Leo Lyons, Chick Churchill and Ric Lee, they form a crack team of professional musicians that give a new lease of life to TYA. This album is a great example of powerful blues rock, Listen to two of the band's early classic albums, "Stonehenge" and "Cricklewood Green" featuring the brilliant axeman Alvin Lee, co-founder of the band. Search this blog for other TYA/Alvin Lee recordings.
[
P.S
:
Thanks, Mike P. for the "Woodstock"/Roy Orbison info
]

TRACKS / COMPOSERS
A1 Hear Me Calling - Alvin Lee
A2 Going T Try - Alvin Lee
A3 Love Like A Man - Gus Dudgeon, Alvin Lee
A4 No Title - Alvin Lee
B1 I Woke Up This Morning - Sam Hopkins, Alvin Lee
B2 Woodchopper's Ball - J. Bishop, & W. Herman
B3 I'm Going Home - Alvin Lee
MUSICIANS
Alvin Lee Guitar, Harmonica, Percussion, Piano, Sound Effects, Vocals, Voices, Clogs
Leo Lyons Bass, Guitar (Bass), Sound Effects, Bowed Bass, String Bass, Foot Stomping, Reverb Echo
Chick Churchill Organ, Piano, Celeste, Drums, Keyboards
Ric Lee Drums, Sound Effects, Timbales, Tympani [Timpani], Footsteps, Animal Sounds
Simon Stable Percussion, Bongos
Count Simon DeLaBedoyere Bongos
Martin Smith Train Sounds
Mike Vernon Vocals
SHORT BIO
[ © William Ruhlmann, All Music Guide ]
Ten Years After is a British blues-rock quartet consisting of Alvin Lee (born December 19, 1944), guitar and vocals; Chick Churchill (born January 2, 1949), keyboards; Leo Lyons (born November 30, 1944) bass; and Ric Lee (born October 20, 1945), drums. The group was formed in 1967 and signed to Decca in England. Their first album was not a success, but their second, the live Undead (1968) containing "I'm Going Home," a six-minute blues workout by the fleet-fingered Alvin, hit the charts on both sides of the Atlantic. Stonedhenge (1969) hit the U.K. Top Ten in early 1969. Ten Years After's U.S. breakthrough came as a result of their appearance at Woodstock, at which they played a nine-minute version of "I'm Going Home." Their next album, Ssssh, reached the U.S. Top 20, and Cricklewood Green, containing the hit single "Love Like a Man," reached number four. Watt completed the group's Decca contract, after which they signed with Columbia and moved in a more mainstream pop direction, typified by the gold-selling 1971 album A Space in Time and its Top 40 single "I'd Love to Change the World." Subsequent efforts in that direction were less successful, however, and Ten Years After split up after the release of Positive Vibrations in 1974. They reunited in 1988 for concerts in Europe and recorded their first new album in 15 years, About Time, in 1989 before disbanding once again. In 2001, Ric Lee was preparing the back catalog for rerelease when he discoverd the Live at the Fillmore East 1970 tapes. He approached Alvin about getting back together to promote the lost album, but Alvin Lee declined. The rest of the band was up for it, though, and together with guitarist Joe Gooch, Ten Years After started touring again. In addition to touring the world, this new incarnation recorded their first new material in about a decade and a half and released Now in 2004 and added the live double CD set Roadworks in 2005.
BIO
(Wikipedia)

Ten Years After are an English blues rock band, most popular in the late 1960s and early 1970s. After several years of local success in the Nottingham/Mansfield area as a band known since 1962 as The Jaybirds (its core was formed in late 1960 as Ivan Jay and the Jaycats), and later as Ivan Jay and the Jaymen, Ten Years After was founded by Alvin Lee and Leo Lyons. Ivan Jay sang lead vocals from late 1960 to 1962 and was joined by Ric Lee in August 1965, replacing original drummer Dave Quickmire, who had joined in 1962. In 1966 The Jaybirds moved to London, where Chick Churchill joined the group. That November the quartet signed a manager, Chris Wright, and decided to change their name to Blues Trip, Blues Yard (under which they played a show at the legendary Marquee Club supporting Bonzo Dog Band), and finally in November 1966, to Ten Years After ( in honour of Elvis Presley, an idol of Lee's whose momentous year in rock, 1956, helps to better explain the band's title). They became the first band of the soon-to-be Chrysalis Agency. They secured a residency at the Marquee, and received an invitation to play at the renowned Windsor Jazz Festival in 1967. That performance led to a contract with Deram, a subsidiary company of Decca – the first band so signed without a hit single. In October, their 1967 self-titled debut album was released. In 1968, after touring Scandinavia and the United States, Ten Years After released their second album, live Undead, which brought their first classic, "I'm Going Home." This was followed in February 1969 by studio issue, Stonedhenge, a British hit, that included another classic, "Hear Me Calling" (it was released also as a single, and covered in 1972 by British glam rock rising stars, Slade). In July 1969 they appeared at the Newport Jazz Festival, in the first event to which rock bands were invited. In August, the band performed a breakthrough American appearance at Woodstock; their furious-to-soft-to-furious rendition of "I'm Going Home" was featured in both the subsequent film and soundtrack album and catapulted them to star status. During 1970, Ten Years After released "Love Like a Man," their only hit in the UK Singles Chart. This song was on their fifth album, Cricklewood Green. The name of the album comes from a friend of the group who lived in Cricklewood, London. He grew a sort of plant which was said to have hallucinogenic effects. The band did not know the name of this plant, so they called their album Cricklewood Green. It was the first record to be issued with a different playing speed on both sides – one a three-minute edit at 45rpm, the other, a nine-minute live version at 33rpm. In August, Ten Years After played the Isle of Wight Festival 1970 to an audience of 600,000. In 1971, the band released the album A Space in Time which marked a move toward more commercial material. It featured their biggest hit, "I'd Love To Change The World." But a few albums later, the band broke up after the 1974 album "Positive Vibrations." They re-united in 1983 to play the Reading Rock Festival and this performance was later released on CD as "The Friday Rock Show Sessions - Live At Reading '83' ". In 1988, they re-united for a few concerts and recorded the album About Time (1989). Alvin Lee has since then mostly played and recorded under his own name. In 2004, the other band members replaced him with Joe Gooch and recorded the album Now. Material from the following tour was used for the 2005 double album Roadworks. Ric Lee is currently in a band called The Breakers, along with Ian Ellis (Clouds).