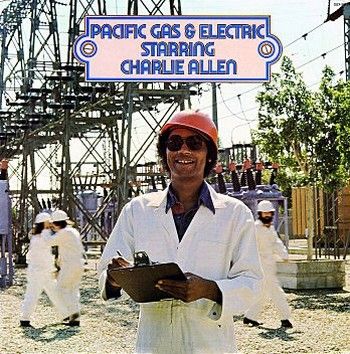 Pacific Gas & Electric
Starring
Charlie Allen
-
Pacific Gas & Electric
Starring
Charlie Allen
-
1973
-
Dunhill
Pacific Gas and Electric began life in L.A in 1967, calling themselves "Pacific Gas and Electric Blues Band", and were one of the first interracial band to hit the LA music scene. Never a prolific band as regards album releases, (they released four albums: five if you count this one...[Open to contradiction ! ]). The band played many sell-out concerts. Their music was an energetic and skilful blend of blues, blues rock, R&B, and soul. Although the band is mostly remembered for their big hit, "Are You Ready", with the Blackberries on backing vocals, most of the band's material was top class. The late Charlie Allen was a great vocalist, as well as being a great drummer and songwriter. After 1972, the bands' lineup became unstable, and became more of a Charlie Allen solo project. The album here demonstrates that. "Pacific Gas & Electric Starring Charlie Allen" is quite a good album, and retains much of the dynamics of earlier PG&E albums like "Get It On", and "Are You Ready?"
TRACKS / COMPOSERS
Gumbo Jones (Allen/Hill/Michlin)
Roll Georgia (Allen/Hill/Michlin)
Somebody You Love (Dino/Sembello)
Hold On (Allen/Hill/Michlin)
Dancin' in the Fire (Allen/Hill/Michlin)
Good Gospel Music (Allen/Hill/Michlin)
Hear the Trumpets Calling (Allen/Hill)
Some Kind of Feelin' (Allen/Hill/Michlin)
I Got a Thing About You, Baby (White)
Sunshine Embrace (Allen)
Ni**ers in the Woods (Allen/Hill/Michlin)
MUSICIANS
John Hill Guitar, Keyboards, Clavinet, Drums (Steel), Handclapping
Bob Mann Guitar (Electric)
Charlie Brown Dobro, Guitar, Guitar (Electric)
Robert Mann, Jerry Friedman, Cornell Dupree Guitar
Wilton Felder, Gordon Edwards Bass
Ernie Hayes Piano, Keyboards, Piano (Electric)
Jon Stroll Piano, Clavinet
Allan Schwartzberg Drums
Jimmy Maeulen Shakuhachi, Conga, Tabla, Bells
George Young, Michael Brecker, Phil Bodner, Arthur Kaplan, Joe Grimm Saxophone
Seldon Powell Horn, Saxophone
Lew Soloff, Burt Collins, Mickey Gravine, Al DeRisi Horn, Brass
Jim Maden Tambourine, Vocals
Charlie Allen (RIP), Ken Williams, Sammy Turner, Manny Seymour, Tasha Thomas, Jim Ryan, Albertine Robinson, Ray Pollard, Ron Marshall, Jon Lucas, Sherman Lewis, Troy Keyes, Melvin Kent, Delores Harvin, Carl Hall, Lani Groves, Charlotte Gilbert, Bill Foster, John Brown, Shirley Brewer, Gloria Barley, J.R. Bailey - Vocals
Barbara Massey, Lou Courtney, Joshie Armstead Vocals, Vocals (bckgr)
PG&E
BIO
(WIKI)

The seeds of Pacific Gas & Electric were sown in Los Angeles back in 1966 when self-taught guitarist Tom Marshall formed Bluesberry Jam, whose ranks included drummer Charlie Allen. Allen turned out to be such a fine vocalist that he ended up becoming the frontman; his drum chair was filled by Adolfo de la Parra in 1968. Later that year, de La Parra left to join Canned Heat, replacing Frank Cook who then joined Bluesberry Jam. After adding guitarist Glenn Schwartz and bassist Brent Block later in 1968, the group changed their name to Pacific Gas & Electric.Their first album, Get It On, was released by Kent in 1968, but failed to make much of an impact. However, following their appearance at the Miami Pop Festival in late 1968, Pacific Gas & Electric signed with Columbia, who released Pacific Gas & Electric in 1969. Their next album, Are You Ready, supplied their first hit, the title track, which made it into the Top 20 in the summer of 1970. Despite this success, all the bandmembers left, forcing Charlie Allen to build a new Pacific Gas & Electric around him. Enter guitarist Ken Utterback, bassist Frank Petricca, Ron Woods on drums, Jerry Aiello on keyboards, trumpet player Stanley Abernathy, sax players Alfred Gallegos and Virgil Gonsalves, and percussionist Joe Lala. Around this time, the Pacific Gas & Electric Utility Company asked the band to change their name, which was shortened to PG&E, also the title of their 1971 album. They also appeared in and provided music for the Otto Preminger film Tell Me That You Love Me, Junie Moon starring Liza Minnelli.After 1972 or so, PG&E basically turned into a solo Charlie Allen vehicle. They released Starring Charlie Allen on Dunhill in 1973, then called it quits. © Sean Westergaard, allmusic.com, http://www.allmusic.com/cg/amg.dll?p=amg&sql=11:k9fexq85ldde
ABOUT
CHARLIE ALLEN
(WIKI)

Charlie Allen from the east coast was on of the founding members of blues and rock outfit Pacific Gas & Electric and the vocalist for the group. By 1968 the group consisted of Charlie Allen, Frank Cook, Tom Marshall, Brent Block, and guitarist Glenn Schwartz. Besides being remembered for his association with Pacific Gas & Electric, Allen is perhaps best remembered for the classic soul / rock / gospel hit "Are You Ready ?" that he co-wrote with John Hill which besides being a hit for Pacific Gas & Electric has been covered by artists such as The Staple Singers, and DeGarmo and Key. Allen was originally the drummer for the Pacific Gas And Electric Blues Band. His vocal abilities meant that he was destined to be the band's front man so he was placed up front and Frank Cook, the former drummer for Canned Heat became the drummer. Allen would remain the front man for the band right up until the break up of the group.The group became very popular and appeared at many concerts along with other big name bands. They also appeared in, and contributed music to the Otto Preminger directed film "Tell Me That You Love Me, Junie Moon" starring Liza Minnelli, James Coco and Fred Williamson in an early role. Allen displayed some very promising songwriting skills. On their third album, self titled, he wrote the scorching "Bluesbuster", "Miss Lucy", "My Women" with Tom Marshall and along with John Hill the frightening "Death Row #172". Another song with the same kind of theme written by Allen was "Mother, Why Do You Cry?" on the "Are You Ready ?" album, a tale about a young man in jail coming to terms with his fate. The group went through a series of personal changes and when the fourth album was released the name was shortened to PG&E. In 1973 the last LP "Pacific Gas & Electric Starring Charlie Allen" was released on the Dunhill label. By this time he was the only original member and the album was more or less his debut solo album. He died in 1990 six days after his 48th birthday.