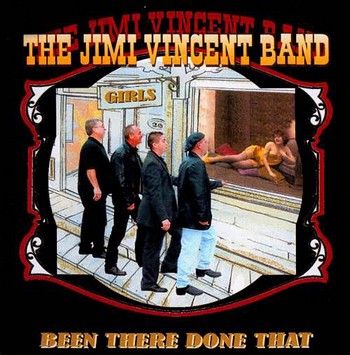 The Jimi Vincent Band
-
Been There Done That Won't Do That Again
-
2007
-
The Jimi Vincent Band
"Been There Done That Won't Do That Again" is posted here to promote this great blues rock band, and to show that good blues rock is alive and thriving.The band, formed in 1989, plays rockin' blues, with some country and soul elements.They have opened shows for Robert Cray, Bonnie Raitt, Keb Mo, John Lee Hooker Jr., BlueOyster Cult, Foghat, Mark Farner, Guy Davis, Travis Tritt, Emmylou Harris, and many others. The Band has performed three times at the International Blues Challenge in Memphis Tennessee. They play a blend of classic blues covers, and original songs.
HR by A.O.O.F.C,
this album is also available for download @ http://www.amazon.com/gp/product/B001BLB9VQ/ref=dm_sp_adp Try and find out if the band's "Horseplay" album is still available. Info @ http://www.freewebs.com/jvstallion/
TRACKS / COMPOSERS
1 A Quitter Never Wins - Ellis, Sampsen 5:17
2 I Need Your Love So Bad - Mertis 4:35
3 Been There, Done That, Won't Do That Again - Vincent 2:20
4 Summertime - Dubose, Gershwin, Heyward 6:56
5 Branded - Neal 4:23
6 Send Me An Angel - Stepp, Vincent 3:36
7 Stay Away Darlin' - Vincent 2:02
8 Have You Ever Been Lonely - Vincent 2:33
9 Bad News Woman - Vincent 3:44
10 Mercury Blues - Miller 4:58
11 I Woke Up This Morning - Vincent 3:14
12 Your Man - Vincent 4:46
BAND
Jimi Vincent - Guitar, Mandolin, Dobro, Harmonica, Vocals
Bob Dutton - Bass
Sam Romagnoli - Piano, Hammond B3, Vovals
Dustin Smith - Drums
Cee Jay Jenkins - Backing Vocals
ABOUT THE BAND
[ © 2004 http://www.freewebs.com/jvstallion/ ]

JIMI VINCENT
Born James Vincent Smith,Jimi adopted the new configuration of his birth name to avoid confusion with keyboardist Jimmy Smith. He started playing guitar at age 5 and has been rockin' ever since. Opening shows for such greats as Robert Cray, Bonnie Raitt, Keb Mo, Robert Lockwood Jr., Tex Ritter (at age 11), The Charlie Daniels Band, Emmilou Harris, Travis Tritt, and many others. Jimi writes the band's original material, plays electric and acoustic guitar, dobro and harp. With the low growl in his voice and ability to write easily understood lyrics, you can feel the rhythm and blues pouring out of his guitar and soul.
SAM ROMAGNOLI
Keyboard player Sam Romagnoli is originally from Follansbee,WV. Romagnoli's funk-fusion band Crosswinds toured the country for a number of years after leaving college. Influences at the time were Jimmy Smith,The Allman Brothers, Herbie Hancock, Tower of Power, and various jazz keyboardists. Romagnoli's primary instrument is a Hammond B-3 organ, with twin #122 Leslie Speakers. It is a combination that is rarely seen on today's stages due to it's size and weight, but the sound is far more soulful than the digital organs made today. Romagnoli's passion for the instrument shows in his playing.
DUSTIN SMITH
Dustin Smith has been playing drums since childhood, beating and banging on everything that moves. The youngest player in the band, he pushes the band with youthful energy. Dustin is Jimi's son and you can tell he has been hanging around with the band for a long time.
BOB DUTTON
Laying down the bottom for the band is bass player, Bob Dutton. Born in Sylacauga, Alabama. Bob started playing bass guitar while in the 7TH grade on a guitar bought at the local Giant Store. He has been jamming with Jimi since the early 80's
MORE BAND INFO
[ © http://www.cdbaby.com/cd/jvincentband# ]

Who Are The Jimi Vincent Band. Formed in 1989, The Jimi Vincent Band plays rockin' blues. They rattle the rafters and treat their listeners to an explosive musical experience. One can certainly feel the energy the band generates as they take the listener on a musical journey through the world of blues. The Jimi Vincent Band is currently playing blues festivals and clubs across this great land and converting new listeners to their brand of the blues. Most recently they opened a show for headliners Bonnie Raitt, Keb Mo and John Lee Hooker Jr. Jimi has also opened for the great Robert Lockwood Jr., Blue Oyster Cult, Foghat, Travis Tritt, Emmylou Harris, and many others. The band performed at the Heritage Music Festival in Wheeling, West Virginia, a three day blues event featuring many of the major blues bands in the country. The venue is on the banks of the Ohio River and was a beautiful setting to hear bands from all over the country. The Jimi Vincent Band performed three sets and was asked to be the host band for the after hours jam session held at a local club for all Heritage Festival performers. The audience went wild as The Anthony Gomes Band joined Jimi onstage for a truly memorable set . A number of other musicians took the stage as the blues burned well into the night. The band has just released its newest CD, "Been There, Done That... Won't Do That Again. It has a mix of original music and classic blues selections. Please check the Discography at www.thejimivincentband.com for information on all Jimi Vincent Band CD's