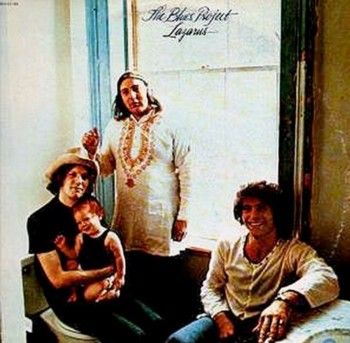 The Blues Project - Lazarus - 1971 - Capitol


First of all, a big thanks to Mike Pell, the renowned radio broadcaster and musicologist for referring this band's great "Flute Thing" instrumental by Al Kooper to me, a track which I was unfamiliar with. - (A.O.O.F.C).
On paper, the Blues Project was a great idea, but in spite of an abundance of talent (Al Kooper, Steve Katz, Danny Kalb, and Tommy Flanders were all members), somehow the band's innovative mix of blues, folk, rock, pop, and jazz never quite gelled the way it should have. The original lineup released one studio project (Projections) and two live sets (Live at the Café Au Go Go and Live at Town Hall) in the late '60s before collapsing from the usual ailments of the era (ego, poor management, drugs), leaving behind a sketchy but occasionally brilliant legacy. Kooper and Katz went on to form Blood, Sweat & Tears, while Roy Blumenfeld started up Seatrain and Kalb pasted his life back together after a few too many heavy acid trips. In 1971, newly signed to Capitol Records, the Blues Project resurfaced as a trio, with bassist and saxman Don Kretmar of Seatrain joining Kalb and Blumenfeld for Lazarus, which was recorded in England and produced by Shel Talmy. While Lazarus doesn't rise to the level of the original band, it does feature some striking tracks, including Kalb's pretty, impressionistic "Vision of Flowers," the ominous title cut, "Lazarus," and the rocking version of Joe Turner's "It's All Right Baby" that opens the set. Kretmar's tenor sax work is a delight throughout the album, as is the piano contribution of session player Tom Parker. N.B: the preceding review is © Steve Leggett © 2010 Rovi Corporation. All Rights Reserved The review here is not the full article. Read it @ http://www.allmusic.com/cg/amg.dll?p=amg&sql=10:hpfixqqsldje
Guitarist Danny Kalb, formed TBP in Greenwich Village, NYC, in the mid sixties. An eclectic band in the early days, TBP played everything from American roots and Folk music to psychedelic rock. The great Al Kooper joined The Blues Project on keyboards in 1965, but left shortly before the band played Monterey in 1967. With Steve Katz, Al was a founder of the great jazz rock outfit, Blood Sweat and Tears, which he left in 1968. The Blues Project released four albums in the sixties, before "Lazarus" was released in 1971, (and posted here), and a further two albums between 1972 and 1973. Half of The Blues Project evolved into Sea Train. "Lazarus" is quite a good album, musically. The vocals could be stronger, but there is a lot of great playing here, especially the guitar work from Dave Cohen and Danny Kalb. Most of the songs are well written, and the band's blend of jazz, blues and psychedelic rock works well. Listen to the band's exceptional "Projections" album from 1966, and also their 1973 "Reunion In Central Park" album. BS&T's "Child Is Father to the Man" album, on which Al Kooper solely penned six of the album's twelve brilliant tracks, is a great listen, as is Danny Kalb's "Livin' with The Blues" album. It is also worth hearing Al Kooper's wonderful "Naked Songs" album.

TRACKS / COMPOSERS

It's Alright - P.L. Johnson/Turner, J.
Personal Mercy - Roy Blumenfeld
Black Night - Trad.
Visions Of Flowers - Danny Kalb
Yellow Cab - Tim Hardin
Lazarus - Trad.
Brown Eyed Handsome Man - Chuck Berry
Reachings - Danny Kalb
Midnight Rain - Roy Blumenfeld
So Far, So Near - Don Kretmar

BAND

David Bennett Cohen - Guitar, Keyboards
Danny Kalb - Guitar
Roy Blumenfeld - Drums
Don Kretmar - Saxophone
Tommy Flanders - Vocals

BIO

One of the first album-oriented, "underground" groups in the United States, the Blues Project offered an electric brew of rock, blues, folk, pop, and even some jazz, classical, and psychedelia during their brief heyday in the mid-'60s. It's not quite accurate to categorize them as a blues-rock group, although they did plenty of that kind of material; they were more like a Jewish-American equivalent to British bands like the Yardbirds, who used a blues and R&B base to explore any music that interested them. Erratic songwriting talent and a lack of a truly outstanding vocalist prevented them from rising to the front line of '60s bands, but they recorded plenty of interesting material over the course of their first three albums, before the departure of their most creative members took its toll. The Blues Project was formed in Greenwich Village in the mid-'60s by guitarist Danny Kalb (who had played sessions for various Elektra folk and folk-rock albums), Steve Katz (a guitarist with Elektra's Even Dozen Jug Band), flutist/bassist Andy Kulberg, drummer Roy Blumenfeld, and singer Tommy Flanders. Al Kooper, in his early twenties a seasoned vet of rock sessions, joined after sitting in on the band's Columbia Records audition, although they ended up signing to Verve, an MGM subsidiary. Early member Artie Traum (guitar) dropped out during early rehearsals; Flanders would leave after their first LP, Live at the Cafe Au-Go-Go (1966). The eclectic résumés of the musicians, who came from folk, jazz, blues, and rock backgrounds, was reflected in their choice of material. Blues by Muddy Waters and Chuck Berry tunes ran alongside covers of contemporary folk-rock songs by Eric Anderson and Patrick Sky, as well as the group's own originals. These were usually penned by Kooper, who had already built songwriting credentials as the co-writer of Gary Lewis' huge smash "This Diamond Ring," and established a reputation as a major folk-rock shaker with his contributions to Dylan's mid-'60s records. Kooper also provided the band's instrumental highlights with his glowing organ riffs. The live debut sounds rather tame and derivative; the group truly hit their stride on Projections (late 1966), which was, disappointingly, their only full-length studio recording. While they went through straight blues numbers with respectable energy, they really shone best on the folk and jazz-influenced tracks, like "Fly Away," Katz's lilting "Steve's Song," Kooper's jazz instrumental "Flute Thing" (an underground radio standard that's probably their most famous track), and Kooper's fierce adaptation of an old Blind Willie Johnson number, "I Can't Keep from Crying." A non-LP single from this era, the pop-psychedelic "No Time Like the Right Time," was their greatest achievement and one of the best "great hit singles that never were" of the decade. The band's very eclecticism didn't augur well for their long-term stability, and in 1967 Kooper left in a dispute over musical direction (he has recalled that Kalb opposed his wishes to add a horn section). Then Kalb mysteriously disappeared for months after a bad acid trip, which effectively finished the original incarnation of the band. A third album, Live at Town Hall, was a particularly half-assed project given the band's stature, pasted together from live tapes and studio outtakes, some of which were overdubbed with applause to give the impression that they had been recorded in concert. Kooper got to fulfill his ambitions for soulful horn rock as the leader of the original Blood, Sweat & Tears, although he left that band after their first album; BS&T also included Katz (who stayed onboard for a long time). Blumenfeld and Kulberg kept the Blues Project going for a fourth album before forming Seatrain, and the group re-formed in the early '70s with various lineups, Kooper rejoining for a live 1973 album, Reunion in Central Park. The first three albums from the Kooper days are the only ones that count, though; the best material from these is on Rhino's best-of compilation. © Richie Unterberger © 2010 Rovi Corporation. All Rights Reserved http://www.allmusic.com/cg/amg.dll?p=amg&sql=11:fifwxqw5ldde~T1

BIO (WIKI)

The Blues Project was a band from the Greenwich Village neighborhood of New York City that was formed in 1965 and originally split up in 1967. While their songs drew from a wide array of musical styles, they are most remembered as one of the earliest practitioners of psychedelic rock, as well as one of the world's first jam bands, along with the Grateful Dead. In 1964, Elektra Records produced a compilation album of various artists entitled, The Blues Project, which featured several white musicians from the Greenwich Village area who played acoustic blues music in the style of black musicians. One of the featured artists on the album was a young guitarist named Danny Kalb, who was paid $75 for his two songs. Not long after the album's release, however, Kalb gave up his acoustic guitar for an electric one. The Beatles' arrival in the United States earlier in the year signified the end of the folk and acoustic blues movement that had swept the U.S. in the early 1960s. The ensuing British Invasion was the nail in the coffin. Kalb's first rock and roll band was formed in the spring of 1965, playing under various names at first, until finally settling on the Blues Project moniker as an allusion to Kalb's first foray on record. After a brief hiatus in the summer of 1965 during which Kalb was visiting Europe, the band reformed in September 1965 and were almost immediately a top draw in Greenwich Village. By this time, the band included Danny Kalb on guitar, Steve Katz (having recently departed the Even Dozen Jug Band) also on guitar, Andy Kulberg on bass and flute, Roy Blumenfeld on drums and Tommy Flanders on vocals. The band's first big break came only a few weeks later when they auditioned for Columbia Records, and failed. The audition was a success, nevertheless, as it garnered them an organist in session musician Al Kooper. Kooper had begun his career as a session guitarist, but that summer, he began playing organ when he sneaked into the "Like a Rolling Stone" recording session for Bob Dylan's album, Highway 61 Revisited. In order to improve his musicianship on the new instrument, Kooper joined the Blues Project and began gigging with them almost immediately. Soon thereafter, the Blues Project gained a recording contract from Verve Records, and began recording their first album live at the Cafe Au Go Go in Greenwich Village over the course of a week in November 1965. While the band was known for their lengthy interpretations of blues and traditional rock and roll songs, their first album saw them rein in these tendencies because of record label wariness as well as time restrictions. Entitled Live at The Cafe Au Go Go the album was finished with another week of recordings in January 1966. By that time, Flanders had left the band and, as a result, he appeared on only a few of the songs on this album. The album was a moderate success and the band toured the U.S. to promote it. While in San Francisco, California in April 1966, the Blues Project played at the Fillmore Auditorium to rave reviews. Seemingly New York's answer to the Grateful Dead, even members of the Grateful Dead who saw them play were impressed with their improvisational abilities.(Source: Rock Family Trees - television program) Returning to New York, the band recorded their second album in the fall of 1966, and it was released in November. Projections contained an eclectic set of songs that ran the gamut from blues, R&B, jazz, psychedelia, and folk-rock. The centerpiece of the album was an 11-and-a-half minute version of "Two Trains Running," which, along with other songs on the album, showed off their improvisational tendencies. One such song was the instrumental "Flute Thing", written by Kooper and featuring Kulberg on flute. Soon after the album was completed, though, the band began to fall apart. Kooper quit the band in the spring of 1967, and the band without him completed a third album, Live At Town Hall. Despite the name, only one song was recorded live at Town Hall, while the rest was made up of live recordings from other venues, or of studio outtakes with overdubbed applause to feign a live sound. One song in the latter category, Kooper's "No Time Like the Right Time," would be the band's only charting single. The Blues Project's last hurrah was at the Monterey International Pop Festival held in Monterey, California, in June 1967. By this time, however, half the original line-up was gone. Kooper had formed his own band and played at the festival as well. Katz left soon thereafter, followed by Kalb. A fourth album, 1968's Planned Obsolescence, featured only Blumenfeld and Kulberg from the original lineup, but was released under the Blues Project name at Verve's insistence. Future recordings by this lineup would be released under a new band name, Seatrain. In 1968, Kooper and Katz joined forces to fulfill a desire of Kooper's to form a rock band with a horn section. The result was Blood, Sweat & Tears. While Kooper led the band on its first album, Child Is Father to the Man, he did not take part in any subsequent releases. Katz, on the other hand, remained with the band into the 1970s. In the period between 2001-07 or longer, Roy Blumenfeld has been drumming in the Barry Melton Band (Barry of Country Joe & the Fish fame). The band plays in the Northern California area. The Blues Project, with a modified line-up, reformed briefly in the early 1970s, releasing three further albums: 1971's Lazarus, 1972's The Blues Project, and 1973's The Original Blues Project Reunion In Central Park (which featured Kooper but not Flanders). These albums did little to excite the public and since then, the group's activity has been confined to a few sporadic reunion concerts.