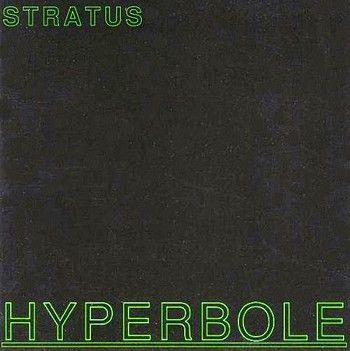 Stratus
-
Hyperbole
-
1990
-
independent release

Stratus is indeed an "undiscovered gem" in the jazz fusion world. With Paul Chester on guitars, Dave Nichols on bass, Ted Wenglinski on keys and Brian Hull on drums I was transported into silky-smooth jazz fusion ecstasy. These guys are on nearly equal standing with anything Chick Corea's Electrick Band, Scott Henderson's Tribal Tech, or Aussie Frank Gambale have delivered over the years. I'm talking quality, professional, creative compositions and high-energy, precision delivery. I also heard a great deal of that inspiring Pekka Pohjola atmosphere but jazzier. Chester and Wenglinski in their guitar/keys interactions grab you, soothe you, and fast-pitch you into extreme aural satisfaction. Nichols reminded me of Pattitucci or Willis and even pulled out some Levin on one track. There's not a weak track on this baby, nor a "loose" or "filler" bar anywhere -- hear a ton of killer guitar work, wallow in absolutely wonderful keyboard synths, groove on tight, upfront, jazzy, "funked up" bass, and just-right drums. All ten compositions by Chester, Wenglinski, and Nichols are polished, intelligent, and just darn good stuff. © John W. Patterson, All Music Guide © 2010 Answers Corporation http://www.answers.com/topic/hyperbole-1990-album-by-stratus
The late bassist, Dave Nichols formed the now legendary but rarely publicised jazz-rock fusion outfit Stratus (not to be confused with the Serbian rock band, or the heavy metal band), in Houston, Texas, in 1982 with keyboardist Ted Wenglinski , drummer Brian Hull and guitarist Scott Ayers. After Ayers left to join Pain Teens, Paul Chester joined the band. Saxophonist, Dave Caceres, and drummer Todd Harrison later joined Stratus, which over a ten years period, progressed into a highly skilled, innovative, and original fusion outfit. The band recorded four CDs between 1990 and 1997, including the brilliant independently produced 1990 album, "Hyperbole", posted here. It is one of the best jazz fusion albums you may have never heard. There are ten marvellous tracks here all composed by Paul Chester, Ted Wenglinski, and the late Dave Nichols. This is fusion on a par with artists like Eric Johnson, Scott Henderson, or Tribal Tech, and arguably better than some of these artists' albums. "Hyperbole" is full of brilliant musicianship which encompasses Canterbury rock, blues, jazz, funk and R'n'B, using unusual syncopation. Many jazz fusion bands are often rightly "slagged" off as having a lack of inventiveness, and mimicking artists like Weather Report, John McLaughlin, Coltrane, etc. Stratus was an exception to that type of fusion, and produced their own innovative and creative sound. "Hyperbole" is
VHR by A.O.O.F.C.
Buy the band's superb 1995 "Iconoclast" album, or Dave Caceres' "Innermost" album (if you can find them!)
TRACKS
Funked Up (3:05)
Natural Selection (4:21)
Relics (5:07)
Gravity and Radiation (4:26)
Hyperbole (5:54)
Loose Thoughts (5:26)
Shock Wave (5:09)
Come to Papa (4:27)
Five Blues Licks (6:02)
Brian's Request (3:42)
All tracks composed by Paul Chester, Ted Wenglinski, and Dave Nichols
BAND
Paul Chester (guitar)
Dave Nichols (bass)
Ted Wenglinski (keyboards)
Brian Hull (drums)
BIO
(WIKI)

Stratus is a jazz fusion band that formed in Houston, Texas in the early 1980s. The band's original members were Dave Nichols (musician) (bass), Brian Hull (drums), Ted Wenglinski (keyboards), and Paul Chester (guitar). This lineup is represented on the band's first CD, "Hyperbole", released in 1990 and also on the 1999 CD "Ice Nine" that contained recordings from the band's early years between 1983 and 1989. By the release of the band's 1995 CD "Iconoclast" Todd Harrison was on drums and the band had added David Caceres on sax. This is also the lineup on the most recent CD, "Anabolic, Live at the Ale House" released in 1997. Stratus' founding bass player and producer Dave Nichols died in 1996 at 33 after battling cancer. A CD of Nichols' original material titled "Waltz of Hope" was recorded by a group of his friends and musician peers including the other members of Stratus just before he died. Stratus continued to play on in Nichols' honor with Anthony Sapp taking on the bass mantle. Other drummers playing Stratus' live shows have included Tim Solook and Joel Fulgham. Following a several year hiatus while the members worked on other projects the band reunited in 2009 and began recording new material.
MORE ABOUT
STRATUS
Stratus' ex-drummer Brian Hull sent me a nice compilation CDR with music from their Ice Nine and Hyperbole releases. His initial e-mail to me self-consciously said, "Not sure if you are aware of the band but maybe you have already rejected it as not a 'progressive rock' band". Not to worry, Brian, the only reason for Stratus' lack of inclusion in the GEPR was my lack of awareness. To be nit-picky, Stratus actually wasn't a "progressive rock" band -- at least not in the sense of Yes or Genesis. They were, however, an exceptional fusion band, a genre the GEPR happily includes. Stratus should appeal to those who like bands like Bruford, Al DiMeola or Return to Forever circa Romantic Warrior, though Stratus is, perhaps, a bit more mellow than any of them. Musea still carries Hyperbole, and compares Stratus to Canterbury bands like Hatfield and the North, which should also give you a point of reference. I found their music to be enjoyable and exciting, particularly the tasty guitar with occasional Allan Holdsworth-like passages. Easily recommendable to people who like the bands I've just mentioned. Hull's e-mail implied that there were other Stratus albums beyond the two he participated in, but I have been unable to find any further information on them. I'll try to find out and update this entry with a complete discography (and info on how to find them!) if and when I can find more info. © Fred Trafton © http://www.gepr.net/st.html Updated 12/10/08
ABOUT
PAUL CHESTER
Paul Chester is Music Director and Lead Guitar for The BlueJazz Band. He has produced two albums for Dena Blue and the BlueJazz Band and is working on the third, an acoustical jazz composition. His expertise lends itself to a multitude of musical arrangements that showcase the amazing talent of Dena Blue and the BlueJazz Band. Paul Chester has been showcasing his talent across the stages of Houston with the Jazz Greats for over 15 years. He is a mentor, instructor and friend to many of the talented accomplished musicians in Houston. © http://www.bareblue.net/Band.htm
ABOUT
DAVE NICHOLS
Fitting tribute... Houston jazz bassist Dave Nichols had always wanted to record his own material, storing it away patiently over the last year while he waited for the right set of circumstances. Those circumstances never came. A ubiquitous freelance presence around town, a busy producer and a doting husband, Nichols never found time to give his own ideas the attention they deserved. But by this August, time -- a commodity never in short supply when it came to helping other musicians -- was running out on Nichols. Holed up at M.D. Anderson Cancer Center, he was succumbing to a potent form of cancer known as non-Hodgkin's lymphoma. Nichols' 33 years were winding to a close in the early morning hours of August 23 when a few friends came by his room waving a cassette. It contained seven songs -- all Nichols' -- performed by some of the most adept jazz aces in Houston. Nichols was groggy from painkillers, so it was hard to gauge his reaction as the tape wound its way through a diverse set of instrumentals. Some were playful; others were more profound. Three ("The Beave," "The Weight" and "Always Changin' ") were written -- either in full or in part -- from a hospital bed. While Nichols was not in any condition to articulate how he felt, the value of the gesture was obvious to those around him. It was the purest, most flattering form of charity for a friend, and it couldn't have come at a more appropriate time. "We finished recording it at about one o'clock in the morning," says saxophonist David Caceres, a close friend of Nichols'. "We got it to Dave in the hospital at 1:30, two o'clock. He's asleep, he's alone, his wife went home. We woke him up, and we played the music for him. He was lethargic, but he knew what was going on. He passed away 24 hours after that." Caceres and a group of ten others -- guitarist Paul Chester, percussionist Joe Ferreira and keyboardists Ted Wenglinski and Joe LoCascio, longtime Nichols compadres all, among them -- spent the evening of August 22 laying down the material with Sugar Hill producer Andy Bradley, who stuffed his equipment into a garage apartment to record the session. All the tunes were done in one take; the session lasted three hours. "The vibe," says Caceres, "was wonderful." Nichols is perhaps best known for his work with the jazz-rock fusion outfit Stratus, which he formed in 1982 with Wenglinski, drummer Brian Hull and guitarist Scott Ayers. After Ayers went on to weirder pastures with Pain Teens, Chester joined the group. For more than a decade, Stratus moved forward, transforming and expanding as it went. Caceres eventually came aboard, as did drummer Todd Harrison, and the band recorded two CDs, 1990's Hyperbole and 1995's Iconoclast. Always in demand as a player, Nichols was a model of virtuosity and efficiency, and perhaps most important, he was a quick study. "He had tremendous facilities, and he was gifted with incredible hands," says Chester. "Every advance I made in my playing, he countered with more speed." Even after he was diagnosed with cancer in the summer of 1995, Nichols refused to slow down, performing with Chester and drummer Tim Solook in the Houston Jazz Trio, playing with Caceres' quartet and engineering and performing on two CDs, Caceres' Innermost and Tod Vullo's uh*huh. "It was almost like playing was more a priority than treatment," recalls Nichols' wife Ruth. "Music was the center of everything." A musical memorial was held for Nichols last Tuesday at the Doubletree Hotel, followed by an informal jam session at the Ale House that lasted well into the night. The memorial featured live renditions of Nichols' tunes performed by Caceres, Chester, Wenglinski and other musicians who had participated in the apartment-session tribute. Plans are in the works for a CD release of that as-yet unnamed apartment recording, which is dedicated to Ruth Nichols. [ © Hobart Rowland Thursday, Sep 5 1996 © 2010 Houston Press, LP, All rights reserved http://www.houstonpress.com/1996-09-05/music/static/
ABOUT
TED WENGLINSKI
A native of St. Louis, Ted studied classical piano with University of Houston professor Albert Hirsh while still attending Clear Lake High School. He returned to Houston after graduating with a degree in music from Austin College, forming the fusion band Stratus with bassist Dave Nichols in 1982. Stratus would become a staple of the Houston jazz scene, recording 4 CDs and performing extensively at festivals and venues across Texas for 20 years. Ted has more recently done extensive work with saxophonist/vocalist David Caceres, performing at numerous galas and functions for organizations including the Houston Symphony, the Houston Ballet, the Houston Grand Opera, the American Heart Association and many others. He continues his creative pursuits with his own trio and with the hard bop quintet Monstrosity, fronted by drummer Joel Fulgham. Ted is also in demand as a sideman, performing and recording frequently in many commercial and creative settings. Comfortable in settings from solo piano to small or large groups, Ted performs classic and contemporary standards with the verve and sophistication that have made him one of the most sought after pianists in town. © http://www.gulfcoastentertainment.com/cms_home/
ABOUT
BRIAN HULL
Drummer, and founding member of Stratus.
More info would be very much appreciated

ABOUT
DAVE CACERES
Saxophonist and vocalist David Caceres is arguably the most sought-after jazz musician in Houston, Texas, which is not at all surprising considering his accomplishments and musical heritage. David's grandfather, jazz violinist Emilio Caceres, led a popular swing orchestra in San Antonio, Texas in the 1930's & 40's. His great uncle Ernie Caceres played saxophone and clarinet with the Glenn Miller, Benny Goodman, and Woody Herman big bands; David himself cultivated his own talents at Boston's prestigious Berklee School of Music. After his consummate schooling David headed to the Big Apple to cut his musical teeth. Yet, with his genetics, it is no wonder he returned to his roots to stake his musical claim. Now he has become a veritable Texas Tradition juggling an incredible performance, recording, and teaching career. With his rich musical heritage, it is no surprise David was attracted to music at an early age. After studying piano for 4 years he switched to the alto saxophone at age 11; he was attracted to the saxophone's power in mirroring the human voice, and later added the soprano, tenor sax, clarinet, and flute to his repertoire of instruments. As a youth, he gigged with a variety of musical groups in his native San Antonio, until he received a coveted scholarship to Boston's Berklee School of Music. At Berklee, David discovered the masters of jazz: John Coltrane, Charlie Parker, Dexter Gordon, Miles Davis, and Sonny Rollins. He also began to develop his sultry, yet powerful voice by listening to such early inspirations such as Chet Baker, Sarah Vaughan, Frank Sinatra, Donny Hathaway, and Stevie Wonder. Possessing a passion for all genres of music, David uniquely blended his jazz chops with an intriguing mixture of pop, R&B, and Latin music to produce his own instantly recognizable sound. After Berklee, David worked as a session musician in New York but found that something was missing: he longed for a sense of community and musical fellowship, so he returned to his roots in San Antonio. His reputation soon spread and he was invited to join the illustrious quartet of jazz pianist Paul English in Houston. Seven years later, David has been heralded as "the reedplayer/entertainer in Houston". He performs regularly with such diverse groups as his own straight-ahead band, the David Caceres Quintet, and fusion powerhouse, Stratus, the 10-piece funk David uniquely blended his jazz chops with an intriguing mixture of pop, R&B, and Latin music to produce his own instantly recognizable sound.group TKOh!, as well as a host of big bands. He has shared the stage with a varied and prestigious list of musicians, including Wynton Marsalis, Milt Hinton, James Williams, Kirk Whalum, John Pattitucci, Will Kennedy, the Drifters, Scott Gertner, and Tejano star Little Joe, just to name a few. David has also toured extensively, appearing at the famed Montreux, North Sea, and Cyprus Jazz Festivals. In 1992, David was the proud and featured artist on Texas Public Radio's: Live at the Landing, Tribute to the Jazz Legacy of Ernie and Emilio Caceres. Perpetuating the legacy of the music is critical to David, and he continues to give back to the community as an active jazz educator. He has been a faculty member of HSPVA (High School for the Performing and Visual Arts), and has been a member of the IAJE (International Association of Jazz Educators). He currently teaches at the University of Houston, and his noteworthy career in education has earned him recognition from the National Foundation for Advancement In the Arts. David's recording career is as varied and impressive as his work on stage. His debut recording "Innermost" was released in 1995 to critical acclaim. The CD, which features a delightful mix of original compositions and jazz classics, showcases David's soulful yet modern style. David's highly anticipated second recording, "Trio", was released in 1999. Sidewalk.com compared the intimacy and virtuosity on "Trio" to the legendary small-group performances of Sonny Rollins and Branford Marsalis. The captivating yet powerful disk features drummer Sebastian Whitaker and bassist Cliff Schmitt who clearly have entered into an inspired realm with David as they explore inventive originals and classics. Given his mastery and diversity it is no wonder David has been invited to add his musical stamp to the recordings of a host of other groups. He has appeared on jazz recordings by Houston favorites Stratus, Todd Vullo, and Paul English. He also performed on Latin sensation La Mafia's Grammy award winning "Un Million De Rosas." Touchingly, he produced and performed on '"Waltz of Hope", a joint project by Houston musicians to celebrate the life of bassist Dave Nichols. Be it traditional jazz or contemporary explorations, David Caceres continues the tradition of musical innovation. [© http://www.davidcaceres.com/reviews.html Website by Ben Azzara © 2010]