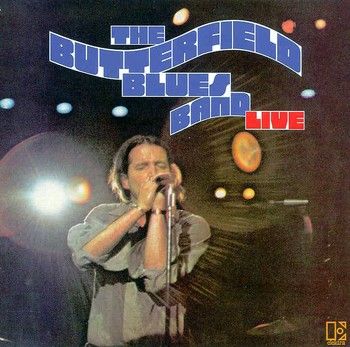 The Butterfield Blues Band
-
Live
-
1970
-
Elektra
It's difficult to know where to begin with a release like this -- there's no much here that's new and worthwhile that it virtually blows the original vinyl release, good as that was, off the map. The Paul Butterfield Blues Band didn't go quietly into the night, as this double-CD set reminds us. Originally a two-LP set, Live was their penultimate release on Elektra Records, recorded at the L.A. Troubadour and released in 1971, and it was over 70 minutes of some of the loudest, boldest blues of its time. Oddly enough, the released concert contained some of the more straightforward and less complex material in the band's book -- this could have been a much bolder and more challenging release at the time. One discovers listening to the second disc in this set 66 minutes of much more ambitious arrangements opening with "Gene's Tune," an on-the-spot improvisation on a tune that saxman Gene Dinwiddie delivered just before the group took the stage, and offering an ample showcase not just for the reeds but for Butterfield's harmonica (which is the lead instrument and heard in its full glory for much of the first-half of this 12-minute jam) but also for Ralph Walsh's guitar and Ted Harris' keyboards. Similar extended excursions are built around the more raw, more purely bluesy "Losing Hand," and the band's one-off hit, "Love March." Those are juxtaposed with more traditionally structured Chicago-style blues numbers, including "You've Got to Love Her With a Feeling," and funky jazz in bassist Rod Hicks' "All in a Day." The band comes off as a killer hybrid ensemble, somewhere midway between, say, the Count Basie band of the late 1940s and a large-scale Chicago blues band of early in the next decade, and Booker T. & the MG's paired with the Mar-Keys, all bound up in a lean, sleek package resembling the second incarnation of Blood, Sweat & Tears at their best moments. Based on what's here, the Paul Butterfield Blues Band probably deserved a hearing as much as the latter group got, if not the same sales (Butterfield was a good singer, but lacked David Clayton-Thomas' MOR appeal) -- but musically, they could have blown all competitors off the stage in their sheer eclecticism. The Rhino Handmade edition released in 2004 was limited to 2500 copies, so anyone interested shouldn't spend too much time deciding whether they really want it or not. The vinyl set could easily run $30 or more if it can be found; it has only has half of what's on the CD, and not necessarily the better half. © Bruce Eder, All Music Guide © 2010 Answers Corporation http://www.answers.com/topic/live-bonus-disc
N.B: The preceding review refers to the bonus CD reissue

Recorded live at the Troubador in Los Angeles, March 21st to 22nd, 1970, the late, great Paul Butterfield and his band played a great set of jazz based Chicago blues and R&B. "Everything Things Gonna Be Alright" and "Driftin Blues", are terrific tracks, and Paul Butterfield's musicianship on these tracks are superb. The concert included songs from the band's three previous albums. "Everything's Going To Be Alright" (also featured on the Woodstock 2 LP) and three tracks do not appear on other Butterfield albums:- The Boxer, Number 9 and Get Together Again. Paul Butterfield is one of the most important and influential blues musicians of all time, and his music is too often neglected by the music media. The album here is also available with 8 bonus tracks. Listen to the BBB "Sometimes I Feel Like Smilin'" album
TRACKS / COMPOSERS
A1 Everything Going To Be Alright - Walter Jacobs 10:02
A2 Love Disease - Gene Dinwiddie 3:59
A3 The Boxer - Rod Hicks 6:32
B1 No Amount Of Loving - Paul Butterfield 5:42
B2 Driftin' And Driftin' - Charles Brown, Johnny Moore, Eddie Williams 8:37
C1 Intro To Musicians 1:44
C2 Number Nine - Ted Harris 10:03
C3 I Want To Be With You - Gene Dinwiddie 3:49
C4 Born Under A Bad Sign - William Bell, Booker T. Jones 5:44
D1 Get Together Again - Paul Butterfield 6:29
D2 So Far, So Good - Rod Hicks 9:01
CREDITS
Ralph Wash - Guitar
Rod Hicks - Fretless bass, Background vocals, Lead vocals on "The Boxer"
Paul Butterfield - Harmonica on "Get Together Again", Piano, Vocals
Ted Harris - Keyboards
George Davidson - Drums
Brother Gene Dinwiddie - Vocals, Tenor Sax, Soprano Sax
Trevor Lawrence - Baritone Sax, Background vocals
Steve Madaio - Trumpet, Background vocals
Clydie King, Oma Drake, Merry Clayton, Venetta Fields - Background Vocals
Todd Rundgren - Producer, Engineer
Ray Thompson - Engineer
PAUL BUTTERFIELD BIO
(WIKI)

Paul Butterfield (17 December 1942 – 4 May 1987) was an American blues vocalist and harmonica player, who founded the Paul Butterfield Blues Band in the early 1960s and performed at the original Woodstock Festival. He died of drug related heart failure. The son of a lawyer, Paul Butterfield was born and raised in Chicago's Hyde Park neighborhood, where he attended the University of Chicago Laboratory Schools, a private school associated with the University of Chicago. After studying classical flute with Walfrid Kujala of the Chicago Symphony Orchestra as a teenager, he developed a love for the blues harmonica, and hooked up with white, blues-loving, University of Chicago physics student Elvin Bishop ("Fooled Around and Fell in Love"). The pair started hanging around black blues musicians such as Muddy Waters, Howlin' Wolf, Little Walter and Otis Rush. Butterfield and Bishop soon formed a band with Jerome Arnold and Sam Lay (both of Howlin' Wolf's band). In 1963, the racially mixed ensemble was made the house band at Big John's, a folk music club in the Old Town district on Chicago's north side. Butterfield was still underage (as was guitarist Mike Bloomfield.) Butterfield played Hohner harmonicas, in particular the 'Marine Band' model, which he held in his left hand. The Paul Butterfield Blues Band was signed to Elektra Records after adding Bloomfield as lead guitarist. Their original debut album was scrapped, then re-recorded after the addition of organist Mark Naftalin. Some of the discarded tracks appeared on the What's Shakin LP shared with the Lovin' Spoonful. Their self-titled debut, The Paul Butterfield Blues Band, containing Nick Gravenites' "Born in Chicago," was released in 1965. At the Newport Folk Festival of 1965, Bob Dylan closed the event backed by Butterfield's amplified band (without Butterfield himself, however), a move considered controversial at the time by much of the folk music establishment. After the release of The Paul Butterfield Blues Band, Lay became ill with pneumonia and pleurisy and Billy Davenport took over on drums. The Butterfield Band's second album was 1966's East-West. Mike Bloomfield quit the band and formed The Electric Flag with Gravenites, and Bishop began playing lead guitar on The Resurrection of Pigboy Crabshaw (1967). The band now included saxophonists David Sanborn, Gene Dinwiddie, bassist Bugsy Maugh, and drummer Philip Wilson. The Butterfield Blues Band played the Monterey International Pop Festival along with The Electric Flag, Jimi Hendrix, Ravi Shankar, and many others. After 1968's release In My Own Dream, both Bishop and Naftalin left at the end of the year. Nineteen-year-old guitarist, Buzzy Feiten, joined the band on its 1969 release, Keep On Moving, produced by Jerry Ragavoy. The Butterfield band played at the Woodstock Festival, although their performance wasn't included in the resulting Woodstock film. In 1969, Butterfield also took part in a concert at Chicago's Auditorium Theater and a subsequent recording session organized by record producer Norman Dayron, featuring Muddy Waters and backed by pianist Otis Spann, Michael Bloomfield, Sam Lay, Donald "Duck" Dunn, and Buddy Miles, which was recorded and portions released on Fathers And Sons on Chess Records. Following the releases of Live in 1970 and Sometimes I Just Feel Like Smiling in 1971, Butterfield broke up the horn band with Sanborn and Dinwiddie, and returned to Woodstock, New York. He formed a new group including Chris Parker on drums, guitarist Amos Garrett, Geoff Muldaur, pianist Ronnie Barron and bassist Billy Rich, and named the ensemble 'Better Days'. This group released Paul Butterfield's Better Days and It All Comes Back in 1972 and 1973 respectively. In 1976, Butterfield performed at The Band's final concert, The Last Waltz. Together with The Band he performed the song "Mystery Train" and backed Muddy Waters on "Mannish Boy". The late 1970s and early 1980s saw Butterfield as a solo act and a session musician, doing occasional television appearances and releasing a couple of albums. He also toured as a duo with Rick Danko, formerly of The Band, with whom he performed for the last time in Pittsburgh, Pennsylvania. He also toured with another member of The Band, Levon Helm, as a member of Helm's "RCO All Stars", which also included most of the members of Booker T and the MGs, in 1977. In 1986 Butterfield released his final studio album, The Legendary Paul Butterfield Rides Again. Paul Butterfield died in May, 1987 at his home in North Hollywood, California. A month earlier, he was featured on B.B. King & Friends, a filmed concert that also included Albert King, Stevie Ray Vaughan, Etta James, Gladys Knight and Eric Clapton. Its subsequent release was dedicated to Butterfield in memoriam. In 2005, the Paul Butterfield Fund and Society was founded; one of their aims is to petition for Butterfield's inclusion in the Rock and Roll Hall of Fame.