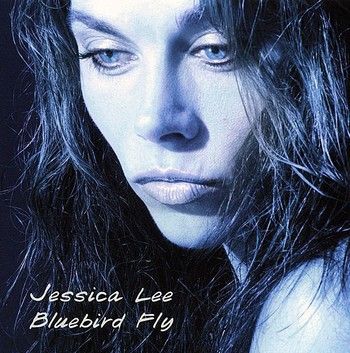 Jessica Lee
-
Bluebird Fly
-
2005
-
Jessica Lee
After hearing Jessica sing one of the CD's selections - "Why Don't You Do Right" - during a live show at a local jazz club, Peter Longini of the Pittsburgh Technology Council Magazine wrote, "The lyrics to Peggy Lee's smoky, sultry blues ballad, first recorded in 1942, have only been updated a little. Its soulful, and slightly off-beat rendering by the slender brunette on stage, is impeccable." Nate Guidry of the Pittsburgh Post-Gazette (9-15-2005) said, "Jessica Lee's debut recording, "Bluebird Fly," is a distillation of American music. Jazz, blues and rhythm & blues meld seamlessly into her considerable vocal palette. Through the melodic piano lines of D'Amico, she sings "Why Don't You Do Right" and "Get Here" with smoky and polished poignancy Lee's lyrical skill comes most convincingly into focus on "Weary Blues," a song associated with the Queen, the great Bessie Smith. Lee sings with style and flair -- she is really on to something. It will be interesting to chart her progress." "It's refreshing indeed to feast one's ears on this outstanding new release from Pittsburgh-based songstress Jessica Lee. BLUEBIRD FLY is a wonderful excursion into jazz, soul, and Rhythm & Blues, with a definite emphasis on the Blues...I invite you to discover this compelling vocalist. Jessica Lee's BLUEBIRD FLY adds a classy, tasteful dimension to the Smooth Jazz format!"- SCOTT O'BRIEN,SmoothJazz.com
"A soulful and sultry handling of blues, jazz and pop tunes". © http://www.cdbaby.com/cd/jessicalee
The four time Grammy winning engineer, Jay Dudt said of "Bluebird Fly", "If you appreciate the heart of American music, you will treasure this CD." However, only by attending a live performance can you fully appreciate the talent and power of this emerging artist. Jessica, from Franklin, Pennyslvania has spent a large part of her life performing in blues and jazz clubs. She is classically trained, and her singing is heavily influenced by spiritual and gospel music. All this, and her love of blues, jazz, R & B, and soul, has shaped Jessica's voice and made her a popular artist at well known local, and national music venues. She is carrying on the tradition of artists like Louis Armstrong, Bessie Smith, Peggy Lee, Billie Holiday, and many more. "Bluebird Fly" contains beautiful covers of many blues, gospel, soul and jazz classics. The keyboard work of John D'Amico, and the beautiful guitar work of Danny Shields is a joy to listen to. Definitely a lady to watch out for in the future. It would be great to hear another album from this lady, and if she is playing in your area, go and see her. "Bluebird Fly" is
HR by A.O.O.F.C.
For music in the same genre, search this blog for music by Kyla Brox, and Jade Maze
TRACKS / COMPOSERS
1 Why Don't You Do Right - Kansas Joe McCoy
2 Get Here - Brenda Russell
3 Hear Me Talkin' to Ya - Louis Armstrong
4 Right Place Right Now - Rory Bourke, Jon McElroy
5 I Just Wanna Love Somebody - Rory Bourke, Jon McElroy
6 Weary Blues Mort Greene,George Cates (Lyrics): Artie Matthews (Music)
7 Damn Your Eyes Steve Bogard, Barbara Wyrick
8 Lover Man - Jimmy Davis, Roger ("Ram") Ramirez, James Sherman
9 Son of a Preacher Man - John Hurley and Ronnie Wilkins
10 Jezebel - Sade Adu, Stuart Matthewman
11 My Baby Left Me - Arthur Crudup
12 Sometimes I Fell Like a Motherless Child - Trad.
MUSICIANS
Jessica Lee - Vocals
Danny Shields - Guitar
John D'Amico - Keyboards
Andy Reamer - Drums
Chris Hemingway - Alto Sax.
ALBUM NOTES
In describing the theme of "Bluebird Fly", Jessica stated that she wanted to give voice to the up-lifting energy, power and messages that were the trademarks of early artists in gospel, blues, jazz and soul. Thus, the CD's title reflects the inspirational quality of blues-based music. In crafting this debut album, Jessica has worked with Grammy award-winning engineer Jay Dudt and his partner Hollis Greathouse. The musical selections on "Bluebird Fly" include both originals and standards and showcase the wide variety of Ms. Lee's musical interests and influences. Jay Dudt and Hollis Greathouse predict that these stylistic influences of gospel, blues, jazz and soul for "Bluebird Fly" will especially appeal to fans of such artists as Etta James, Roberta Flack, Peggy Lee, Eva Cassidy and Nancy Wilson. As Jay Dudt notes: "If you appreciate the heart of American music, you will treasure this CD. Jessica's stellar performance is enhanced by some of Pittsburgh's finest musicians. The result is a special listening experience." Also assisting in the selection of material was Luke Wooten, a successful engineer and producer in Nashville, TN who provided a collection of original songs for Jessica's consideration. This led to the inclusion of the blues track "Right Place Right Now", written by Nashville Songwriters Hall of Fame member Rory Bourke and his co-writer Jon McElroy, and to the inclusion of the ballad "I Just Wanna Love Somebody." After hearing Jessica sing one of the CD's selections - "Why Don't You Do Right" - during a live show at a local jazz club, Peter Longini of the Pittsburgh Technology Council Magazine wrote, "The lyrics to Peggy Lee's smoky, sultry blues ballad, first recorded in 1942, have only been updated a little. Its soulful, and slightly off-beat rendering by the slender brunette on stage, is impeccable." © http://www.cdbaby.com/cd/jessicalee#
SHORT BIO
Vocalist Jessica Lee has studied and performed music since age five, both as a singer and a pianist. Her musical background includes constant study with accomplished jazz and R&B musicians such as renowned guitarist Tony Janflone, Sr. and pianist Dr. James Johnson. Her passion for blues and R&B, blended with her diverse background and influences (such as her profound love of God and Gospel music), has given Jessica a unique voice and made her a welcome performer at prominent music clubs and venues nationally. Currently based in Pittsburgh, PA, Jessica has been a regular performer at such venues as Dowe's on 9th Jazz Club and Litle E's Jazz & Blues Club, while nationally, she has played at such well-known clubs as Antone's in Austin, TX. With her debut album, "Bluebird Fly," she has enjoyed wide critical acclaim with international sales and radio airtime. Jessica's next album is scheduled for release in 2009. Jessica is also an experienced entrepreneur and business advisor, with a B.A. from Duke University (Durham, NC) where she studied music, creative writing and business, and a J.D. from Duke University School of Law (Durham, NC), where she studied entertainment and business law. Jessica has focused much of her entrepreneurial energy on co-founding a national center and foundation for the next generation of artists – the America's Music Crossroads Center & Foundation – to promote the performance of live American Music, assist the career-acceleration of independent American musicians, and pass the art form on to the next generation through mentoring by professionals and the development of leading entertainment technologies. Jessica is also an experienced entrepreneur and business advisor, with a B.A. from Duke University (Durham, NC) where she studied music, creative writing and business, and a J.D. from Duke University School of Law (Durham, NC), where she studied entertainment and business law. Jessica has focused much of her entrepreneurial energy on co-founding a national center and foundation for the next generation of artists – the America's Music Crossroads Center & Foundation – to promote the performance of live American Music, assist the career-acceleration of independent American musicians, and pass the art form on to the next generation through mentoring by professionals and the development of leading entertainment technologies. © www.jessicaleesong.com © http://dfswomenrock.wordpress.com/rocking-women-the-artists/
MORE ABOUT
JESSICA LEE
/
ALBUM

Jessica Lee turns in an impressive debut:- Jessica Lee's debut recording, "Bluebird Fly," is a distillation of American music. Jazz, blues and rhythm & blues meld seamlessly into her considerable vocal palette. Singer Jessica Lee says she wanted her first recording to be a reflection of her musical influences. After performing a nod to Bessie Smith, the 35-year-old vocalist unveils two originals and nine other songs ranging from "Son of a Preacher Man" and "Lover Man" to "Hear Me Talkin' to Ya." "I selected music that over the last five years I've been performing and feel an emotional connection to," said Lee. "I wanted my first recording to have a sampling of music I enjoy ... spirituals, blues and jazz. It's a reflection of where I come from musically." Lee comes from Franklin, Venango County, where she studied piano and voice. After graduating high school, she moved to Durham, N.C., to study at Duke University, where she completed undergraduate school and law school. In the mid 1990s, she returned to Pittsburgh and started studying piano, voice and music theory with guitarist and arranger Tony Janflone Sr. "She is moving along quite well," said Janflone from his home in Washington County. "I think the biggest thing was confidence, and she is starting to gain confidence." Janflone said he and Lee continue to study together, spending time mostly on difficult gospel and blues arrangements. "She is really starting to develop her own voice," Janflone said. "We've talked a great deal about the difference between being influenced by someone and stealing their licks. She is really developing, and she's a hard worker." There's little question that Lee is a hard worker and an emerging talent. When she isn't performing, she is co-founder of America's Music Center, a nonprofit center of music, technology and entrepreneurship. "We want Pittsburgh to become the home for independent musicians," said Lee. "We want to be able to provide independent musicians with career support services." While Lee would like to help emerging musicians, she's determined to build her own career. About three years ago she formed her own band and started working around town, performing at Dowe's on Ninth, Club Cafe, Legends James Street Tavern and other local venues. After receiving encouragement from artists like Janflone, Etta Cox and pianist John D'Amico, who arranged the music to "Bluebird Fly," Lee decided it was time to record her debut. During a trip to Nashville, she met producer and engineer Luke Wooten, who provided her with "Right Place Right Now" and "I Just Wanna Love Somebody," two original songs that work well in the context of the recording. Through the melodic piano lines of D'Amico, she sings "Why Don't You Do Right" and "Get Here" with smoky and polished poignancy. Lee's lyrical skill comes most convincingly into focus on "Weary Blues," a song associated with the Queen, the great Bessie Smith. Lee sings with style and flair -- she is really on to something. It will be interesting to chart her progress. © Nate Guidry, Jazz Editor, Pittsburgh Post-Gazette, Thursday, September 15, 2005 © http://www.cdbaby.com/cd/jessicalee