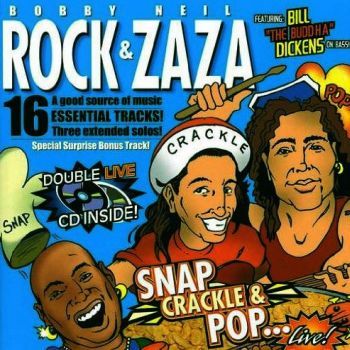 Bobby Rock
&
Neil Zaza
feat.
Bill "The Buddha" Dickens
-
Snap, Crackle & Pop...Live!
-
1998
-
Paranormal Records
"Super chops, super players, two CDs worth of live, in-your-face instrumental power rock fusion. Bobby, Neil and Bill take no prisoners as they blast through two killer sets of mostly original material...(musicians) interested in serious rock should not miss this one." © (Fuse Magazine, Issue 4, (January)1999.)
"This is unquestionably the be-all/end-all live record I've ever heard! ...(Rock is) simply among the best drummers on the planet...a hard-hitting, hard-groovin' madman who sounds like a mini percussion ensemble one minute and Buddy Rich on steroids the next!" - © American Underground Music Journal
Hold onto your seat as Bobby teams up with tour mates Neil Zaza and Bill "The Buddha" Dickens in this unparalleled musical free-for-all. Recorded during the last month of their extensive 1997 North American tour, this double-live disc contains over 100 minutes of the most over-the-top instrumental rock around as it features three tracks from Bobby's debut Out of Body, the complete, unedited solo performances from each member (including Bobby's unprecedented 18 1/2 drum solo opus, "Quadzilla"), and an in-depth interview with Bobby and Neil on Cleveland's WCSB. © http://www.shop.bobbyrock.com/Bobby-Rock-Snap-Crackle-Pop-Live-Download-BR7014.htm
Featuring one of today's hottest power trios, this double-CD live set chronicles the 1997 Rock Across America Tour of over 140 cities. The set features over 100 minutes of hard driving, straight-forward instrumental rock music delivered with a funk-tinged groove and infused with progressive jazz sensibilities. Snap, Crackle & Pop...Live! includes three tracks from Rock's scorching debut, Out of Body, three tracks from Zaza's critically acclaimed Sing, a blistering version of Aerosmith's "Walk This Way", plus extended solos from all three musicians. - Product Description© 1996-2014, Amazon.com, Inc. or its affiliateshttp://www.amazon.com/Bobby-Rock-Neil-Zaza-Crackle/dp/product-description/B00000IJM4/ref=dp_proddesc_0?ie=UTF8&n=5174&s=music
Hard-rockin' fusion doesn't get any tastier than this. For the uninitated, Bobby Rock is one of the genre's most versatile and entertaining drummers; Neil Zaza is a blinding guitarist firmly in the Vai/Satriani mold; and Dickens is one of the fastest, most fluid bassists on earth. So why is it these guys aren't household names? Beats the heck out of me ... and so did this album. Snap, Crackle & Pop Live! is mom than your garden-variety chop-fest. These 15 tracks have just the right balance of structure, melody and virtuosic showmanship to keep you enthralled from start to finish. Unbridled exuberance is the keynote here, from the sitar/drum intro through a few recognizable themes (Stevie Wonder's "I Wish," Aerosmith's "Walk This Way," the '70s funk classic "Jungle Boogie" and the traditional "Amazing Grace"). Then of course, there are those jaw-dropping solos. And on this album they are solos - 19 minutes (?!) for the drummer, 10 minutes for the guitarist and a "mere" eight minutes for the bassist. The original material is top-notch, with choices from Zaza's and Rock's respective solo albums, plus material vritten for the trio. Highlights include "Lightworker" and "I'm Alright," two melodic springboards for ripping instrumental flash, plus "Hailin and "The Duel" - perhaps the most intense bits of al1. The set closes in an 18-minute radio interview with Rock and Zaza that puts the music, the tour, and the personalities of these fine musicians in context. No, this isn't "prog" per se - but that shouldn't matter. It's rock it's fusion. It's close enough. And it's recommended. © John Collinge Progressive Magazine
You may not be familiar with the three musicians on this album, but they are three of the best in the business. This live album is
HR by A.O.O.F.C.
Sound quality varies on the tracks @ 192 Kbps, but overall the bitrate will not spoil your enjoyment of this great album. Also, if you are playing these tracks on shuffle, you may get some abrupt endings on a few tracks as the tracks generally run into each other. Check out Neil Zaza's "212" album on this blog and listen to his great "When Gravity Fails" album, Bobby Rock 's "Out of Body" album, and Bill Dickens' "Funk Bass and Beyond" Bk/CD
[
All tracks @ 192 Kbps: 2 CD's on 1 Rar file: File size = 166 Mb
]
TRACKS / COMPOSERS
CD 1
Intro- Zaza, Rock, Dickens
I Wish - Stevie Wonder
Fearless - Rock, Garsed, Carter
Lightworker- Rock, Garsed, Carter
Guitar Intro- Neil Zaza
I'm Alright- Neil Zaza
Quadzilla (Drum Solo) - Bobby Rock
Walk This Way - Steven Tyler
CD 2
Jungle Boogie - R. Bell / Donal Boyce / G. Brown / C. Smith / D. Thomas / Richard Westfield
Amazing Grace - John Newton
Hailin' - Neil Zaza
The Duel- Rock, Garsed, Carter
Guitar Solo- Neil Zaza
Bass Solo - Bill "The Buddha" Dickens
Hailin' Reprise - Neil Zaza
Bonus Track (Radio Interview with Bobby and Neil on Cleveland's WCSB)- Rock, Zaza
MUSICIANS
Neil Zaza – Guitar [
http://www.neilzaza.com/biography/
]
Bill "The Buddha" Dickens – Bass [
http://en.wikipedia.org/wiki/Bill_Dickens
]
Bobby Rock – Drums [
http://www.bobbyrock.com/bio2.html
]