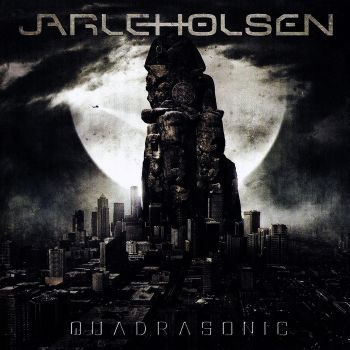 Jarle H. Olsen
-
Quadrasonic
-
2011
-
JHO Music
Hailing from Norway, Jarle H. Olsen is one of today's finest guitarists and composers of melodic progressive metal. His full-length debut album, Quadrasonic, showcases his talents through its emotive atmospheres, surgically precise performances, and lavish harmonies. Rooted in neoclassical metal and fusion playing styles, Jarle has forged a recognizable voice on his instrument; one which he never fails to pair with memorable melody and elegant songwriting. © 2007-2014 Guitar Messenger. All Rights Reserved.
"The long awaited debut album from Norway's #1 guitarist. Featuring some of the best musicians in the business. Especially recommended to fans of prog/metal/fusion and bands such as; Dream Theater, Symphony X, Malmsteen, Satriani, Vai etc." © http://www.cdbaby.com/cd/jarleholsen
"I never thought this album was ever gonna sound like this. So complete, so interesting, so mature, and last but not at least not at all boring or annoying. And I would like to focus on the last characterisation; It is quite common for many Instrumental bands/albums to make the impression that they lack of something, that there is something missing from the whole project. That's probably (well, apparently speaking for myself but that may be your concern, too) because of the vocals that don't exist alongside with the instruments, to complement one another. But you don't have to worry, Quadrasonic is way different than what I wrote just above. It's almost like having the guitars singing. Jarle H. Olsen, the founder of JARLEHOSLEN (giving his name to the band) is a pretty talented guitarist, having spent a lot of time to come to the point of making his writing come to reality through playing the guitar. And that's because of the technical difficulties a mediocre (or even higher) guitarist could face trying to play the Uuadrasonic's songs. Nice prog and heavy riffs, catchy and ingenious solos, relaxing and sexy slow parts are some of the main points of the album. I must not forget to do mention the oriental melodies used at times. The first band that came to my mind while listening to JARLEHOLSEN was SYMPHONY X (probably because of the guitarists, Jarle and Romeo have some common elements). To sum up, this is the album where inspiration meets technique. You gotta give it a try, I highly recommend this to any metal fans. If you like melody and progressive playing, you are gonna love this." - Metal Inquisition 09/12/11
"'Quadrasonic' is the new album from Norwegian shred master Jarle H. Olsen featuring Alex Argento on Keyboards, Rodrigo Garcia on Bass and Bjarte K. Helland on Drums with guest appearances from Jan Martin Kleveland and Manuel Soto. Jarle cites Iron Maiden, Yngwie Malmsteen and Marty Friedman among his influences and I really hear a bit of all of these players and more on this album, for instance the intro to 'From Deep Within' wouldn't sound out of place on Iron Maiden's 'Seventh Son…', having said that the rest of the track doesn't sound like Maiden at all but I like when I hear a hat tip to influences. Another example would be 'Enigmatic Mind' which is a like a heavier version of Yngwie Malmsteen mixed with John Petrucci. I make these comparisons not only with Jarle's playing but with his compositional style too, this is a very mature sounding album with some incredible technical rhythm and lead playing, Jarle has a very precise and clean style so that even when he is sweep picking arpeggios they are very even in both tempo and attack, just check out 'Event Horizon' to see what I'm talking about (here is a lesson on the intro that Jarle recorded for Guitar Messenger – http://www.youtube.com/watch?v=T4aZZ0uL1tk). 'Quadrasonic' is a very atmospheric sounding album and features some amazing technical melodic playing I particularly liked the final 3 part suite (if I can call it that) called 'Osiris', 'The Omnipotence', 'The Resurrection' and 'Journey To Duat' all very distinct sounding and 'Journey…' has an awesome odd time riff. Try this album if you like modern progressive shred instrumental albums by artists such as Jeff Loomis, John Petrucci and Marco Sfogli." - GuitarNoize 08/11/11
Norwegian guitarist Jarle H. Olsen's new album Quadrasonic features a tightly produced collection of progressive metal compositions that are brimming with soaring melodicism, clever arrangements, and absolutely insane chops. Olsen is joined on the all instrumental disc by keyboardists Alex Argento and Manuel Soto, bassists Rodrigo Garcia and Jan Martin Kleveland, and drummer Bjarte K. Helland. Every track on Quadrasonic is credited to Olsen, and while the album is clearly dominated by his vision and impressive guitar playing, Argento's keyboard work leaves a lasting impression here as well. Though Olsen's writing on Quadrasonic definitely has some neo-classical shades, it's also highly progressive, resulting in a Vinnie Moore-meets-Planet X sort of vibe on several tracks. And while the majority of the songs are either uber-heavy (such as "Pro-10," "Enigmatic Mind," and the arpeggio-laden "Event Horizon") or at least feature heavier sub-sections, there's plenty of melodic playing and writing on the album as well. On the ballad "From Deep Within," for example, Olsen uses deeply stacked guitar harmonies to create a dramatic, almost melancholic mood. Even here though, odd meters and tricky lines are employed which lend a prog-rock vibe to the track. "Dark Matter" and "Chimerical Moments" are perhaps the album's best examples of Olsen's ability to seamlessly blend his melodicism with balls-out metal. Heavy riffs ride alongside clever, memorable lines in these songs, while the arrangements are such that everything has room to breathe. Both of these tunes are greatly enhanced by Argento's keyboard contributions as well - his tones and playing provide great texture, and the tandem lines he peels off with Olsen are unreal. The album closes with a three-part suite (titled "Osiris"), which features an interlude-like middle section of keyboard accompanied solo guitar bookended by aggressive riff-driven tracks. The final song, "Osiris - Journey To Duat," fittingly ends with some of Olsen and Argento's best interplay on the album. Throughout Quadrasonic, Olsen's technical display is simply stunning. His picking and legato chops are as fast and clean as anything you are likely to hear, and his vibrato is very well-developed. While this album is certainly overflowing with amazing technique - from Olsen, and everyone else for that matter - it's more than a mere shred record. Quadrasonic is an album where the chops are used first and foremost to execute the smart, progressive ideas the songs call for, and to enhance the overall vibe of the disc. If this fine, well-produced effort is any indication, Olsen is one player whom we are certain to hear more from in the future. - © Nov 10, 2011 l By ABLX STAFF - By & © Rich Murray © 2003 - 2012. Abstract Logix and / or contributing writers. All rights reserved - See more at: http://www.abstractlogix.com/reviews_view.php? http://www.abstractlogix.com/reviews_view.php?idno=325idno=325#sthash.OVFmA8NJ.dpuf
A high calibre instrumental progressive metal fusion album with a strong neoclassical element from one of Norway's most skilled guitarists. Jarle's influences include Symphony X, Cacophony, Planet X, Yngwie Malmsteen, Alex Skolnick, Jason Becker, Marty Friedman, George Bellas, Greg Howe, Paul Gilbert, Vinnie Moore, and Michael Romeo. The tracks are not all going to blow you away with frantic shredding. "From Deep Within" is one of the "quieter" tunes whereas on tracks like "Event Horizon" and "Dark Matter" Jarle shifts up a few gears. However, there's not a dud track on the album and Jarle's tone is terrific throughout, and there are plenty of great solos to enjoy. Alex Argento provides sensational keyboards and Bjarte K. Helland on drums really needs to be heard. Keyboardist, Manuel Soto from the great Chilean prog rock band Crysalida plays some wonderful keys on "Exordium". This album received many great reviews, and deservedly so. A very impressive album from a remarkable guitarist and
HR by A.O.O.F.C.
Read an interview with Jarle @ http://www.guitarmessenger.com/interviews/jarle-h-olsen-interview/ Jarle plays lead guitar on Pitch Black Mentality's 'The Pitch Black Reality' album which is thrash metal and ok if you're into that genre, but watch out for further solo releases from Jarle H. Olsen and/or Quadrasonic. Promote real music
[
All tracks @ 320 Kbps: File size = 134 Mb
]
TRACKS
1. Exordium
2. Pro-10
3. Dark Matter
4. Enigmatic Mind
5. From Deep Within
6. Event Horizon
7. Chimerical Moments
8. Osiris - The Omnipotence
9. Osiris - Reawakening
10. Osiris - Journey To Duat
All tracks composed by Jarle H. Olsen
MUSICIANS
Jarle H. Olsen - Guitars
Rodrigo Garcia - Bass
Jan Martin Kleveland - Bass on Tracks 5,7,8,10
Alex Argento - Keyboards
Manuel Soto - Keyboards on Track 1
Bjarte K. Helland - Drums
ABOUT
JARLE H. OLSEN
"I started messing around with my older brother's guitar at the age of 12. A year later I received my very first guitar for Christmas which was a B.C Rich. In those days I was seriously into bands like Iron Maiden, Testament and Metallica and learned every song and solo from their albums. I could put on an album and play along with it from the beginning to its end, none stop". "After some time I got my hands on a Carvin guitar. This was the beginning of the long lasting relation with Carvin and was the guitar that changed my playing style a lot. I never really started practicing before some years later when I discovered more progressive and technically advanced music. I suddenly realized that I had limitations playing wise and I was composing music that I wasn't really able to play. This issue annoyed me because I wanted to be able to play whatever was on my mind without any limitations. So I spent the time practicing, studying, analyzing and breathe music 24/7 while constantly composing as well". "I had already played in various local bands, but never felt satisfied with the musicianship and wasn't able to express myself through the music that we played. So I was fed up with that way of working and decided to focus on my own material which eventually became "JHOP". After many years of member exchanges I finally found the right guys to join forces with. The chemistry is now very good and everyone seems to fit the project and music perfectly with their own styles and musical sense". Music of choice and influences: Iron Maiden, Testament, Metallica, The Cure, Depeche Mode, Planet X, Marillion, Sting, TNT, Dream Theater, A-Ha, Madonna, Supertramp, Deep Purple, Symphony X, Yngwie Malmsteen, Alex Skolnick, Adrian Smith, Greg Howe, Robert Smith, Jason Becker, George Bellas, Paul Gilbert, Marty Friedman, Joe Satriani, Vinnie Moore, Virgil Donati, Deen Castronovo, Vinnie Colaiuta, lots of C64 and Amiga500 game music, Bach, Rachmaninoff, Messiaen and lots of classical music, tons of movie score music, the great Ennio Morricone, John Barry, John Williams, James Bond scores and everything else that affects me and sounds good to my ears. © 2000-2011 jarleholsen.com All Rights Reserved. N.B: Read full band bio @ http://www.jarleholsen.com/JHOP/band_bio/jarle.html#Top