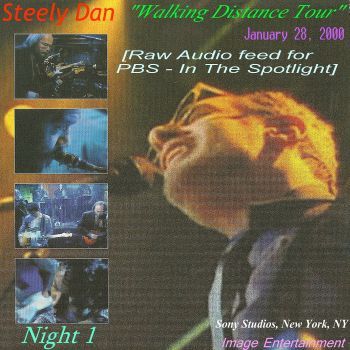 Steely Dan
-
"Walking Distance Tour"
Night 1
[
Raw Audio feed for PBS In The Spotlight]
January 28, 2000,
Sony Studios,
New York, NY
-
Image Entertainment
An unmastered and unedited raw audio stereo soundboard recording taken from the source tapes of a PBS "In The Spotlight" Special show on January 28th and 29th, 2000. It was Steely Dan's first show since 1996 and also their first show since recording their celebrated "Two Against Nature" album. This recording contains six pieces that didn't appear on the official PBS Special aired during March 2000 or on the Dan's "Plush TV Party" DVD release. Don't expect the sound quality to be on a par with the DVD release, but nevertheless the versions are all good and sound is fair to very good.
Special thanks to zoomlv
(member of the fantastic "The Trader's Den" website) for procuring this show to share. Grab this show before it disappears forever! A real collectors item!
[
All tracks @ 320 Kbps: File size = 247 Mb
]
TRACKS
1 Green Earrings
2 Janie Runaway
3 Josie
4 Gaslighting Abbie
5 Do It Again
*
6 Band Introductions
*
7 Cousin Dupree
8 Babylon Sisters
9 Black Friday
10 Walter's Remarks
*
11 Deacon Blues
*
12 Bad Sneakers
13 West of Hollywood
*
14 Home At Last (with false start)
*
15 Kid Charlemagne
16 Peg
17 FM
18 What a Shame About Me
19 Pretzel Logic
All tracks composed by W.Becker & D.Fagen
N.B:
Not aired on PBS special or released on official DVD
MUSICIANS
Walter Becker: Guitars, Vocals
Jon Herington: Guitars
Tom Barney: 5-String Bass
Donald Fagen: Fender Rhodes, Lync Keytar, Vocals
Ted Baker: Grand Piano, Synth
Ricky Lawson: Drums
Cornelius Bumpus: Tenor Saxophone
Chris Potter: Tenor and Alto Saxophone
Michael Leonhart: Trumpet
Jim Pugh: Tenor Trombone
Vicky Cave, Carolyn Leonhart, Cynthia Calhoun: Backing Vocals