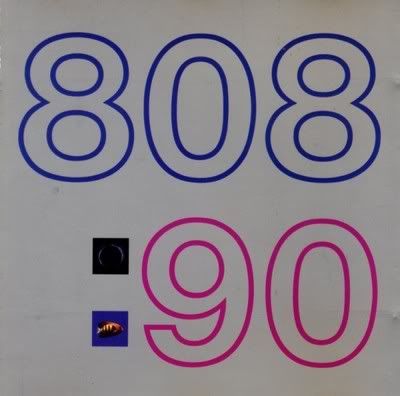 808 State - Ninety - 1989 - ZTT Records
An excellent house/techno electronic album. This is an ingenious blend of ambient, acid jazz, hip-hop, disco and rock, and is not exclusively music just for dancing to. Give it a listen.
TRACKS
"Magical Dream" – 3:52
"Ancodia" – 5:47
"Cobra Bora" – 6:36
"Pacific 202" – 5:43
"Donkey Doctor" – 5:24
"808080808" – 4:20
"Sunrise" – 6:33
"The Fat Shadow" – 0:59
GROUP
Graham Massey
Martin Price
Gerald Simpson
Andrew Barker
Darren Partington
REVIEWS
808 State's debut album release on ZTT Records wasn't the first major U.K. house/techno release, but arguably, it was the most important at the time, gaining a reputation over the years as a true classic in the field of electronic music. While not remarkably different from its many American precursors, 90 not only established that Britain could do things just as well as the States, it also helped to fully lay the groundwork for the '90s electronic revolution that continues to play out in the U.K. Arguably, 808 at this point weren't always pushing edges: "Magical Dream" and "Ancodia" have a decided gentility to their grooves. That said, "Cobra Bora" has an aggro edge, mixing gentler impulses with something more clipped and rough, not to mention a wickedly clever sample of the a cappella opening to Van McCoy's "The Hustle," clearly pointing the way to the monstrous groove of Cubik in a year's time. "Pacific 202," 90's classic number, fuses the two strains perfectly, with its soft synth and sax combination riding an insistent bass groove that's just a little bit more forceful than might be expected. The concluding tracks, such as "808080808," are closer to being in-your-face danceable, though with interesting tweaks along the way, such as "Donkey Doctor"'s echoed vocal sample and sudden mid-song break to a softer groove. © Ned Raggett © 2007 All Media Guide, LLC. All Rights Reserved
Despite having disappeared into relative obscurity within recent years, today's UK club scene would be very different without 808 State's influence. We're now a couple of generations removed from the "Madchester" explosion and the fledgling Ibiza pilgrimages of the late 1980s and early 1990s, but 808 State's influence remains.
As their peers continued to churn out repetitive, uninspiring Latino house music, 808 State refined their innovative blend of acid house, Detroit techno, ambient, jazz, hip-hop, disco and rock. Despite a couple of low-key (but nevertheless groundbreaking) albums on Creed Records and a devoted following in their native Manchester, it wasn't until the awesome, gorgeously melodic and uplifting Pacific State hit the shores of Ibiza that people began to sit up and take notice. Not least 80s uber-producer Trevorn Horn, who immediately signed them to his cult ZTT Records label.
Ninety succeeded on two levels. Not only did it have the power to crowd out the dancefloors, but it was also something you could chill out to on your stereo at home. Whilst this duality is common (if not essential) in this day and age, it was a very rare thing back in 1989.
Part of 808 State's success lay in the diversity of experience of each of the group's members. Graham Massey was an experienced jazz musician and electronic experimentalist, Martin Price ran his own record shop, whilst Andrew Barker and Darren Partington were two fresh-faced young DJs who gigged endlessly around Manchester. Despite having left the band a few years previously, Gerald Simpson's appreciation of funk and soul also left its mark upon 808 State.
To this day, Ninety remains a refreshing, exciting slice of progressive dance. After all, it was considerably ahead of its time upon its initial release in 1989. From the sparkling album opener Magical Dream (a casual pro-'E' anthem), through the dirty jazz-funk of Ancodia, the iconic Pacific and blissed-out ambience of Sunrise, Ninety pretty much maps out the evolution of British dance music right through to the mid-1990s.
Anyone out there interested in exploring the formative years of British progressive dance should pick this album up as a matter of course. Then check out S'Express' Original Soundtrack, Bomb the Bass' Uncharted Territory, LFO's Frequencies, Orbital's Green Album, The Orb's Adventures Beyond the Ultraworld and Future Sound of London's Accelerator. To listen to them is to experience history in the making. This review was originally written for Amazon UK in May 2001 http://momentum.insertdisc.com/archives/2004/05/05/retro_review_808_state_90.html
808 State's studio and stage talents have pleased crowds and helped the group to consistently pioneer and push the envelope of the techno genre. Their list of remix credits is also endless, with the band's favorite collaborators being David Bowie, Jon Hassel I, Quincy Jones, R.E.M., Rolf Harris, and Tom Jones. Through it all, 808 State have never stopped expanding their style and have never been afraid of surprising their audience. As of 2000, the group left ZTT Records and was looking for a new recording contract. © Thomas Dorst © 2007 eNotes.com LLC. All Rights Reserved
BIO (Wikipedia)
808 State is an English electronic music outfit formed in 1988 in Radcliffe, Bury in Greater Manchester, taking their name from the Roland TR-808 drum machine and the "state of mind" shared by the members. They were formed by Graham Massey, Martin Price and Gerald Simpson (later to record as A Guy Called Gerald) and released their debut Newbuild in 1988. Autechre and Aphex Twin have often cited Newbuild as being enormously influential, and the group achieved some degree of chart success in the United Kingdom in the early 1990s with releases of their "Pacific State", "Cubik" and "In Yer Face".