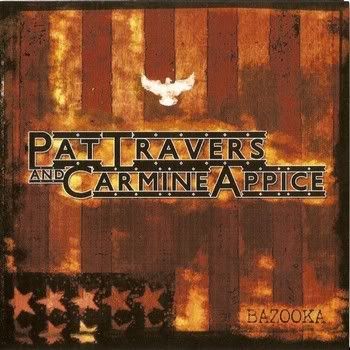 Pat Travers & Carmine Appice - Bazooka - 2005 - Cleopatra
A real explosive, once-in-a-lifetime collaboration from these two legends of hard rock. Ex Vanilla Fudge member, Carmine Appice, and the brilliant guitars Pat Travers, are helped out by the master axe-men, Steve Lukather, and Rick Derringer on this great recording. The rest of the band are no slouches either. If you're into hard rock, then give this a spin. Great stuff !
TRACKS
1 Evil (Dixon)
2 Disappear (Appice, Cordolla, Travers)
3 Superstitious (Wonder)
4 Crash & burn (Travers)
5 Livin' alone (Beck, Bogart, Appice)
6 Misfortunate one (Appice, Cordolla, Travers)
7 Last child (Tyler, Whitford)
8 Snortin' whiskey (Thrall, Travers)
9 Boom, boom (Lewis)
10 Politician (Brown, Bruce)
11 Babylon baby (Appice, Cordolla, Travers)
12 Bazooka (Appice, Travers)
MUSICIANS
Carmine Appice - percussion, drums, vocals, producer, mixing
Lanny Cordola - executive producer
Rick Derringer - Guitar (12)
Tony Franklin - fretless bass
Steve Lukather - guitar (7)
Pat Regan - mixing
Pat Travers - producer, guitar
Brad Vance - mastering
Chuck Wright - bass (2) (6) (7) (8) (10) (11) (12)
Bobby Kimball - vocals (7)
REVIEW
The second studio album by legendary rockers Pat Travers and Carmine Appice, the followup to 'It Takes A Lot Of Balls' shows these two veterans have much to offer to fans of bluesy heavy rock. This time around assisted by bassists Tony Franklin and Chuck Wright, featuring guest appearances by Rick Derringer as well as Steve Lukather and Bobby Kimball of Toto, the two have come up with a collection of tracks that's sure to please afficianados of 70's styled rock in the classic mode.
Crashing out of the gate with a romp through a remake of the Cactus arrangement of Willie Dixon's "Evil," they skillfully show the talents that originally brought them to prominence during rock's golden age, Travers belting out an impassioned vocal while Appice's heavy drumming leads the way. Giving way to the first of the album's four original compositions "Disappear," a slightly psychedelic hard rocker which begins with a guitar quote from The Beatles' "Within You, Without You," done Satriani style. Straying from his normal style of playing here, I was quite impressed at the fluidity of Travers' lead work, as it's more of a "shred" type style than hard edged blues scales, and it works quite well. As they continue with updated versions of BB&A's classic cover of Stevie Wonder's "Superstitious," Travers' "Crash & Burn" and yet another BB&A classic "Livin' Alone," they're clearly hitting their stride, and while it may take a couple of listens to acclimate oneself to these being slightly different than the renditions most fans of these artists have been used to hearing, they do stand on their own. The second original, "Misfortunate One" follows, a moody rocker that would've fit in perfectly on Travers' classic 70's albums. Containing searing guitar work, this is one of the highlights of the album. A cover of Aerosmith's "Last Child," featuring vocals by Toto's Bobby Kimball and a guest guitar solo by bandmate Steve Lukather, comes next, a fairly faithful rendering, and although Kimball's phrasing doesn't quite match Steven Tyler's raspiness, it's close enough for rock n roll! A couple more remakes of Travers' best known songs, "Snortin' Whiskey" and "Boom, Boom (Out Go The Lights)," while not surpassing the originals, still have enough energy to make them more than credible efforts. After a bruising interpretation of Cream's "Politician" it's on to "Babylon Baby," a funky rocker propelled by a throbbing bass line from Chuck Wright, who along with Appice form a formidable rhythm section over which Travers unleashes incendiary solos. Some Vanilla Fudge styled harmony vocals also lend a nice touch here. Concluding with the instrumental title track, on which Derringer contributes spacey guitar licks over Appice's strong martial drumming, almost Hendrix like in feel, it's a classy way to end things.
Produced by Appice and Travers, mixed by Appice and famed producer Pat Regan (Deep Purple, Kiss, Rainbow) the sound on the CD, as to be expected is excellent. Clear, punchy with tons of bottom end, which serves to give a crunch to the mix. Given the pedigree of the musicians involved, you'd expect great playing, and that's what you get from all involved.
One might question the wisdom of including so many remakes and covers instead of entirely new material, but in all actuality it works admirably. There's a certain comfort in the familiarity of these classic songs that serves to make the newer songs stand out, giving them a platform from which to shine.
All in all, this is a very solid, satisfying release. If you've enjoyed Travers' recent output such as the 'PT Power Trio' discs, you'll find much here in the same vein. Judging from the original compositions on display here, I'll certainly be looking forward to hearing more from these two extremely talented musicians in the hopefully not too distant future. It's a shame that modern radio won't touch these songs, as there are several here that given airplay, could take off in a big way. As it is though, just the fact that these artists are still making quality music without commercial considerations is a fact to rejoice. 8/10 © Nightwatcher © 2007 Rock N Roll Universe