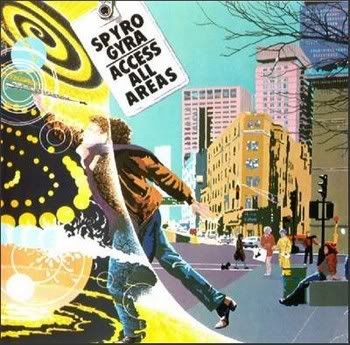 Spyro Gyra - Access All Areas - 1984 - MCA
Brilliant contemporary pop jazz release from Spyro Gyra, who seem to have been around forever. For some unknown reason, the track "Old San Juan" , which was on the original 1984 MCA vinyl LP, is not included on this CD release. If you know of a CD with this track included, please post info. Try and listen to "Fast Forward", another great Spyro Gyra album.
TRACKS
1. Shaker Song (6:57)
Jay Beckenstein
2. Serpent in Paradise (5:52)
Jay Beckenstein
3. Heliopolis (11:12)
Jay Beckenstein
4. Harbor Nights (6:52)
Jay Beckenstein
5. Conversations (8:16)
Tom Schuman
6. Schu'S Blues (4:36)
Tom Schuman
7. Morning Dance (5:25)
Jay Beckenstein
8. Islands in the Sky (6:21)
Jeremy Wall
9. Sea Biscuit (5:22)
All Members
10. Latin Streets (7:58)
Jorge D'Alto/Gerardo Velez
MUSICIANS
Jay Beckenstein
Saxophones, Lyricon
Tom Schuman
Keyboards
Eli Konikoff
Drums
Kim Stone
Bass
Chet Catallo
Guitar
Dave Samuels
Vibraphone, Marimba
Gerardo Velez
Percussion
Recorded live in Florida from November 17-19, 1983. Producers: Jay Beckenstein, Richard Calandra (tracks 1-10). Recorded live in Florida from November 17-19, 1983. All songs written or co-written by members of Spyro Gyro except "Islands In The Sky" (Jeremy Wall).
BIO
Founded in 1974 by altoist Jay Beckenstein, Spyro Gyra has consistently been one of the commercially successfully pop-jazz groups of the past 20 years. Although originally a studio group, the band became a full-time venture in 1979 and has been touring ever since. Critics love to attack this band's lightweight and rarely changing music, which combines R&B and elements of pop and Caribbean music with jazz, but its live performances are often stimulating -- unlike many of its records, which emphasize the danceable melodies at the expense of improvising.
The roots of Spyro Gyra lay in Buffalo, NY, in the early '70s. Beckenstein and his longtime friend, keyboardist Jeremy Wall, had been leading a group with a revolving membership; every one of the many members in the band were loosely involved in the local jazz and rock scenes. Around 1974, the group was beginning to gel and cultivate a following. A club owner who wanted to advertise an upcoming appearance by the band asked Beckenstein for the group's name. The saxophonist told him "Spirogira," a word he learned in a college biology course. The owner misspelled the word as Spyro Gyra, and the band fell into place, featuring Beckenstein, Wall, electric guitarist Chet Catallo, bassist David Wolford, drummer Eli Konikoff, and percussionist Gerardo Velez. Not long afterward, the group added keyboardist Tom Schuman.
Spyro Gyra independently funded and recorded their debut album, releasing the record on the local independent label Amherst in 1976. The record slowly became a success and Amherst sold the rights to the band to Infinity Records, a division of MCA. Morning Dance, their first album for Infinity, was released in 1979. The record became a major hit, spawning a Top 40 single with "Morning Dance" and going platinum. In the wake of the record's success, Wall retired from live performance, leaving Schuman as the group's main keyboardist; Wall stayed with the band as an assistant producer and occasional composer.
Morning Dance firmly placed Spyro Gyra as one of the most popular artists in contemporary jazz, and throughout the '80s, their popularity continued growing. Their albums were consistent best-sellers, and their concerts often sold out. In 1983, vibraphonist/marimba player Dave Samuels -- who had played on several of the group's albums -- became a full-fledged member of the band. Over the course of the '80s, the membership of Spyro Gyra fluctuated, but Beckenstein and Schuman remained at its core, keeping the group's signature sound intact.
In 1990, MCA's jazz roster was absorbed by GRP, so Spyro Gyra switched labels, releasing Fast Forward, their first album for GRP, later that year. In 1993, Samuels left the touring band, but he continued to play in the studio. By the late '90s, the band featured Beckenstein, Schuman, Julio Fernandez, Joel Rosenblatt, and Scott Ambush, and released Got the Magic in 1999. Two years later the band moved to the Telarc-affiliated Heads Up label and released In Modern Times in 2001, followed by Original Cinema in 2003. Drummer Rosenblatt left the band and was replaced by Ludwig Afonso for 2004's Deep End. A fourth Heads Up album, Good to Go-Go, was issued in 2007. © Scott Yanow & Stephen Thomas Erlewine, All Music Guide