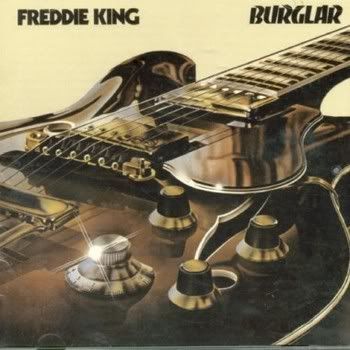 Freddie King - Burglar - 1974 - RSO
A great pure blues album from the late Freddie King, a major influence on many of the great modern rock and blues artists today, including the late Stevie Ray Vaughan, and Eric Clapton. This is Chicago blues at it's best. Sadly, Freddie King died before he achieved his full potential. Give this album a listen. Also check out Robert Lockwood Jnr, a major influence on Freddie King, and the great Peter Green who in turn was very much influenced by Freddie King.
TRACKS & COMPOSERS
SIDE 1
Pack It Up - G. Chandler, Gonzales
My Credit Didn't Go Through - G. Johnson, G. Perry
I Got The Same Old Blues - J.J. Cale
Only, Getting Second Best - M. Vernon, R. Hayward
Texas Flyer - King, Vernon, Davies, Tench, Harper, Ferrone
SIDE 2
Pulp Wood - King, Wingfield, Davies, Tench, Harper, Ferrone
She's A Burglar - J. Ragovoj
Sugar Sweet - M. London
I Had A Dream - I. Hayes, D. Porter
Come On (Let The Good Times Roll) - E. King
MUSICIANS
Eric Clapton - guitar
Steve Ferrone - drums
Freddie King - vocals, guitar
Pat Arnold - background vocals
Steve Gregory - tenor saxophone
Chris Mercer - tenor saxophone
Bud Beadle - baritone saxophone
DeLisle Harper - bass
Mick Eves - tenor saxophone
Roy Davies - elctric piano, Clavinet
Ron Carthy - trumpet
Misty Browning - background vocals
Brian Auger - organ
REVIEW
Produced in part by Mike Vernon, who worked on The Legendary Christine Perfect Album, this is an entertaining and concise package of ten songs performed by the late Freddie King and a slew of guests. Opening with Gonzalez Chandler's "Pack It Up," featuring the Gonzalez Horn Section, the youthful legend was only 40 years of age when he cut this career LP two years before his death. Though no songs went up the charts like his Top Five hit in 1961, "Hide Away," Burglar is one of those gems that journeymen can put together in their sleep. Tom Dowd produced "Sugar Sweet" at Criteria Studios in Miami, FL, featuring Jamie Oldaker on drums, Carl Radle on bass, and guitarists Eric Clapton and George Terry, which, of course, makes this album highly collectable in the Clapton circles. The sound doesn't deviate much from the rest of the disc's Mike Vernon production work; it is pure Freddy King, like on the final track, E. King's "Come On (Let the Good Times Roll)," where his guitar bursts through the horns and party atmosphere, creating a fusion of the pure blues found on "Sugar Sweet" and the rock that fans of Grand Funk grooved to when he opened for that group and was immortalized in their 1973 number one hit "We're an American Band" a year after this record's release. Sylistically, Freddie King is from the same school as Buddy Guy, two men instrumental in bringing this art form to a mass audience. King stretches those sounds with great fervor on the Hayes/Porter number "I Had a Dream," containing the strength Mark Farner said the blues artist displayed in concert, which could snap a guitar neck. The voice of Freddie King is what drives J.J. Cale's "I Got the Same Old Blues," the horns and the guitar battling between verses and uniting to ooze under the guitarist's vocal expression. Rhythm guitarist Bob Tench, producer Mike Vernon, bassist DeLisle Harper, drummer Steve Ferrone, and pianist Roy Davies all co-write "Texas Flyer" with Freddie King, a prime example of the modern blues this artist was developing. With Brian Auger and Pete Wingfield contributing to the title track, Jerry Ragovoy's "She's a Burglar," this project stands as a solid representation of an important musician which is as enjoyable as it is historic. © Joe Viglione © 2007 All Media Guide, LLC. All Rights Reserved.
BIO
Guitarist Freddie King rode to fame in the early '60s with a spate of catchy instrumentals which became instant bandstand fodder for fellow bluesmen and white rock bands alike. Employing a more down-home (thumb and finger picks) approach to the B.B. King single-string style of playing, King enjoyed success on a variety of different record labels. Furthermore, he was one of the first bluesmen to employ a racially integrated group on-stage behind him. Influenced by Eddie Taylor, Jimmy Rogers, and Robert Jr. Lockwood, King went on to influence the likes of Eric Clapton, Mick Taylor, Stevie Ray Vaughan, and Lonnie Mack, among many others.
Freddie King (who was originally billed as "Freddy" early in his career) was born and raised in Gilmer, TX, where he learned how to play guitar as a child; his mother and uncle taught him the instrument. Initially, King played rural acoustic blues, in the vein of Lightin' Hopkins. By the time he was a teenager, he had grown to love the rough, electrified sounds of Chicago blues. In 1950, when he was 16 years old, his family moved to Chicago, where he began frequenting local blues clubs, listening to musicians like Muddy Waters, Jimmy Rogers, Robert Jr. Lockwood, Little Walter, and Eddie Taylor. Soon, the young guitarist formed his own band, the Every Hour Blues Boys, and was performing himself.
In the mid-'50s, King began playing on sessions for Parrott and Chess Records, as well as playing with Earlee Payton's Blues Cats and the Little Sonny Cooper Band. Freddie King didn't cut his own record until 1957, when he recorded "Country Boy" for the small independent label El-Bee. The single failed to gain much attention.
Three years later, King signed with Federal Records, a subsidiary of King Records, and recorded his first single for the label, "You've Got to Love Her With a Feeling," in August of 1960. The single appeared the following month and became a minor hit, scraping the bottom of the pop charts in early 1961. "You've Got to Love Her With Feeling" was followed by "Hide Away," the song that would become Freddie King's signature tune and most influential recording. "Hide Away" was adapted by King and Magic Sam from a Hound Dog Taylor instrumental and named after one of the most popular bars in Chicago. The single was released as the B-side of "I Love the Woman" (his singles featured a vocal A-side and an instrumental B-side) in the fall of 1961 and it became a major hit, reaching number five on the R&B charts and number 29 on the pop charts. Throughout the '60s, "Hide Away" was one of the necessary songs blues and rock & roll bar bands across America and England had to play during their gigs.
King's first album, Freddy King Sings, appeared in 1961, and it was followed later that year by Let's Hide Away and Dance Away With Freddy King: Strictly Instrumental. Throughout 1961, he turned out a series of instrumentals — including "San-Ho-Zay," "The Stumble," and "I'm Tore Down" — which became blues classics; everyone from Magic Sam and Stevie Ray Vaughan to Dave Edmunds and Peter Green covered King's material. "Lonesome Whistle Blues," "San-Ho-Zay," and "I'm Tore Down" all became Top Ten R&B hits that year.
Freddie King continued to record for King Records until 1968, with a second instrumental album (Freddy King Gives You a Bonanza of Instrumentals) appearing in 1965, although none of his singles became hits. Nevertheless, his influence was heard throughout blues and rock guitarists throughout the '60s — Eric Clapton made "Hide Away" his showcase number in 1965. King signed with Atlantic/Cotillion in late 1968, releasing Freddie King Is a Blues Masters the following year and My Feeling for the Blues in 1970; both collections were produced by King Curtis. After their release, Freddie King and Atlantic/Cotillion parted ways.
King landed a new record contract with Leon Russell's Shelter Records early in 1970. King recorded three albums for Shelter in the early '70s, all of which sold well. In addition to respectable sales, his concerts were also quite popular with both blues and rock audiences. In 1974, he signed a contract with RSO Records — which was also Eric Clapton's record label — and he released Burglar, which was produced and recorded with Clapton. Following the release of Burglar, King toured America, Europe, and Australia. In 1975, he released his second RSO album, Larger Than Life.
Throughout 1976, Freddie King toured America, even though his health was beginning to decline. On December 29, 1976, King died of heart failure. Although his passing was premature — he was only 42 years old — Freddie King's influence could still be heard in blues and rock guitarists decades after his death. © Stephen Thomas Erlewine & Cub Koda © 2007 All Media Guide, LLC. All Rights Reserved