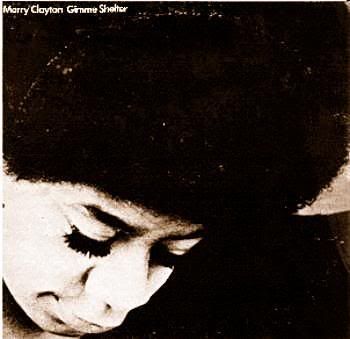 Merry Clayton - Gimme Shelter - 1970 - Ode/A&M
Probably her best-remembered soul album from the 70s, and one that features lots of all-star help by the likes of Lou Adler, Curtis Amy, Gene Page, and Billy Preston. With her classic version of "Gimme Shelter", plus "Tell All The People", "I've Got Life", "Here Come Those Heartaches Again", and "Good Girls". This album was also released on A&M. Does anybody know if the original album contained a Van Morrison track, "Glad Tidings"? If it did, does anybody have a link for it? Posts appreciated.
TRACKS
01. Country Road (James Taylor)
02. Tell all the People (Robbie Krieger – Doors Music)
03. Bridge Over Troubled Water (Paul Simon)
05. I've Got Life (Words James Redo – Jerome Ragin -- Music Galt MacDermot)
04. Gimme Shelter (Jagger – Richards)
06. Here Comes Those Heartaches Again (James Cleveland)
07. Forget It (Gary Wright – Jimmy Miller)
08. You've Been Acting Strange (Billy Preston)
09. I Ain't Gonna Worry My Life Away (Merry Clayton – Billy Preston)
10. Good Girls (Billy Page)
CREDITS
Produced by Lou Adler with considerable help from Merry's husband Curtis Amy.
Guitars: David T. Walker, David Cohen, Louie Shelton, Lou Morrell, Orville "Red"
Rhodes.
Piano & Organ: Joe Sample, Billy Preston.
Congas: King Errisson.
Percussions: Gary Coleman, Victor Feldman.
Bass: Bob West.
Drums: Paul Humphrey.
BIO
b. Merry 'Baby Sister' Clayton, Gert Town, New Orleans, U.S.A. Merry Clayton is the daughter of a Baptist Reverend and naturally grew up in a strict gospel environment. Merry has recorded with many diverse artists including Elvis Presley, the Supreme's, Ray Charles (becoming one of the Raelettes) and the Rolling Stones. In 1962, she recorded the song 'You're The Reason I'm Living' with rock singer Bobby Darin. Merry made her solo debut in 1963 with 'The Doorbell Rings', before recording a version of 'The Shoop Shoop Song (It's In His Kiss)', a song later popularized by Betty Everett and Cher. Clayton went on to record further singles before beginning a successful career as a session singer. She moved to Los Angeles where she founded Sisters Love and had some success with the group at A & M Records. When the group signed to Motown Records, Merry decided to stay at A & M, signing to the label's subsidiary, Ode Records. She appeared on several Joe Cocker releases, but is best known for her impassioned appearance on the Rolling Stones' 'Gimmie Shelter'. An album of the same name was to follow in 1970. A member of Ray Charles' Raelettes during the late 60's, Clayton then resumed her solo work and enjoyed several R & B hits including 'After All This Time' (1971) and 'Oh No Not My Baby' (1973). Probably her finest release came in 1980 with the excellent 'Emotion'. She worked with producer, Webster Lewis, on the title track and took Joe Samples 'Melodies Of Love' instrumental and turned it into a tour-e-force with new lyrics penned by Will Jennings of The Crusaders, entitled 'When The World Turns Blue'. Many peoples all time favourite tune. She subsequently enjoyed sporadic success. 'Yes', from the film Dirty Dancing, reached the US Top 50 in 1988, but latterly Clayton has also pursued an acting career with roles in 'Maid To Order' and television's 'Cagney And Lacey'. In 1994, she returned to recording, releasing the gospel set 'Miracles' for the A & M label. The album included the Ronn Matlock tune 'Heavenly Father'. She performed cabaret-style with Marianne Faithfull and Darlene Love as '20th Century Pop' in 1996. Other artists that have utilised Merry's vocal attributes are Gene Page, Harvey Mason, Michael Wycoff, Leslie Smith, Roy Ayers, Webster Lewis, Gene Harris, The Blackbyrds and Bobby Womack. Incidentally, Merry was called that name, by her parents, because of the festive time of year she was born. www.soulwalking.co.uk/index.html