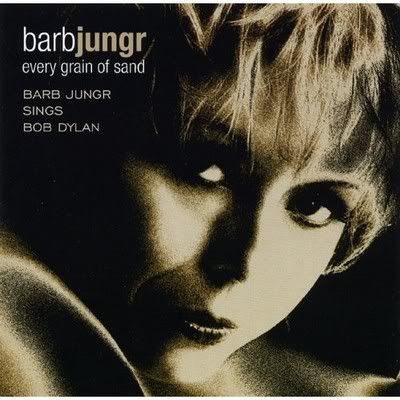 Barb Jungr - Every Grain of Sand - 2002 - Linn Records
With her unique vocal style, critics have compared her to Nina Simone, Peggy Lee and Edith Piaf - Village Voice (New York) declaring that "(Barb Jungr) is one of the best interpreters of Jacques Brel and Bob Dylan anywhere on this angst ridden planet today". Since 2000, Jungr's releases on Linn Records have brought her to the world stage and revealed her to be one of Europe's most exciting voices. Billy Bragg described her as "possibly the best interpreter of Dylan's songs". In this view he is not alone as Jungr has been wowing audiences and critics worldwide with her astonishingly powerful interpretations of this great songwriter's work. A great album, and if you are a Dylan fan you may be amazed at these superb interpretations of his songs. Also check out Barbs album "Waterloo Sunset".
TRACKS
I'll Be Your Baby Tonight" (Bob Dylan) – 4:06
Originally from the Bob Dylan album John Wesley Harding (1967)
"If Not For You" (Dylan) – 3:09
Originally from the Bob Dylan album New Morning (1970)
"Things Have Changed" (Dylan) – 4:57
Originally from the soundtrack to the film Wonder Boys (dir Curtis Hanson) (2000), and from the Bob Dylan album The Essential Bob Dylan (2000)
"Ring Them Bells" (Dylan) – 3:14
Originally from the Bob Dylan album Oh Mercy (1989)
"Not Dark Yet" (Dylan) – 4:36
Originally from the Bob Dylan album Time Out of Mind (1997)
"Don't Think Twice, It's All Right" (Dylan) – 4:37
Originally from the Bob Dylan album The Freewheelin' Bob Dylan (1963)
"Is Your Love in Vain?" (Dylan) – 3:29
Originally from the Bob Dylan album Street Legal (1978)
"It's All Over Now, Baby Blue" (Dylan) – 4:10
Originally from the Bob Dylan album Bringing It All Back Home (1965)
"I Want You" (Dylan) – 3:13
Originally from the Bob Dylan album Blonde on Blonde (1966)
"Sugar Baby" (Dylan) – 7:40
Originally from the Bob Dylan album Love and Theft (2001)
"Born in Time" (Dylan) – 3:10
Originally from the Bob Dylan album Under the Red Sky (1990)
"What Good Am I?" (Dylan) – 3:58
Originally from the Bob Dylan album Oh Mercy (1989)
"Tangled Up in Blue" (Dylan) – 5:33
Originally from the Bob Dylan album Blood on the Tracks (1975)
"Forever Young" (Dylan) – 2:57
Originally from the Bob Dylan album Planet Waves (1974)
"Every Grain of Sand" (Dylan) – 4:22
Originally from the Bob Dylan album Shot of Love (1981)
CREDITS
All vocals & vocal arrangements: Barb Jungr
All Piano: Simon Wallace except Ring Them Bells, I Want You and Tangled up in Blue Russell Churney.
Julie Walkington: double bass
Sonia Oakes Stuart: cello
Sonya Fairburn: violin
Kim Burton: accordion
Gary Hammond: percussion
Mark Lockheart: soprano & tenor saxophones
Barb Jungr: harmonica
Arrangements: Simon Wallace, James Tomalin, Barb Jungr, Russell Churney, Julie Walkington and Sonia Oakes Stuart.
REVIEWS
Every Grain of Sand is a breathtaking revelation on several fronts. First, Barb Jungr treats Bob Dylan as one of the great tunesmiths of the American popular tradition. Not merely as rock & roll's preeminent songwriter, the direction from which virtually all others have approached his canon, but as a sophisticated composer the equal of the Gershwins, Irving Berlin, Jerome Kern, or Cole Porter. Jungr dramatically re-reads that canon and she fearlessly reshapes it in the process. To cite the most radical instances, she turns "Things Have Changed" into an Eastern European jig and "Tangled up in Blue" into a jaunty, jazzy western, while "Born in Time" is a marvel full of Baroque voicings. One may quibble — and Dylan fanatics, known to be provincial on occasion, certainly will, perhaps vociferously — with an arrangement here or a lyrical interpretation or subtle shading there without — and here is the magic of the album — in the least invalidating the singer's choices. Indeed, part of the sublime beauty of Every Grain of Sand is that it inspires, even challenges, one to make personal revisions and reinterpretations. Ultimately, Jungr is one of the few artists who has managed to not only come out on the other side of this songbook unscathed, but to actually come out having enhanced its gravity, significance, and unvarnished beauty as well as her own. She is not merely singing, but telling stories. She opens up a window of vulnerability and sensuality that had previously sat stoic beneath the surface of these songs and suffuses them with such a delicate, gauzy luminosity that they seem to glow from the inside out. Her singing is soulful and emotionally naked, and the performances are so expressive that you take something new away with each listen. The treasures ("I'll Be Your Baby Tonight," "Ring Them Bells," "Not Dark Yet," "Is Your Love in Vain?," and "What Good Am I?") tucked away here are endlessly rewarding. If you think you've heard Bob Dylan — or Barb Jungr — before Every Grain of Sand, you are, simply put, mistaken. © Stanton Swihart © 2007 All Media Guide, LLC. All Rights Reserved.
Was there ever a more fastidious school of amateur pop critics than the Bob Dylan fan club? As obsessive as professors of hieroglyphics, his admirers will have plenty to say about Barb Jungr's new album of Dylan songs. Responses will no doubt soon be winging around the many websites dedicated to the grand old man of the singer-songwriter set.
For those of us who have never signed up to the appreciation society, Jungr's collection, Every Grain of Sand, comes as a quiet revelation. If, like me, you have always found Dylan's reedy voice an insurmountable obstacle, Jungr's sensual performance casts the songs in a fresh light. Acclaimed as an ambassador for the neglected art of chanson, the Rochdale-born singer views the material through the prism of Leo Ferre and Jacques Brel - two of the artists who inspired her last album, Chanson: The Space in Between.
The British never quite know what to make of performers who interpret cabaret and theatre songs as well as jazz. So Jungr has for the most part operated below radar level in this country, quietly building a following through appearances at events such as Pirate Jenny's, the monthly cabaret showcase organised by singer-songwriter Des De Moor. (The pair recently collaborated on De Moor's absorbing show, Darkness and Disgrace, devoted to the music of David Bowie.)
Jungr has spent so much time championing the virtues of European song that she seems almost embarassed that her latest venture draws its inspiration from the other side of the Atlantic. But she also happens to be an authority on American popular song - she is a contributor to the forthcoming Cambridge Companion to Blues and Gospel. And given her interest in approaching songs as "texts", she made a logical candidate.
When the time came to assemble the Dylan songlist, she initially rifled through the celebrated LPs such as Blonde on Blonde and Blood on the Tracks (which respectively yielded up I Want You and Tangled up in Blue). But she was also draw to the less fashionable, later work. One of her favourites, Sugar Baby, comes from last year's release Love and Theft. It is, Jungr insists, one of the finest songs she has heard in the past 25 years.
Even so, it took her a while to come to terms with Dylan's idiosyncratic singing voice: "I used to dislike his voice for all the reasons people usually mention," she explains. "It seemed very nasal and whiny, and it was impossible to hear a word. And then there's the harmonica playing, of course.
"But I've actually come to believe that he's a really good singer. There's a lot of subtlety in his singing that I wasn't aware of before. I will say the arrangements on the albums were not the best in the world - you get a lot of bog-standard rock. But the more I heard, the more I realised I was wrong about his voice.
"I think you have to listen to him in the context of the blues, and then you understand what's going on. If you listen to a song like Isis, for instance, you find he's doing this extraordinary thing which you hear in a lot of blues performers. he's going through these tiny glissandi all the time. If you scored it all out, you'd be amazed."
It is somehow typical of Jungr's passion for music that she can wax lyrical over a song which is not actually on her album. Other singers would be focused on self-promotion; Jungr simply follows wherever her enthusiasm carries her. It is just as well she is so bouyant, because much of the time she is swimming against the tide. She tours constantly abroad; here she is working at the margins.
"The rest of Europe is much more receptive to singers," she says. "I don't know why it is, but this country is overly focused on youth culture. We have an age problem which makes it difficult to find room for anything else. I went to see Barbara Cook in the West End last summer. She was wonderful - I was so moved I cried. But the theatre wasn't even half full on the night I saw her. That's absurd." © Clive Davis, 18 March 2002, The Times © Linn Records 2007
"Shockingly expressive, with an astounding palette of colours…I just hope that Dylan himself has a listen and starts writing her direct." - The Observer
"A good deal more than mere cover versions of the songs." - Variety
BIO
In an era during which rap and electronic music rose to commercial ascendancy, cabaret music could have easily become, to say the least, a quaint, pass? art form. But during the last quarter of the 20th century, an alternative cabaret circuit developed and actually began to thrive throughout pockets of Europe. One of its catalysts and mainstays was Barb Jungr. Among Great Britain's best-kept secrets, she helped spread the word as a writer, advocate, and educator, but more importantly as one of the genre's most bracing and distinctive practitioners; a "chansonnier" who extended the French and German art song tradition into a new millennium by mixing it with jazz, blues, folk, world, and pop music.Barb Jungr arrived in London in the mid-'70s from the northwest of England and quickly became involved in its music, theater, and film worlds. Soon thereafter, CBS Records released her fist single, "He's Gone," and NME selected it as one of its "Singles of the Week." With Jerry Kreeger and blues guitarist Michael Parker, she formed in the waning years of the decade the Three Courgettes, which got involved at the very beginning of the city's alternative cabaret scene. The vocal trio was discovered by Island Records busking new wave versions of gospel songs in the Kings Road and Portobello Market. They released a pair of well-received singles on the label, ultimately leading to tours with such acts as Sade and Kid Creole & the Coconuts.After the Courgettes came to an end, Jungr released a solo album on Magnet Records that would eventually become a collector's item, before reconvening with Parker in the early '80s as the duo Jungr & Parker. They would spend the next 13 years touring extensively and internationally, as well as frequently performing their quirky mix of folk, blues, and jazz on British television and radio, ultimately winning a prestigious Perrier Award for their trouble. They also released six records, including one on Billy Bragg's Utility label.By the outset of the 1990s, however, it was the ambitious, thematically assembled live shows that had become Jungr's primary artistic outlet. She spent the first half of the decade developing and directing the acclaimed showcases, both for groups and as solo pieces. The shows were usually tied together conceptually and, drawing on her background, presented theatrically at such esteemed venues as the Purcell Room and Pizza on the Park. Chief among these were "Hell Bent Heaven Bound" (with Ian Shaw, Christine Collister, and Parker), another Perrier pick, and "Money the Final Frontier" (with Mari Wilson and jazz singer Claire Martin), which were eventually combined on the cassette Hell Bent Heaven Bound II by Jungr, Collister, Parker, and Helen Watson.In the midst of her busy performing and touring schedule, Jungr also found time to pursue a plethora of extracurricular projects. With co-writer James Tomalin, she began composing the music for a variety of television programs and theater companies. She also became a director of workshops for vocalists, and arranged for and conducted various choral groups and choirs. In addition, Jungr began to research, teach, write, and speak about the voice and European cabaret. In 1996, she earned a master of music degree in ethnomusicology from Goldsmith's College, which led to the formation of the trio Durga Rising (originally called JBC) with tabla player Kuljit Bhamra and longtime piano accompanist Russell Churney. They recorded and released the one-off project Durga Rising that same year.By the end of the decade, Jungr had begun to contribute songs to various cabaret compilations, often for Irregular Records, which also released the singer's Bare, a collection of intriguing covers (Jacques Brel, Ray Davies, Kris Kristofferson) and original compositions. It was not, however, until her next record, Chanson: The Space in Between, that the full range of her abilities were brought to record. Released on Linn Records, Chanson was full of beautifully expressive performances of songs by Brel, Jacques Pr?vert, L?o Ferr?, and Cole Porter, often in fresh, specially commissioned translations and with unique arrangements. Britain's Sunday Times named it to its year-end jazz Top Ten list. Jungr followed up the album with the luminous Every Grain of Sand, a whole set from the pen of Bob Dylan, who she treated as a stylist on a par with the greats of American song. The album was launched live in England with a sold-out run at the Soho Theatre, and led to a traveling showcase that Jungr took to New York City in the autumn of 2002. In the meantime, she also continued work on a musical, The Ballad of Norah's Ark, set for release the following year, and recorded classical composer Jonathan Cooper's "Moon Cycle" (written especially for her voice) in anticipation of its premier in 2003. © Stanton Swihart