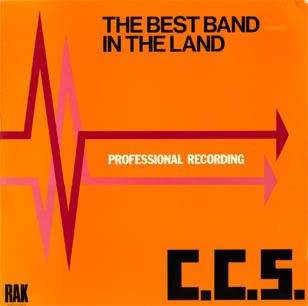 C.C.S - The Best Band In The Land - 1973 - Rak
Formed by the late Alexis Korner, this was the final album from C.C.S. Featuring some of the most talented session musicians in the UK, C.C.S play a selection of jazz, rock, & big band numbers. A hugely talented band, and a brilliant album. Try and find their first two albums. Also check out "Blood Sweat, & Tears" for a similar musical style.
TRACKS
1. The Band Played The Boogie (Reedman/Jarrett/Cameron) 3:48
2. Wild Witch Lady (Leltch) 3:58
3. Lola (Davies) 3:35
4. Primitive Love (Cameron/Chinn) 3:12
5. Hundred Highways (Cameron) 3:48
6. Shakin' All Over (Heath) 3:05
7. Memphis (Cameron) 3:38
8. Sunshine Of Your Love (Bruce/Brown/Clapton) 3:38
9. Our Man In London (Cameron) 2:20
10. Cannibal Sheep (Korner) 3:35
Bonus Tracks (February 2001 on CD)
11. Hang It On Me (Cameron) 3:58 1973
12. Hurricane Coming (Scott) 3:12 1974
13. Dragster (Cameron/Hayes) 3:10 1974
CREDITS
Vocals: Alexis Korner, Peter Thorup
Conductor, Electric piano: John Cameron
Electric guitar: Alan Parker
Bass guitar: Herbie Flowers
String bass: Spike Heatley
French horn: Neil Sanders
Percussion: Jim Lawless
Percussion: Bill le Sage
Saxophones, woodwind: Harold McNair, Tony Coe
Pete King, Danny Moss,
Bob Efford, Ron Ross
Trumpets: Harold Beckett, Henry Lowther, Greg Bowen, Tony Fisher,
Les Condon, Kenny Wheeler
Trombones: Don Lusher, John Marshall, Brain Perrin, Bill Geldard
Drums: Barry Morgan, Tony Carr
Produced by Mickie Most
Recording engineer: Mike Bobak, Guy Bidmead
Recorded at Abbey Road Studios, London, January-May 1973
Formed in 1970 around bluesman Alexis Korner and vocalist Peter Thorup. The rest of the line-up was rather loose and depended on people's availability but it included the likes of Tony Carr (drums), Harold Beckett (trumpet), Herbie Flowers (bass), Henry Lowther (trumpet) and Harold McNair (woodwind) to name but a few. They were among the first groups to record on Mickie Most's new Rak label and John Cameron arranged their albums. They had several hit singles, commencing with a cover of Led Zeppelin's 'Whole Lotta Love', which was used as the theme for BBC's 'Top Of The Pops' in this era. This also got to No. 58 in the US, where their debut album made No. 197. Their music was characterised by Korner's unique growling vocals. They split in 1973 when Korner and Thorup teamed up with former King Crimson members Boz Burrell and Ian Wallace to form Snape.