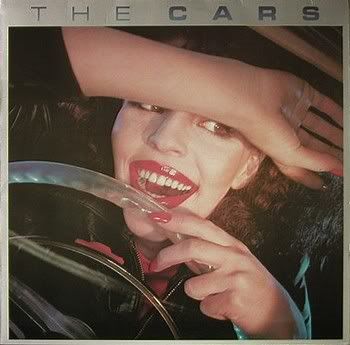 The Cars - The Cars - 1978 - Elektra
The Cars' 1978 self-titled debut, issued on the Elektra label, is a genuine rock masterpiece. The band jokingly referred to the album as their "true greatest-hits album," but it's no exaggeration -- all nine tracks are new wave/rock classics, still in rotation on rock radio. Whereas most bands of the late '70s embraced either punk/new wave or hard rock, The Cars were one of the first bands to do the unthinkable -- merge the two styles together. Add to it bandleader/songwriter Ric Ocasek's supreme pop sensibilities, and you had an album that appealed to new wavers, rockers, and Top 40 fans. One of the most popular new wave songs ever, "Just What I Needed," is an obvious highlight, as are such familiar hits as "Good Times Roll," "My Best Friend's Girl," and "You're All I've Got Tonight." But like most consummate rock albums, the lesser-known compositions are just as exhilarating -- "Don't Cha Stop," "Bye Bye Love," "All Mixed Up," and "Moving In Stereo," the latter featured as an instrumental during a steamy scene in the popular movie Fast Times at Ridgemont High. With flawless performances, songwriting, and production (courtesy of Queen alumni Roy Thomas Baker), The Cars' debut remains one of rock's all-time classics. © Greg Prato, All Music Guide, From AMG Reviews
TRACKS
A1.Good Times Roll (3:44)
A2.My Best Friend's Girl (3:44)
A3.Just What I Needed (3:44)
A4.I'm In Touch With Your World (3:31)
A5.Don't Cha Stop (3:01)
B1.You're All I've Got Tonight (4:13)
B2.Bye Bye Love (4:14)
B3.Moving In Stereo (5:15)
Written By - Greg Hawkes, Ocasek
B4.All Mixed Up (4:14) - with Neil Diamond
All songs written by Ric Ocasek except where noted.
BAND
Elliot Easton – lead guitar, backing vocals
Greg Hawkes – keyboards, percussion, saxophone, backing vocals
Ric Ocasek – rhythm guitar, lead vocals on 1, 2, 4, 5, 6
Benjamin Orr – bass, lead vocals on 3, 7, 8, 9
David Robinson – drums, percussion, backing vocals
Neil Diamond-vocals on 9
CREDITS
Drums, Percussion, Drum Programming [Syndrums], Backing Vocals - David Robinson (3)
Engineer - Geoff Workman
Engineer [Second] - Nigel Walker (2)
Guitar [Lead], Backing Vocals - Elliot Easton
Keyboards, Percussion, Saxophone, Backing Vocals - Greg Hawkes
Producer - Roy Thomas Baker
Vocals, Bass - Benjamin Orr
Vocals, Guitar [Rhythm], Written-by - Ric Ocasek
REVIEWS
The first sound you hear on "Just What I Needed," the single from the Cars' debut album, is the repeated thump of bass notes against the short, metallic slash of guitar. It's a magnificent noise: loud, elemental and relentless. But the Cars–the best band to come out of Boston since J. Geils–aren't interested in simply traveling the interstates of rock & roll. They'll go there for the rush, but they prefer the stop-and-go quirks of two lanes. Before "Just What I Needed" is over, guitarist Elliot Easton has burned rubber making a U-turn with his solo, and Greg Hawkes' synthesizer has double-clutched the melody. Leader Ric Ocasek once sang that he lived on "emotion and comic relief," and it's in this tension of opposites that he and his group find relief (comic or otherwise) between the desire for frontal assault and the preference for oblique strategies. This is the organizing principle behind not only the single but the entire LP, which is almost evenly divided between pop songs and pretentious attempts at art.
The pop songs are wonderful. (Besides "Just What I Needed," they include "My Best Friend's Girl" and "You're All I've Got Tonight.") Easy and eccentric at the same time, all are potential hits. The melodies whoosh out as if on casters, custom-built for the interlocked but constantly shifting blocks of rhythm, while Ocasek's lyrics explode in telegraphic bursts of images and attacks ("You always knew to wear it well/You look so fancy I can tell"). Neither Ocasek nor bassist Ben Orr have striking voices, but by playing off the former's distant, near-mechanical phrasing against the latter's sweet-and-low delivery, the band achieves real emotional flexibility.
As long as the Cars' avant-garde instincts are servicing their rock & roll impulses, the songs bristle and–in their harsher, more angular moments ("Bye Bye Love," "Don't Cha Stop")–bray. The album comes apart only when it becomes arty and falls prey to producer Roy Thomas Baker's lacquered sound and the group's own penchant for electronic effects. "I'm in Touch with Your World" and "Moving in Stereo" are the kind of songs that certify psychedelia's bad name. But these are the mistakes of a band that wants it both ways–and who can blame rock & rollers for that? © KIT RACHLIS (Posted: Jun 17, 1997) © Copyright 2007 Rolling Stone
BIO (Wikipedia)
The Cars were an American rock band, fronted by Ric Ocasek, that emerged from the early punk scene in the late 1970s. Other members of the band were bassist Benjamin Orr, guitarist Elliot Easton, keyboardist Greg Hawkes and drummer David Robinson. They hailed from Boston, Massachusetts and were signed to Elektra Records in 1977. The Cars were at the forefront in merging 1970s guitar-oriented rock with the new synth-oriented pop that was then becoming popular and which would flower in the early 1980s. Most of the singles included an Elliot Easton guitar solo, with the sound filled out by Greg Hawkes's synthesizers and the harmonies of Easton, Robinson, and Hawkes. Lead vocals were split, with Ric Ocasek taking about 60% and Benjamin Orr taking the remaining 40%. While Ocasek was the sole lyricist and main songwriter for the band, Orr would act as frontman in live appearances.
Before The Cars, the members of the band began coming together in several early forms. Ric Ocasek and Benjamin Orr were the first to meet at a party in Columbus, Ohio, and they began performing as a duo, covering rock 'n roll classics as well as performing their own material. They refused to perform the Top 40 hits club owners expected to hear from a young band. After deciding that Boston would be a better place to break into the music business, Ocasek and Orr relocated there. It was there that they met Greg Hawkes, who had studied at the Berklee School of Music, and the three, along with lead guitarist Jas Goodkind, were the first to work together in a folk band called Milkwood. They released an album titled "How's the Weather" in 1972 that failed to chart.
After Milkwood, Ocasek and Orr formed the group Richard and the Rabbits, whose name was suggested by Jonathan Richman. They were a local club band for a while. Soon after, Hawkes temporarily left Ocasek and Orr and joined up with groups including Orphan, a soft-rock band, and Martin Mull and His Fabulous Furniture, a musical comedy act in which he played a variety of instruments. Ric Ocasek and Ben Orr then performed as an acoustic duo called simply "Ocasek and Orr" at the Idler coffeehouse in Cambridge. Some of the songs they played became the underlying music in early Cars' songs.
Later, Ocasek and Orr teamed up with future Cars guitarist Elliot Easton (who had also studied at Berklee), in Captain Swing (or Cap'n Swing). The band caught the attention of Maxanne Sartori, a local DJ on WBCN-FM who began frequently playing their songs. Though they were slowly becoming more experienced musicians, Cap'n Swing still had a long way to go before developing a professional image. Record labels were turned off by the band because they said they looked "too weird". Cap'n Swing also featured a very jazzy drummer and bass player which clashed with Ocasek's more rock and roll leanings. Benjamin Orr acted as frontman, did not play an instrument, and sang the bulk of Cap'n Swing's demos. Ocasek soon got rid of the bass player, the keyboardist and the drummer and decided to form a band that better fit his style of writing. Since one of the major complaints from the major record labels was that Ben Orr didn't do anything except stand there and sing, they decided he should hold something, thus he took over bass guitar duties. The drummer was replaced by David Robinson. Robinson said that he should really have a regular job instead, and that the Cars would be his last band. Best known for his career with the Modern Lovers, Robinson had also played in DMZ and the Pop! It was Robinson who came up with the name "The Cars", which led to automobile-related puns. Ocasek said of the name, "It's so easy to spell; it doesn't have a 'z' on the end; it's real authentic. It's pop art, in a sense."
After spending the winter of '76 playing all over New England, developing, honing, and ultimately perfecting the songs that would become their debut album, the band was signed to Elektra Records. The demo version of "Just What I Needed" would turn out to be the first single from the band's debut album, The Cars, released in 1978 and reaching #3 on the Billboard Pop album chart. "My Best Friend's Girl" and "Good Times Roll" soon followed, charting in the Billboard Top 40. Following the lead of Roxy Music, the band commissioned famed Playboy artist Alberto Vargas to design the sexy illustration for the cover of their second album, Candy-O, released in 1979. Hits from that album included "Let's Go" and "It's All I Can Do", both Top 40 hits.
A more experimental album, Panorama, was released in 1980, charting only one Top 40 hit with "Touch and Go". Rolling Stone described the album as "Ocasek's art record, and not a very good one at all". In 1981, the Cars bought their own studio in Boston, Synchro Sound. The only Cars album recorded there was Shake It Up, an album that was recorded in happier times. It was their first album to score a Top 10 hit with the title track, and had another Top 40 hit in "Since You're Gone". In 1982, the Cars took a short break and went to work on solo projects, with Ric Ocasek and Greg Hawkes both releasing their debut albums (Beatitude and Niagara Falls, respectively).
The Cars reunited and released their most successful album, Heartbeat City, in 1984. The first single, "You Might Think", helped the Cars win Video of the Year at the first MTV Video Music Awards. Other hit singles from the album included "Magic", "Hello Again", and "Why Can't I Have You". Their most successful single, "Drive", gained particular notability when it was used in a video of the Ethiopian famine prepared by the Canadian Broadcasting Corporation and introduced by David Bowie at the 1985 Live Aid concert at Wembley Stadium in London. After the resulting period of superstardom and another hit single, "Tonight She Comes", from their Greatest Hits, the Cars took time off again to pursue solo projects. Elliot Easton and Benjamin Orr released their debut albums (Change No Change and The Lace, respectively), while Ric Ocasek released his second solo album. In 1987, the Cars released their last album, Door to Door, but it failed to approach the success of their previous albums. They announced the group's breakup in February 1988.
In the late 1990s, rumors circulated of a Cars reunion, with no results. However, in 1995 Rhino Records released a 2-CD set Just What I Needed: The Cars Anthology, containing all the group's hits mixed with rarities (demos, non-album b-sides). They followed up with the releases of The Cars: Deluxe Edition (1999), their debut album in 2-CD format, and Complete Greatest Hits.
Ocasek continues to perform as a solo artist, having released over seven studio albums. David Robinson has retired from music and spends most of his time with his restaurant. Benjamin Orr died of pancreatic cancer on October 3, 2000. In 2005, Elliot Easton and Greg Hawkes combined their talents with Todd Rundgren, Prairie Prince (The Tubes, Utopia), and Kasim Sulton (Utopia, Meat Loaf) in a revamped lineup, The New Cars, to perform classic Cars songs along with selections from Rundgren's solo work and some new original material.