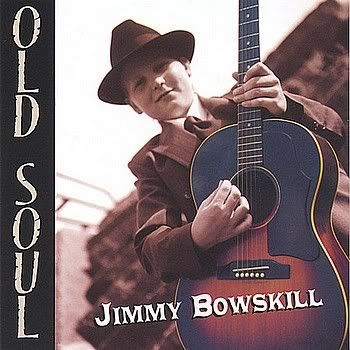 Jimmy Bowskill - Old Soul - 2003 - Jimmy Bowskill
An incredible talent. This boy was born in 1990 with the blues running through his veins. Jimmy was dicovered playing guitar in front of Jeff Healey's Club in Toronto at age 11 and was invited to the stage that night for the first time by Healey. Jimmy has also shared the stage with Dickey Betts, ZZ Top, Garth Hudson and Deep Purple. The guy is a true musical genius, and this is an album you have to hear. You should buy his great album "Soap Bars & Dog Ears."
TRACKS
1. Life's So Peculiar
2. Be Mine
3. Work Til My Days Are Gone
4. Honeybee
5. Kindhearted Woman Blues
6. Weekend Fish Fry
7. Schoolhouse
8. Who's Knockin'
9. Livin' With The Blues
10. Deep Blue
11. Blues Don't Like Nobody
12. Ramblin' On My Mind
13. Hotspell
14. Stones In My Passway
CREDITS
Pat Carey - sax
Rory Donnely - drums
Michael Fonfara - piano
Alec Fraser - bass, guitar
Jerome Godboo - harmonica
Jeff Healey - trumpet
Chuck Jackson - vocals
Jack de Keyzer - guitar
Danny Marks - guitar
Derek McKendrick - drums
Dave Mowat - harmonica, vocals
Shai Peer - piano
Reverend Ken Ramsden - fiddle, jaw harp
Mark "Bird" Stafford - harmonica
Bob Vespaziani - drums
Donnie "Mr. Downchild" Walsh - harmonica
Ryan Weber - bass
Sam Weber - banjo, mandolin
Terry Wilkins - string bassJimmy Bowskill - vocals, guitar, banjo, harmonica
Produced by Alec Fraser
ABOUT THE ARTIST
Jimmy Bowskill just seems to fit the script of a modern day artist destined to play the blues. He burst onto the scene on BB King's birthday of all times ... Sept. 16, 1990. Inspired by the late, great Robert Johnson, Jimmy taught himself to play and sing by interpreting by sight and sound but in his own natural style. At the tender age of 11, Jimmy was invited to join Jeff Healey onstage. A star was born, and the rest is history.
Jimmy's CDs are among the top selling recordings for Festival Distribution, and he's receiving airplay worldwide.
Here's just some of the awards that Jimmy has picked up. A 2005 Juno Nomination for Blues Album of the Year; 2005 Canadian Indie Award for Favourite Blues Artist; 2004 Canadian Indie Award for Favourite Blues Artist; 2004 Canadian Maple Blues Award for Best New Artist; 2004 CBC Galaxie Rising Star Award and the 2004 DareArts Children For Peace Leadership Award.
Jimmy Bowskill may not see himself as a child prodigy, but when you are under the age of 18 a child you still are. However it is immediately abundantly clear after witnessing his live appearances that somehow an old soul thrives in this captivating young man's body. His savvy style commands your attention but his genuine true self engulfs you as he makes friends with his audience. He has confidence and stage presence way beyond his tender years and it seems an old bluesman's lifetime of performing skills in his bag of tools.
True to the timeless Delta Bluesmen of the past there is a deliberate low-tech aspect of Jimmy's sound. His inner voice must be of an old-field song on a dusty, scratched 78 recording. You wonder while cast under his spell where someone so young can feel the blues so deep. His soul is not mimicked as he reels back, squints and grimaces as his voice covers the dynamic range of a blues holler back to a gentled vibrato whisper all in a moment so effortlessly. The boy has a genuine mojo soul going on deep inside that is just begging to escape.
Jimmy is a very advanced and relaxed traditional acoustic blues guitar player. He has had stellar teachers along his way including sought after professionals such as Rick Fines and more recently Juno award winner, Jack de Keyzer. Not a stranger to other instruments, Jimmy also plays harmonica, penny whistle and has even tackled a Hammond B3 organ while on stage.
Jimmy's third recording continues chronicling his development, and sees him developing a harder blues-rock sound. The self-titled CD was produced in Toronto at Metal Works Studios and The Cantebury Music Company by Jimmy and well known producer Peter Prilesnik (Big Sugar, Sarah Harmer, Ashley McIsaac). It is Jimmy's first self titled release and contains 10 original tracks and one cover - Peter Green's Rattle Snake Shake. This blues rock release is a different sound for Jimmy. The record reflects his diversity as an artist and expresses his youthful energy. These are songs that reflect his musical journey over the past few years and showcase this brilliant young artist's true talent.
Jimmy Bowskill's future is bright with intense shades of blue. © Festival Distribution Inc
The afternoon I track down Jimmy Bowskill on his cel, he's up to one of his favourite activities, hanging around downtown Toronto, shopping for guitars.
He's 15 now and like a lot of guys his age, he's obsessive. His drilled focus happens to be guitars -- electric, acoustic, new, old, doesn't matter.
He'll play a bit of soccer here and there, maybe get into a little pickup game of hockey, but mostly it's guitars and the music they can make. He's crazy for 'em and even if he has more than a dozen already, here he is, looking around again, checking a couple more out.
Bowskill had just turned 11 the night he pulled the coup that launched his career in Toronto and, shortly after, the rest of the country. He'd been playing since he was 10, all blues, when he found himself plugged in and wailing away, busking outside Jeff Healey's club in Toronto.
It was a Thursday, open jam night, and all the players coming in kept telling Healey about this hot-shot guitar-player kid out front wearing a fedora and blowing everybody away. He was out there for a couple of hours before Healey sent word to get the kid in here.
"And I'd always wanted to meet him," says Bowskill, "so he invited me in to do a tune later on. I got to play with him and meet him -- it was really cool. It was my first night on stage, too, a really great night. It was such a rush, man. And I made lots of money busking, 'cause I was out there for so long."
The first album was rushed out to surprising acclaim. The kid factor certainly made for great initial copy and he got plenty of curious attention but when people scratched beneath the surface they found Jimmy Bowskill could actually deliver, that he really had the chops.
Which comes from having a great ear. Which comes from figuring a lot of this stuff out on your own. His dad taught him his first chords, and he had the odd lesson here and there, but Bowskill is mostly self-taught, the product of countless hours of woodshedding.
That magical night at Jeff Healey's club started Bowskill on a road that's already led him through Europe, Japan and Mexico. He did a CBC thing in New Orleans once but the rest of the U.S.A. remains on the to-do list.
Meanwhile, Bowskill is working on his third album, which will reflect the harder, more rocking direction he's taken. He figures he's well on his way to losing his "kid-image thing" and will soon be recognized solely for the music. Heck, it's already started, considering at some shows "people think I'm 19."
He's covered off his math credits for this year at the arts/performing school he attends so there'll be more time for gigs come winter. Ask him how he gets to the gigs and he becomes a little rueful admitting that, yeah, his parents still have to drive him. But soon he'll have his licence.
"I'm thinking of getting a motorbike," says Bowskill, dreamily. "Yeah. Maybe a chopper. I don't know, maybe someone else can drive the gear and I can just bike up. Big Harley. That'd be really cool."
© John P. McLaughlin, The Province, Vancouver - August 2006.
BIO
Jimmy Bowskill just seems to fit the script of a modern day artist destined to play the blues. He burst onto the scene on B.B. King's birthday of all times, a brand new B.B. Kid!! Inspired by the late, great Robert Johnson, Jimmy taught himself to play and sing by interpreting by sight and sound - but in his own natural style. At the tender age of 11, Jimmy was invited to join Jeff Healey onstage, alongside his now mentors and bandmates, Jerome Godboo and Alec Fraser. With the addition of drummer Bob Vespaziani, the Jimmy Bowskill band was completed. Since being discovered in Southern Ontario, a whirlwind of activity has been bestowed on Jimmy. His performances at major festivals such as The Montreal Jazz Festival and The Mont Tremblant Blues Festival, as well as coverage on CTV's Open Mike with Mike Bullard, CTV National New's Success Story with Sandi Renaldo and CTV's Canada AM have all featured his rise in popularity and blues stardom. City TV's Breakfast Television also hosted the Jimmy Bowskill band as their musical guests. Jimmy's debut CD "Old Soul" has been one of the top selling recordings for Festival Distribution, Canadianblues.ca and Iridescent Music. The CD is receiving airplay worldwide. Jimmy has been featured on CBC's Metro Morning with Sonia Arab and CBC's Vinyl Café with Stuart McLean. Jimmy has been broadening his musical boundaries to Quebec, where much media exposure has taken place. Playing in front of 5000 concert-goers chanting "Jimmy!" "Jimmy!" has solidified a whole new legion of loyal fans. Jimmy Bowskill has become the toast of the Belle Province. Copyright © beyondextremes.com 2005