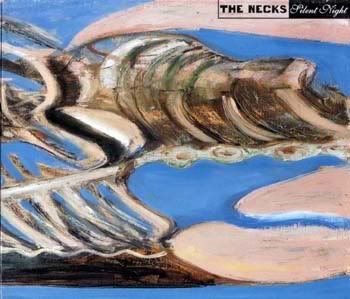 The Necks
-
Silent Night
(Double CD)
-
1996
-
Fish Of Milk

One of the best kept Australian secrets, The Necks create compelling and beautiful mood music of the highest calibre. Repetitious minimal harmonic elements with fluid and atmospheric instrumental interplay creates a unique blend of electronic jazz-rock. The Necks specialise in experimental lengthy improvisations of jazz electronica trance-like jams, backed by simple melodic lines and propelled by driving , funky grooves. that repays repeated listening. This album demonstrates The Necks' great talents. Buy their 1999 "Hanging Gardens" album, if it's available in your area. The Necks deserve worldwide recognition. Check out their prolific back catalogue.
TRACKS
1. Black
2. White
This is a double CD featuring two disc-length tracks, "Black" and "White"

BAND

Chris Abrahams (piano)
Tony Buck (drums)
Lloyd Swanton (bass)
REVIEW

Released in 1996, Silent Night is a double-CD set. Each disc contains a single one-hour piece, "Black" and "White." With this album the group firmly established what would remain their highly distinctive sound for years. "Black" begins with samples from what sounds like old movies. Similar snippets will reappear throughout the piece, providing a strange "cinema for the ear" experience for a music that remains pretty static. Things begin with a slow-paced bass riff. Tony Buck keeps the drums very quiet. A short piano motif in the low register and ethereal organ chords help build an atmosphere akin to film noir. The samples greatly contribute to the mood, but they can also be distractive. As suggested by its title, "White" is less dark. The samples are limited to light sounds and electronics, mostly in the middle of the piece and confined to the background. The piece begins on a quirky 12/8 ostinato that eventually evolves into a conventional 6/8 riff. Chris Abrahams plays mostly the piano, but adds occasional drops of organ, scattered staccato notes one could mistake for something more electronic. A small but gradual buildup in the last third leads to a quick finale that leaves only a bass drum pulsating in the distance. Very well done, but not as spellbinding as the group's later works. © François Couture, allmusic.com
ABOUT THE GROUP

The Necks are one of the great cult bands of Australia. With next to no publicity, their thirteen albums have sold in their thousands. Chris Abrahams (piano), Tony Buck (drums), and Lloyd Swanton (bass) conjure a chemistry together that defies description in orthodox terms. These three musicians are among the most respected and in-demand in Australia, working in every field from pop to avant-garde. Over 200 albums feature their presence individually or together, but the music of The Necks stands apart from everything else they have done. Featuring lengthy pieces which slowly unravel in the most intoxicating fashion, frequently underpinned by an insistent deep groove, the thirteen albums by The Necks stand up to re-listening time and time again. The deceptive simplicity of their music throws forth new charms on each hearing. Not entirely avant-garde, nor minimalist, nor ambient, nor jazz, the music of The Necks is possibly unique in the world today.
BIO (Wikipedia)

The Necks are an experimental jazz trio from Sydney, Australia, comprising Chris Abrahams on piano and Hammond organ, Tony Buck on drums and Lloyd Swanton on bass guitar and double bass. The band plays improvisational pieces of up to an hour in length that explore repeating musical figures. As well as jazz, they are strongly influenced by Krautrock.
Typically a live performance will begin very quietly with one of the musicians playing something very simple. One by one, the other two will join with their own melodies, all three independent yet intertwined. A piece of music usually lasts about 45 minutes and over this time grows in volume and pace and complexity before petering out.
The Necks are also well known in Europe. Their soundtrack for The Boys was nominated for ARIA Best Soundtrack Album, AFI Best Musical Score and Australian Guild of Screen Composers Award. They have also recorded soundtracks for What's The Deal? (1997) and In the Mind of the Architect (three one-hour ABC-TV documentaries, 2000).
Venues played in Sydney include The Basement, the Harbourside Brasserie, and the Vanguard in Newtown. A performance at the Sydney Opera House in 2003 was interrupted by the venue management due to a minor technical problem, to the obvious dissatisfaction of band and audience.