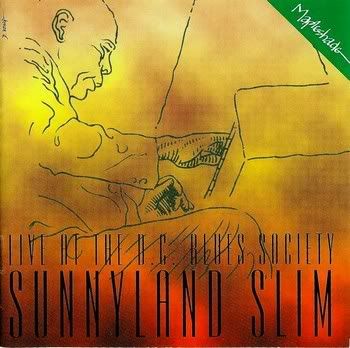 Sunnyland Slim - Live at the D.C. Blues Society - 1995 - Mapleshade
Brilliant piano blues album by an overlooked blues master who influenced many of the blues greats, one example being the great Muddy Waters, who, in turn, had a huge influence on artists like Clapton, The Stones, and even The Beatles. Check out this man's back catalogue, and buy some of his records. "Slim's Shout " is one of his great albums. Keep the blues alive!
TRACKS & COMPOSERS (Where known)
1. Got A Thing Going On - Sunnyland Slim
2. Everytime I Gets To Drinking - Sunnyland Slim
3. Got To Get To My Baby - Sunnyland Slim
4. Lend Me Your Love - Memphis Slim
5. When I Was Young - Albert Luandrew
6. I Won't Do That No More - Sunnyland Slim
7. My Baby, She Don't Love Me No More
8. Blues Improvisation - Sunnyland Slim
9. Gonna Be My Baby - Sunnyland Slim
10. Blues Improvisation - Sunnyland Slim
11. If I Done You Wrong - Sunnyland Slim
12. Dust My Broom - Robert Johnson
13. Run Here Baby
14. Be Careful How You Vote - Sunnyland Slim
Solo performer: Sunnyland Slim (vocals, piano). Recorded live at the Roxy, Washington, D.C. on October 13, 1987
REVIEWS
Sunnyland Slim's brand of weary blues, punctuated by rolling piano accents and boogie riffs, predates both the rise and fall of Delta blues and the emergence of its urban successor. Slim toured the South in the '20s, '30s, and early '40s, then left for Chicago and has been there ever since. This blend of Delta and urban sensibilities has been infused in his songs since he began recording and permeates the 14 selections (recorded in 1987) on Live at the D.C. Blues Society. Although long since past his vocal peak, Slim still spins a nifty yarn and mournful lament. © Ron Wynn, All Music Guide
When asked who influenced their music styles the most, Eric Clapton, Mick Jagger, Joe Cocker and B. B. King have all named the likes of Tampa Red, Jump Jackson, Little Walter and Muddy Waters. Waters was so internationally influential that annual awards for blues music are named after him. But who influenced these eminent musicians from the '40s and '50s? Sunnyland Slim. Born Albert Luandrew, he changed his name at 15 to Sunnyland Slim after teaching himself blues piano so well that he had steady work performing in Mississippi in 1922. Since, he performed on at least 40 records and wrote nearly 60 blues originals, many of which have become standards. This just-released recording was made in 1987 and, unfortunately, was Slim's last before his death. He was 80 when he played these songs, but each displays more energy and enthusiasm for the blues than could be conjured up by someone half his age. The fourteen cuts on this album are all Slim, his voice and a piano. Nine were penned by Slim and the others have been adapted by Slim such that they may as well be his. The album is on Mapleshade, specialized in audiophile quality live recordings. They all have a distinctive, natural sound. Each album is recorded directly to tape without the "benefit" of electronic magic. Sunnyland Slim has never been captured like this before, and never will again. If you like blues, this is a don't miss. © Scott Spence, Tri-City Herald, August 11, 1995
...above, superbly recorded blues, only this time from the genuine article. The gig comes across like a bar-room session, a jaunt through standards punctuated by some fine piano improvisation. Recorded in 1987, when Slim was a sprightly 80 years old. Too cool for words. © Hi Fi News and Record Review, August 1992
BIO
Exhibiting truly amazing longevity that was commensurate with his powerful, imposing physical build, Sunnyland Slim's status as a beloved Chicago piano patriarch endured long after most of his peers had perished. For more than 50 years, the towering Sunnyland had rumbled the ivories around the Windy City, playing with virtually every local luminary imaginable and backing the great majority in the studio at one time or another.
He was born Albert Luandrew in Mississippi and received his early training on a pump organ. After entertaining at juke joints and movie houses in the Delta, Luandrew made Memphis his homebase during the late '20s, playing along Beale Street and hanging out with the likes of Little Brother Montgomery and Ma Rainey.
He adopted his colorful stage name from the title of one of his best-known songs, the mournful "Sunnyland Train." (The downbeat piece immortalized the speed and deadly power of a St. Louis-to-Memphis locomotive that mowed down numerous people unfortunate enough to cross its tracks at the wrong instant.)
Slim moved to Chicago in 1939 and set up shop as an in-demand piano man, playing for a spell with John Lee "Sonny Boy" Williamson before waxing eight sides for RCA Victor in 1947 under the somewhat misleading handle of "Doctor Clayton's Buddy." If it hadn't been for the helpful Sunnyland, Muddy Waters may not have found his way onto Chess; it was at the pianist's 1947 session for Aristocrat that the Chess brothers made Waters's acquaintance.
Aristocrat (which issued his harrowing "Johnson Machine Gun") was but one of a myriad of labels that Sunnyland recorded for between 1948 and 1956: Hytone, Opera, Chance, Tempo-Tone, Mercury, Apollo, JOB, Regal, Vee-Jay (unissued), Blue Lake, Club 51, and Cobra all cut dates on Slim, whose vocals thundered with the same resonant authority as his 88s. In addition, his distinctive playing enlivened hundreds of sessions by other artists during the same timeframe.
In 1960, Sunnyland Slim traveled to Englewood Cliffs, NJ, to cut his debut LP for Prestige's Bluesville subsidiary with King Curtis supplying diamond-hard tenor sax breaks on many cuts. The album, Slim's Shout, ranks as one of his finest, with definitive renditions of the pianist's "The Devil Is a Busy Man," "Shake It," "Brownskin Woman," and "It's You Baby."
Like a deep-rooted tree, Sunnyland Slim persevered despite the passing decades. For a time, he helmed his own label, Airway Records. As late as 1985, he made a fine set for the Red Beans logo, Chicago Jump, backed by the same crack combo that shared the stage with him every Sunday evening at a popular North side club called B.L.U.E.S. for some 12 years.
There were times when the pianist fell seriously ill, but he always defied the odds and returned to action, warbling his trademark Woody Woodpecker chortle and kicking off one more exultant slow blues as he had done for the previous half century. Finally, after a calamitous fall on the ice coming home from a gig led to numerous complications, Sunnyland Slim finally died of kidney failure in 1995. He's sorely missed. © Bill Dahl, All Music Guide