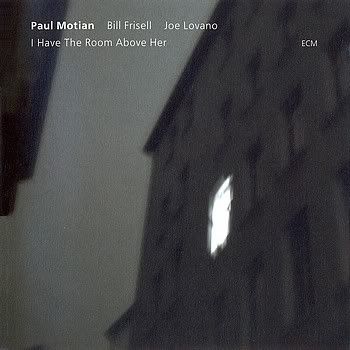 Paul Motian, Bill Frisell, & Joe Lovano - I Have The Room Above Her - 2005 - ECM Records (USA)
A beautiful album from master jazz drummer, Paul Motian, with the great Bill Frisell on guitar, and Joe Lovano on tenor saxophone. Try and find his Paul Motian on Broadway albums in which Motian and his brilliant back up musicians cover jazz standards with a unique style, or his Motian in Tokyo album. You won't find contemporary jazz of this quality easily.
TRACKS
1. Osmosis Part III
2. Sketches
3. Odd Man Out
4. Shadows
5. I Have The Room Above Her
6. Osmosis Part I
7. Dance
8. Harmony
9. The Riot Act
10. The Bag Man
11. One In Three
12. Dreamland
MUSICIANS
Paul Motian: Drums
Bill Frisell: Guitar
Joe Lovano: Tenor Saxophone
REVIEWS
To put drummer Paul Motian, guitarist Bill Frisell, and saxophonist Joe Lovano in a room together is to court majesty and genius; even if the three were playing hackneyed standards half-asleep, the results would likely be brilliant. I HAVE THE ROOM ABOVE HER is filled with the kind of technical mastery and scintillating chemistry one would expect from a trio this accomplished and advanced. Frisell's electric guitar spins choral color and spiraling, reverbed embellishments. Lovano's tenor is full-toned, and he plays with tremendous sensitivity and nuance, often holding down the melodic center while Frisell and Motian create rhythmic and harmonic frames. The delicate imbrication of parts lends these compositions the feel of fragile, shifting houses suspended in air. Motian's drumming is crucial to this aesthetic--light years beyond standard beat-keeping, his approach to time is all suggestion and evocative accent. Aside from the Hammerstein/Kern title track and a sweet, ethereal take on Thelonious Monk's "Dreamland," all the tunes were written by Motian, his rich imagination informed by classic jazz, post-bop, avant-garde, and ambient music alike. The silent partner here is producer Manfred Eicher, whose ear for warm, resonant tones and expansive atmospheres is the perfect match for the inventiveness, lyricism, and exquisite beauty of this session. ©1996 - 2007 CD Universe
I Have The Room Above Her is an album of deep mystery and sustaining grace. From the hauntingly evocative cover art to the solemn hush of the music within, drummer Paul Motian, guitarist Bill Frisell, and saxophonist Joe Lovano have created an album that lends itself beautifully to the higher serenity of meditation. The songs, all but two composed by Motian, lead to or fold back into each other like fleeting vignettes and memories. Yet, as ethereal as the album is, it also offers some grounding in folk melody, as on "Odd Man Out," that grants the listener some solid ground. An intense sensitivity is the hallmark of the album—tenderness in the way the musicians treat both the material and each other. Each member of the trio performs superbly throughout, but notice must be given to the varied shades of color Frisell contributes. From the shy solo that emerges on the title track by Oscar Hammerstein and Jerome Kern to the ghostly electronic pulses that switch on during "The Riot Act," Frisell seems to have an unlimited number of tools with which to add accents. His approach to his instrument teems with possibility. I Have The Room Above Her is a magnificent album. Instead of focusing on hotshot soloing, it rewards repeated listening by putting the focus on group interaction. There are great stories in the conversations Motian, Frisell, and Lovano have on the album. The magic is that in hearing these performances, the listener is compelled to add his own thoughts to the proceedings. © Stephen Latessa, © 2007 All About Jazz and/or contributing writers/visual artists. All rights reserved.
The Motian-Frisell-Lovano trio reconvenes from time to time without predictable outcome. I heard them live in Germany seven years back in a mainly Monk programme -- the date was Friday 13th, and Lovano stormed like Coleman Hawkins' blazing best. This set's very different, other than the title track, a Jerome Kern ballad played wonderfully in somewhat out of tempo fashion, every tune is Motian's -- if such a melodic fragment at "Osmosis Pt. III" can be called a tune. A lot of this set is free jazz trying both to make sense and be beautiful. Even a near miss might be worth praise, that objective being both so distant and so difficult of attainment.
The performances are more logical than some Motian has led or participated in on disc this past year -- I've not heard every new issue with Motian but four at least have crossed my path since mid-2004. Here he thrashes and churns, which he can and does do quietly when required, rather than apply physically more economical means of generating the polyvalent patterns which commonly do hold together performances in which he takes part.
The opening couple of tracks are echoey with Frisell's guitar in harp or quiet chiming territory. On the third, "Odd Man", Lovano's tenor playing is lively but gentle, and Motian is all over his drum kit, and if his dynamic control allows him to sound like distant thunder he's nonetheless thundering. The guitarist and tenorist play prettily, not for the last time here, and not for the last time there's a folk melody, simple lyrically poignant phrases.
"Shadows" brings more turbulence from Motian, but balmy guitar with echo and even pussycat velvety Lovano, remarkably tender in his horn's upper register, suspending high notes but also having the occasional purr below. The title track is from Jerome Kern and Lovano is at his most caressing, playing in a style more commonly to be associated with unaccompanied solo performance. He doesn't stray far from the outline of variations on the melody, but there are no bar-lines. Motian plays cross-rhythms -- cymbals and brushes -- and Frisell shadows. This might be an attempt to present a model of what Motian wants done with hisown very bitty compositions. It's an unusual ballad masterpiece on a level with anything done on Motian's On Broadway sets or the recent sets with George Mras and Hank Jones.
"Osmosis Pt, I" is pretty well New Age meditation music, complete with another neo-folk maybe slightly neo-Celtic tune,. Frisell in mandolin and dulcimer land, with cymbals and soft saxophone. "Dance" takes Lovano back up to the top of his horn, there's unison work with Frisell and some free playing. There is an interesting attempt really to swing without bar-lines and a chorus structure. This item rises to a really very good ending
That's the way this set goes, Lovano conjuring melodic lines over at times nearly (but never quite) hyperactive cymbal-work and drumming. The vulnerable entry, vocally poignant, Frisell's guitar in affectionate rapport and in the later numbers the lyrical contrast to all that sounding drum and cymbal really getting somewhere.
"The Riot Act" is slightly reminiscent of an Albert Ayler performance, though Ayler could never play like Lovano. There's a strange alternation between New Age lyricism and the noise of tons of metal sheering, in the guitar contributions. Frisell, if you don't know, has the apparatus to give his axe a sort of organ power. "The Bag Man" has a similar start but more fragmentation, and then yet another of those simple small themes. The alternation of duo interactions builds here to another climax, in the still small theme -- Frisell switches betwixt bass guitar and melodica sounds. "One in Three" seems to be about the harmony of the spheres, the music is at least as astral as Sun Ra's outer-spaced stuff. Did Motian ever thrash more, did Frisell ever make more beautiful noises -- even without, as here, doing it at the same time, and with Lovano's astonishing warmth present too?
On the closer, "Dreamland", a fragmented ballad, Motian tosses and turns and in his pursuit of tender poignancy Lovano comes close to the sound of Lester Young. I am aware that Stanley Crouch invokes the name of Lester Young in the liner to a recent Charles Lloyd album: and is there talking nonsense again. Lovano is however always the very real thing. © Robert R. Calder , 3 May 2005, © 1999-2007 PopMatters.com. All rights reserved
You wouldn't suppose that most musicians would look favorably upon being compared to an old pile of rocks. How about an old, organized pile of rocks?
This isn't some kind of clever reviewer trick. Honestly, it's just a coincidence. While giving I Have The Room Above Her the first listen, I happened to have a nice view out the bedroom window. Through the maples and oaks beside our antique house, an old rock wall can be seen curving up and over the next ridge.
A few moments before focusing my gaze through the rippled glass, I had been trying to pin down what is is that makes Paul Motian unique. A drummer who favors subtlety over bombast, Motian seems to simultaneously construct a pulse and contribute to the melody by employing an endless supply of accents.
Hmmm...nice, but not quite there yet.
Then it hit me. It's not just Motian's technique. It's his entire history as a jazz musician. The more I listen, the more his past reveals itself. This idea resonated with my current interest in the stone walls of New England. Having recently moved to the historic district of a small rural town, I've had an opportunity to observe many walls up close...and to ruminate on their past (and future). Just like a jazz composition is not merely a collection of notes, a stone wall is not just a pile of rocks. That wall outside our window frames what used to be a 'highway', one that originated from what is now the base of our driveway. If you observe the fragments of stone walls laced throughout my little area, the story of the past is revealed.
Does Paul Motian's music in the present reveal anything about his past? Without a doubt. The list of Motian's past cohorts is most impressive: Coleman Hawkins, Lennie Tristano, Thelonius Monk, George Russell, Paul Bley, Keith Jarrett, Carla Bley. Big names all. Add to the list one more giant: Bill Evans. Motian played in the Bill Evans Trio for several years alongside bassist Scott LeFaro. I came to Bill Evans' music not it the 'normal' way (via Miles Davis' Kind of Blue) but through Motian's Bill Evans. A fine record on which long-time partners Bill Frisell and Joe Lovano put a unique spin on the music of Bill Evans.
Though Motian has at times branched out into more "out" music as compared to the Bill Evans Trio, it is his sound on those Evans records that shines through to this day. I Have The Room Above Her again features Frisell and Lovano on a program of mostly Paul Motian composition, plus a pair of covers: a very cool take on Monk's "Dreamland" and the Kern/Hammerstein title track. Several of the tunes, most notably "Osmosis" (parts III and I), "Shadows" and "Harmony", fully illustrate Motian's way of dancing around the composition. It's just amazing what the man can do with a pair of brushes, a snare and a single ride cymbal. On these songs, Lovano tends to follow Motian's lead, adding color on top of accent. Frisell is at his toned-down best, gently grasping clusters of notes into chords. All is not quiet here though. There's some nifty unison play on "Dance" and "The Bag Man" as well as some full-on skronkology on "The Riot Act".
OK, so maybe I think too much. Maybe that stone wall is just a pile of rocks. And maybe I Have The Room Above Her is just another record. I just can't think that way. Music is important and projects itself onto many, many 'unrelated' areas. Spend a little time looking (and listening) and you'll be amazed at what's out there. © Mark Saleski, Published February 09, 2005, © http://blogcritics.org/
BIO (Wikipedia)
Stephen Paul Motian (born 25 March 1931 in Philadelphia, Pennsylvania and raised in Providence, Rhode Island), is an American jazz drummer, percussionist and composer of Armenian extraction. He is one of the most influential modern drummers, having played an important role in freeing the drummer from strict time-keeping duties. His surname is Armenian, and many people claim it should be pronounced "Moe-tee-un," however, Paul Motian pronounces it "MO-shun." He began playing the drums at age 12, eventually touring New England in a swing band. During the Korean War he joined the Navy, which he left at the age of 24. Motian has been a professional musician since 1954, but he became well known as the drummer in pianist Bill Evans's trio (1959-64), initially alongside bassist Scott LaFaro and later Chuck Israels.
Subsequently he has played with pianists Paul Bley (1963-4) and Keith Jarrett (1967-76). Other musicians who Motian performed and/or recorded with in the early period of his career include Lennie Tristano, Warne Marsh, Thelonious Monk, Arlo Guthrie (Motian performed briefly with Guthrie in 1968-69, and even performed with the singer at Woodstock), Carla Bley, Charlie Haden, and Don Cherry. As his career has continued, Motian has appeared with musicians such as Marilyn Crispell, Bill Frisell, Leni Stern, Joe Lovano, Alan Pasqua, Lee Konitz, Wolfgang Muthspiel, Bill McHenry, Stephane Oliva, and many more.
Motian has also become an important composer and band-leader, recording initially for ECM Records in the 1970s and early 1980s and subsequently for Soul Note Records, JMT Records, and Winter & Winter Records, before returning to ECM in 2006. Since the early 1980s he has led a trio featuring guitarist Bill Frisell and saxophonist Joe Lovano, occasionally joined by bassists Ed Schuller, Charlie Haden or Marc Johnson, and other musicians, including Jim Pepper, Lee Konitz, Dewey Redman and Geri Allen. In addition to playing Motian's compositions, the group has recorded tributes to Thelonious Monk and Bill Evans, and a series of Paul Motian on Broadway albums, featuring original interpretations of standard tunes.
Despite his important associations with pianists, Motian's work as a leader since the 1970s has been noteworthy for rarely including piano in his ensembles and relying heavily on guitar. Motian's first instrument was the guitar, and he seems to have retained an affinity for the instrument: in addition to his groups with Frisell, his first two solo albums on ECM featured Sam Brown, and he leads the Electric Bebop Band, which features two and sometimes three electric guitars. The group was founded in the early 1990s, and has featured a variety of young guitar and saxophone players, in addition to electric bass and Motian's drums, including saxophonists Joshua Redman, Chris Potter, Chris Cheek, Tony Malaby, and guitarists Kurt Rosenwinkel, Brad Shepik, Wolfgang Muthspiel, Steve Cardenas, Ben Monder, and Jakob Bro.