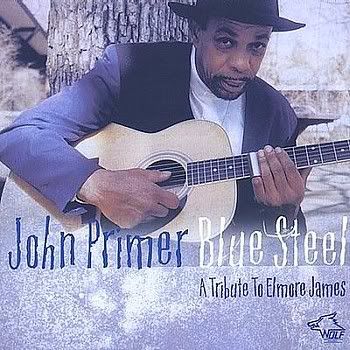 John Primer -
Blue Steel -
2003 -
Wolf Records
Primer is a Chicago electric blues master, and this album is a fitting tribute to Elmore James, the great American blues slide guitarist. Primer, on this album has brought the older blues styles to a wider, and hopefully younger audience.. This is authentic traditional Chicago blues, played by a master of the blues guitar. This guy needs more exposure, as we have to keep this music alive. You should buy Primer's 1992 album, Stuff You Got To Watch , and also check out Elmore James' back catalogue.
TRACKS
01. Shake Yo Moneymaker
02. It Hurts Me Too
03. Sunnyland Train
04. Too Much
05. I'm in Love
06. Can't Stop Lovin
07. Since My Baby Left This Town
08. I'm a Blues Man
09. I'm Worried
10. 1839
11. Fine Little Mama
12. I Held My Baby
13. I Had a Dream Last Night
14. Stranger Blues
MUSICIANS
John Primer (guitar);
Magic Shim (guitar);
Stanley Banks (keyboards);
Johnny B. Gayden, Nick Holt (bass);
James Harrinton, Earl Howell (drums);
Real Deal Delta Blues Band.
BIO
John Primer was born on Mar 3, 1945 in Camden, MS. By any yardstick, Chicago guitarist John Primer has paid his dues. Prior to making The Real Deal for Mike Vernon's Atlantic-distributed Code Blue label, Primer spent 13 years as the ever-reliable rhythm guitarist with Magic Slim the Teardrops. Before that, he filled the same role behind Chicago immortals Muddy Waters and Willie Dixon. All that grounding has paid off handsomely for Primer. His sound is rooted in the classic Windy City blues sound of decades past: rough-edged and uncompromising and satisfying in the extreme. He's one of the last real traditionalists in town. By the time he came to Chicago in 1963, Primer was thoroughly familiar with the lowdown sounds of Waters, Wolf, Jimmy Reed, B.B. and Albert King, and Elmore James. He fronted a West Side outfit for a while called the Maintainers, dishing out a mix of soul and blues, before joining the house band at the South side blues mecca -Theresa's Lounge for what ended up a nine-year run. Elegant guitarist Sammy Lawhorn proved quite influential on Primer's maturing guitar approach during this period. Always on the lookout for aspiring talent, Willie Dixon spirited him away for a 1979 gig in Mexico City. After a year or so as one of Dixon's All-Stars, Primer was recruited to join the last band of Muddy Waters, playing with the Chicago blues king until his 1983 death. Right after that, Primer joined forces with Magic Slim; their styles interlocked so seamlessly that their partnership seemed like an eternal bond. But Primer deserved his own share of the spotlight. In 1993, Michael Frank's Chicago-based Earwig logo issued Primer's debut domestic disc, Stuff You Got to Watch. It was a glorious return to the classic '50s Chicago sound, powered by Primer's uncommonly concise guitar work and gruff, no-nonsense vocals. With the 1995 emergence of The Real Deal -- produced by Vernon and featuring all-star backing by harpist Billy Branch, pianist David Maxwell, and bassist Johnny B. Gayden, Primer's star appeared ready to ascend. He soon transferred back to the Wolf label for sets such as 1997's Cold Blooded Blues Man, 1998's Blues Behind Closed Doors, and 2000's It's a Blues Life. © Bill Dahl, © 2007 All Media Guide, LLC