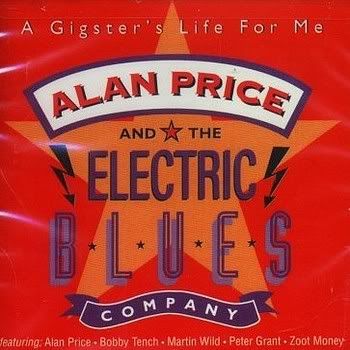 Alan Price
&
The Electric
Blues
Company
- A Gigster's Life For Me -
1995
- Sanctuary (USA)

Alan Price is very much of the same musical tradition as Georgie Fame, who he collaborated with in the sixties. Price is probably best remembered as being the keyboard player with the successful British sixties group, The Animals, who had a huge hit with "House of the Rising Sun." He also had a hit in the late sixties with Randy Newman's great song, "Simon Smith and His Dancing Bear," which was instrumental in promoting Newman's music in the U.K. There are comparisons to be made with Randy Newman, Georgie Fame, and indeed artists such as Mose Allison who all wrote great songs with a touch of humorous cynicism. Alan Price is hardly known outside Europe, even though his music is of the highest calibre. Price covers some great blues standards here, and he is helped out by some Grade A musicians like Zoot Money on keyboards, and Bob Tench on vocals and guitar. This album is a fine example of the British blues sound, which is well worth preserving. Try and listen to Price's 1974 album, "Between Today and Yesterday." It is also worthwhile listening to Georgie Fame's "Name Droppin" album from 1999, Mose Allison's "High Jinks", a three CD package on Legacy Records, and Randy Newman's brilliant "Sail Away" album.
TRACKS / COMPOSERS
Boom Boom Boom Boom - John Lee Hooker
Rockin' Pneumonia and the Boogie Woogie Flu - Huey "Piano" Smith, John Vincent
Rollin' Like a Pebble in the Sand - Rudy Toombs
I Put a Spell on You - Screamin' Jay Hawkins
Good Times/Bad Woman - Bob Tench
Some Change - Boz Scaggs
Enough Is Enough - Zoot Money
Whatcha Gonna Do? - Peter Green
A Gigster's Life for Me - Alan Price, Bob Tench
(I Got) Business With the Blues - Zoot Money
How You've Changed - Alan Price
Old Love - Robert Cray, Eric Clapton
What Am I Living For? - Art Harris, Fred Jay
Say It Isn't True - Jackson Browne
CREDITS
Zoot Money - Keyboards, Vocals
Alan Price - Piano, Keyboards, Vocals
Peter Grant - Bass
Bob Tench - Guitar, Electric Guitar, Vocals
Martin Wild - Drums
Mark Warner - Assistant Engineer
Adam Brown - Assistant Engineer
Alan Price, Bobby Tench, Martin Wild, Peter Grant, Zoot Money - Producers
Recorded at Olympic Studios, London, England between July & August 1995.
REVIEW
A part of the Sanctuary Blues Masters series, former Animal keyboardist Alan Price has never remained inactive. Whether doing soundtrack work, playing in his own blues bands, or doing arranging or session work, he's been more active than any other member of his former band; he also has the distinction of playing piano on Screamin' Jay Hawkins' "I Put a Spell on You." This set -- recorded in 1995 after Price's band, the Electric Blues Company, had already played over 2,250 shows -- feels as if it's a live show caught on tape, when, in fact, it is a phenomenally recorded studio performance. There's not a lot of overdubbing here, though -- performances were done in complete takes. The material is a mixture of the classic and the somewhat more contemporary -- at least Price's contemporaries. This is Brit blues done with all the style, vinegar, and soul the Brit blues are capable of. At its best, it rivals some of the finest of John Mayall's recordings. At its worst, it's not quite boring but rather uncommunicative emotionally. Price's bandmates -- who include Zoot Money, Bobby Tench, Peter Grant, and Martin Wild -- are all seasoned veterans of the Brit blues scene. There are some genuine treasures here: the radical reworking of "I Put a Spell on You," so that it sounds more like the Animals' version of "House of the Rising Sun"; the Pete Bardens/Bobby Tench original "Good Times/Bad Woman," which, with its slippery guitars and keyboards, feels more like Peter Green's mid-period work; and a killer read of Boz Scaggs' "Some Change," which is more driven and funky (thanks to hand percussion) than the original. Price includes celebratory takes of John Lee Hooker's "Boom Boom Boom Boom" and the Smith/Vincent nugget "Rockin' Pneumonia and the Boogie Woogie Flu." Then there's the reggae-blues of the title trick, which swings out of a jazzy backbeat into a rootsier Inner Circle-type groove. "Old Lover," the Eric Clapton/Robert Cray cover, is literally a dumper; the song sucks anyway, and this version does nothing to make it more tolerable. The album closes with an elaborately long (11 minutes and five seconds) version of Jackson Browne's "Say It Isn't True," which, given the less-comfortable surroundings these musicians have found themselves in over the decades, in many ways rings more genuine than the original. Price and Money are both fine interpretive singers in the same vein and deliver knockout performances throughout. This album is far better than listeners had any right to expect, and by its strengths it proves that the vintage British blues are alive and well, even if they are relegated to the margins of obscurity. Terrific. © Thom Jurek, All Music Guide
BIO
As the organist in the first Animals lineup, Alan Price was perhaps the most important instrumental contributor to their early run of hits. He left the group in 1965 after only a year or so of international success (he can be seen talking about his departure with Bob Dylan in the rockumentary Don't Look Back) to work on a solo career. Leading the Alan Price Set, he had a Top Ten British hit in 1966 with a reworking of "I Put a Spell on You," complete with Animals-ish organ breaks and bluesy vocals. His subsequent run of British hits between 1966 and 1968 -- "Hi-Lili-Hi-Lo," "Simon Smith and His Dancing Bear," "The House That Jack Built," and "Don't Stop the Carnival" -- were in a much lighter vein, drawing from British music hall influences. "Simon Smith and His Dancing Bear," from 1967, was one of the first Randy Newman songs to gain international exposure, though Price's version -- like all his British hits -- went virtually unnoticed in the U.S. A versatile entertainer, Price collaborated with Georgie Fame, hosted TV shows, and scored plays in the years following the breakup of the Alan Price Set in 1968. He composed the score to Lindsay Anderson's O Lucky Man!, where his spare and droll songs served almost as a Greek chorus to the surreal, whimsical film (Price himself has a small role in the movie). His 1974 concept album, Between Today and Yesterday, was his most critically acclaimed work. © Richie Unterberger, All Music Guide