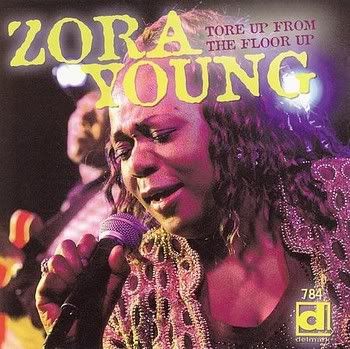 Zora Young -
Tore Up From The Floor Up
- 2005 -
Delmark

With her mix of blues, soul, and rock, plus the just tangible presence of her native Mississippi gospel background, Zora Young can be a powerful performer when the material is there. On the best cuts from Tore Up from the Floor Up, her third album and second for Delmark, she shows a kind of hard-earned wisdom and an assurance in her vocals that rises well above mere shouting, and tracks like the moody, dynamic "Toxic" and the romping title tune (both of which are Young originals) show her to be a solid songwriter as well. She also turns in fine readings on a pair of covers, turning atmospheric on Muddy Waters' "Two Trains Running" and giving B.B. King's "I'm Gonna Do the Same Thing They Did to Me" a saucy, determined sheen. Her take on O.V. Wright's "Ace of Spades" is surprisingly by the numbers, though, and while she certainly doesn't do a disservice to Tony Joe White's "Rainy Night in Georgia," it's a song that has been done to death and no singer on earth could possibly find a new way to approach it. The end result of all of this is an album that has some wonderful highs (the opener, "Love of Mine," simply soars and rocks) but also too many tracks that lack immediacy. It's worth noting, though, that Young's originals more than hold their own here, and that bodes well, because when her singing and writing intersect, sparks fly. © Steve Leggett, All Music Guide
The second Delmark album from this Mississippi born and bred blueswoman includes six original tunes, and some nice covers. The album, unusually contains an interview. A highlight of this album is the playing of Pete Allen, a very underrated guitarist, who stamps his cultivated modern mellow blues guitar style here, and easily manages the instinctive arrangements. Pete first played with Zora over 30 years ago, and at times he innocently enough, steals the limelight from her ! The songs and energy may not be consistently strong on this album, but it has it's moments, and it's really worth listening to for it's authenticity. It is genuine, down to earth music, and the sort of blues playing you will hear in many blues night clubs. It doesn't go mainstream, so probably will not create a larger audience. Check out her 2000 album, "Learned My Lesson."
TRACKS
1. Love of Mine (4:30)
2. Go Ahead and Take Him (6:36) Composed by Dennis Walker
3. I'm Gonna Do the Same Thing They Did to Me (5:14) Composed by B.B. King
4. Toxic (6:03) Composed by Zora Young
5. Til the Fat Lady Sings (4:51) Composed by Zora Young
6. Slowly (4:52) Composed by Zora Young
7. Ace of Spades (3:27) Composed by Don Robey
8. Rainy Night in Georgia (5:32) Composed by Tony Joe White
9. Tore Up from the Floor Up (4:19) Composed by Zora Young
10. Since I Fell for You/Silhouettes (7:11) Composed by Buddy Johnson
11. Handy Man (3:51) Composed by Zora Young
12. Two Trains Running (5:51) Composed by Muddy Waters
13. Interview (4:05)
MUSICIANS
Zora Young - vocals
Pete Allen - guitar
Bobby Dirninger - acoustic guitar, piano, keyboard
Willie Henderson - baritone saxophone
Hank Ford - tenor saxophone
Kenny Anderson - trumpet, horns
Lee "Mookie" Cain - bass instrument
Kerman Frazier - drums
REVIEWS
I've had the good fortune to see Chicago blues diva Zora Young sing twice in the last year. At last summer's Chicago Blues Festival, Zora tore it up from the main stage at the Petrillo Band Shell. Last November, she was one of the Sisters of Royalty at a benefit for Koko Taylor's Celebrity Aid Foundation at Chicago's House of Blues. Zora's latest Delmark release shows why she is up for a 2007 Traditional Blues Female Artist of the Year award at the 28th annual Blues Music Awards in Memphis on May 10th. She's got a powerful set of blues on Tore Up From the Floor Up, including five originals. Her interpretation of Muddy Waters' "Two Trains Running" is simply spellbinding, but I found her original material just as captivating as that blues classic. Listen to "Toxic," the title cut or "Handy Man" and you'll see why Zora Young has long been one of my favorite Chicago blueswomen. She's got a solid Chicago blues band on Tore Up from the Floor Up, and I particularly liked the contributions of Kenny Anderson, Hank Ford, Willie Henderson, and Walter Scott - a great horn section. Kenny and Hank also are an integral part of the Chicago Horns, a first-class horn outfit from the City of the Big Shoulders. There's a lot to like on Tore Up From the Floor Up, but what really sets this CD apart from the average blues CD is the short, set-ending interview with Zora. She talks about her youth in Mississippi and her first steps on her musical journey. I just wish Bob Koester would add much more lengthy interviews on each and every new Delmark CD. I can dream, can't I? © 2007 - Eric Steiner , www.cosmik.com/aa-april-july07/reviews/review_zora_young.html
BIO
Born 01/21/1948 (West Point, MS). Despite the prominent presence of celebrated blues artist Howlin\' Wolf in her family tree, singer Zora Young grew up singing not blues, but gospel. Even when the Mississippi native shook off her roots at the age of seven to relocate with her family to Chicago, she attended the Greater Harvest Baptist Church and continued to sing gospel. It wasn't until later that she switched over to RB, and evolved into a powerhouse blues vocalist with three decades of experience behind her. She has performed with a long list of artists, including Junior Wells, Jimmy Dawkins, Bobby Rush, Buddy Guy, Professor Eddie Lusk, Albert King, and B.B. King. Her recording credits include collaborations with Willie Dixon, Sunnyland Slim, Mississippi Heat, Paul deLay, and Maurice John Vaughn, among others.
Her own recordings as a solo artist include releases from the labels Deluge, Black Lightning, and Delmark. Young has also performed on both stage and television. She is a veteran of more than 30 tours of Europe, and has been a featured performer three times at ~the Chicago Blues Festival. She has performed throughout North America, and on stages in Italy, Germany, Belgium, Sweden, France, Switzerland, Greece, Austria, Tai Pei, and Turkey. Her albums include 1991's Travelin\' Light from Deluge Records and two releases from Delmark Records, Learned My Lesson in 2000 and Tore Up from the Floor Up in 2005. © Linda Seida, All Music Guide