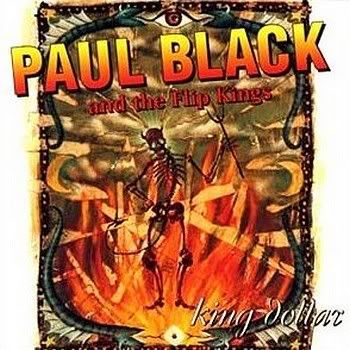 Paul Black and the Flip Kings -
King Dollar -
1996 -
House of Blues
This is a great album, in the "Swamp Blues" / New Orleans style, from the obscure Paul Black. Judging by this album, the guy is a brilliant electric slide blues guitar player. Check it out. There is also an album from Paul and his band entitled "Live at the Harmony* available from selected record outlets. This is the kind of music that needs more exposure. If anybody can provide more info on this great artist, please comment. This is a (128) post, so please make allowances for sound quality. Does anybody have info on a higher bitrate recording?
TRACKS / COMPOSERS
1. Moo Goo - Paul Black
2. Malted Milk - Robert Johnson
3. The Last Time - Jagger & Richards
4. Murder My Baby - Pat Hare
5. (Makes Her Way) The Hard Way - Paul Black
6. G-Baby - Ben Sidran, Jerry Alexander, Paul Black
7. Factory Girl - Jagger & Richards
8. Cross Eyed Baby - John Tubbs, Paul Black
9. Honeymoon Blues - Robert Johnson
10. The Fixer - Willie Mabon
11. Dead Shrimp Blues - Robert Johnson
12. Paulie's Little Nightmare - Paul Black
CREDITS
Paul Black - Guitar and Vocals
John Tubbs - Bass, Violin, Backing Vocals
Brian "Chance" Howard - Percussion, Backing Vocals, Analog Sampling
Andy Linderman - Harmonica, Percussion, Backing Vocals
Produced by David Rivkin
REVIEWS
Black and blue, with style - This is some down and dirty New Orleans style blues, scraped right out of the gutter, and I mean that as the highest compliment. Paul Black is a wickedly nuanced slide guitarist, playing a mixture of traditional blues (three by Robert Johnson), Stones covers ("The Last Time" and "Factory Girl"), and bunch of originals. Armed with this introduction, I sat down expecting a Stevie Ray Vaughn clone. Boy, was I wrong! Black's got his own set of moves, with a great bending slide movement, and the set's about half electric, half acoustic. Black's got a real funky feel, with a genuinely scary voice that moves from a low gravely rumble to a broken yelp. The Flip Kings, especially Andy Linderman on harp, provide just the right slow-blues backing. The only two misses are the Stones covers, although "Factory Girl" is interesting–actually less bluesy than the original, with a weird repeated percussive chomp driving through the entire song. This is a very nicely recorded (if somewhat highly produced) attempt to reproduce a live sound. The acoustic slide intros to several of the songs have all kinds of fret squawks purposely left in, giving a particularly nasty sound. Warning: playing this album before noon will confuse the brain, since you'll swear it was 2 a.m. in a swamp nightclub. Paul Black is the real thing–get this album while it's still hot from the fire © Bill Kuhn © 1998 Peppercorn Press. All rights reserved

This release from House of Blues features nice packaging and extensive notes by pianist-write Ben Sidran. The title refers to a pawn shop in Lincoln, Nebraska (also home of a great blues dive, The Zoo Bar). Paul spent time with slide master Sonny Landreth altering growing up in Baraboo, Wisconsin--home base for Ringling Brothers, Barnum and Bailey Circus. Madison remains his home base as he takes his gruff voice and slide to all parts of the country. His time with Sonny Landreth obviously developed his razor sharp slide. The first time out Paul Black chooses to cover three Robert Johnson songs, two songs associated with the Rolling Stones, five tunes credited to himself, as well as Willie Mabon's "The Fixer" and Pat Hares "Murder My Baby". Especially strong are the self-penned "Moo-Goo", and "Make Her Point--The Hard Way". Fans of Blues-Rock artists like Omar and the Howlers will develop a taste for the Flip Kings' sound, slide guitar fans will welcome this release. Maybe House of Blues CD issues will prove to be blusier than their television concepts. This release offers promise for the label and the future successes of Paul Black. © Lanny Fiegenschuh, OBS Board Member , © 1995-97, Oklahoma Blues Society, All Rights Reserved

ABOUT THE ARTIST

Paul Black was never a cuddly performer. Years ago, talking about his approach to live performances, the Madison-based blues man explained to me, "I'm not there to get the audience excited and sweaty and get 'em to drink a lot of beer." Blues-rock guitar flash? Let-the-good-times-roll jocularity? Black rejected both approaches. For 30 years, he refined his sets with his regular band, the Flip Kings, to the point where their takes on a connoisseur's selection of Delta blues, Chicago-shaded scuffling, inventively reworked rock covers and sly originals seemed to bore directly into the floorboards of local rooms like the old Church Key, the Crystal Corner and the Harmony Bar. These were serious blues sessions played with seriously talented sidemen like Jerry Alexander, West Side Andy Linderman and Joel Paterson. And the focus was almost always on Black's deft ululations on slide guitar — long, at times otherworldly peregrinations that could be unrelentingly doleful one minute and transcendently witty the next. Sure, on some level the Flip Kings were offering up a soundtrack for the partiers who took over the bars after the work week was done. But it was also a kind of blues ritual in which Black played the role of shaman, massaging and stretching what appeared to be simple 12-bars until they came across as weird, goading messages from another dimension. Black hadn't come to his magic easily. He'd knocked around in various contexts before settling in Madison in the mid-'70s. A stint playing around the South with Sonny Landreth (who'd go on to play with John Hiatt and do respected solo work) netted a lot of drunken nights and very little money. Later he played guitar with Texas-bred, San Francisco-based singer Jeannie Stout, who seemed destined for big things until she negotiated her way out of a contract with Arista Records. Once he settled in Madison, Black became a reliable draw at local watering holes, and the Flip Kings established themselves as one of the area's best blues acts. He recorded a little, but mostly he developed his sound in clubs. In fact, it wasn't until the 1996 release of the David Z.-produced King Dollar on the House of Blues label that he got a brief shot at national exposure as a leader. Unfortunately, the label folded just as the album was getting some momentum. Black had matured into a unique blues player, but somehow he was back to playing remarkable live gigs in the same small Madison clubs. The story might have ended there if the Harmony Bar's Keith Daniels and another devoted Black fan, Keith Heimforth, hadn't decided that it was high time someone captured the spirit of those local gigs on a CD. That led to two nights of live recording in March 2005 with a version of the Flip Kings that included bassist John Hauser, drummer Mark Haines and Black's longtime friend and musical collaborator Jerry Alexander on harmonica and vocals. Special guest Joe Nosek also contributed some blues harp. Daniels and Heimforth had hoped to commit a third date to tape before culling tracks for Live at the Harmony. But Black has had health issues, and when another gig failed to materialize, they decided it was time just to go with what they had. Thanks to Audio for the Arts' Steve Gotcher, they definitely captured the Black that fans had experienced for so many years. Indeed, you can almost see the grizzled guitarist, seated in a chair with his beloved Mets cap pulled down low, as the band creeps and burns through Robert Johnson covers, a wickedly down-home take on the Stones' "Factory Girl" and a hair-raising crawl through Howlin' Wolf's ".44 Blues." On the latter, Black demonstrates how to put a jaunty lilt into his chosen form even as he presents Wolf's ratchet-toting protagonist in all his homicidal fury. By the middle of the tune, you find yourself hoping the stabbing slide figure that serves as a de facto hook would spool out forever into the darkness. It's that affecting. A grinding "Murder My Baby" is more brutal, with Black's drawled vocal striking a disturbing balance between hardcore confession and offhanded barroom conversation. And then there's Johnson's "Malted Milk." It's the ultimate anti-crowd-pleaser. Black wouldn't think of using the tune as a backdrop for sonic explosions. The rhythm section clamps down on the slow, deliberate beat, and Black's greasy slide wears away at the groove like an old razor that's been stropped too many times. This is a song about existential fear and demonic forces just out of view, and Black sounds very much like a man who knows he's tempting fate as he uses his slide to probe the unnamable and the unknown. Suffice it to say that, despite an added gruffness in Black's voice that Heimforth says was the result of a head cold, Live at the Harmony may be the best document of Black's live work that we'll ever have. And if you prefer your blues raw and unpredictable and a little bit strange, you're gonna like it. You're gonna like it a lot. Live at the Harmony is available at B-Side, MadCity Music Exchange, Sugar Shack and Strictly Discs. © 2008 Isthmus Publishing Company, Inc.