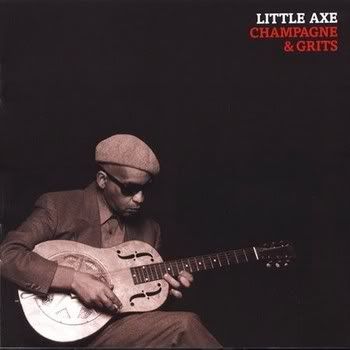 Little Axe - Champagne & Grits - 2004 - Real World Records

A really unusual album of "Nu-Blues* music. Take some old style Delta blues" and mix it with elements of reggae, folk and trip-hop, and this is what you get. A really original, and highly enjoyable album from Bernard Alexander. Even if you're a blues purist, and not into music with dub elements, you should hear this album for a totally new perspective on the blues. Check out Little Axe, aka Bernard Alexander, aka Skip McDonald's album, "Stone Cold Ohio."


TRACKS

1.People Grinning In Your Face - Vocals - Bernard Fowler
2.Finger On The Trigger - Harmonica - Alan Glen
3.Mean Things - Harmonica - Dave Foster (2), Vocals - Ghetto Priest
4.The Way I See It
5.Walk On Water - Tabla - Prithpal Rajput
6.Go Away Devil - Harmonica - Alan Glen, Vocals - Junior Delgado
7.Say My Name - Guitar - Clubfoot (2), Vocals - Shara Nelson, Written-By - S. Nelson*
8.Take Me Back To The Country
9.All In The Same Boat - Backing Vocals - Denise Sherwood , Dorie Jackson, Vocals - Chris Difford, Written-By - C. Difford*
10.Living And Sleeping In A Dangerous Time - Tabla - Prithpal Rajput, Vocals - Bernard Fowler
11.Will I Ever Get Back Home Again? - Harmonica - Alan Glen, Vocals - Bernard Fowler
12.Cloud - Written-By - P. K. CLoud
13.Sinners - Bass [Upright Bass] - Bernard O'Neil* , Vocals - Ghetto Priest , Junior Delgado, Written-By - H. Ledbetter* , J. Hinds*

CREDITS

Bass - Doug Wimbish (tracks: 1 to 3, 5, 6, 9)
Drums - Keith LeBlanc (tracks: 1 to 3, 5, 6, 11)
Engineer, Programmed By - Chris Weinland , Nick Coplowe
Mixed By - Adrian Sherwood
Producer - Adrian Sherwood , Skip McDonald
Written-By - A. Maxwell* (tracks: 2, 5, 6, 9, 11) , A. Salvador* (tracks: 2, 3, 10) , B. Alexander

REVIEWS

Who is Little Axe? Followers of producer Adrian Sherwood will know that Little Axe is actually Bernard Alexander. Who is Bernard Alexander? Why, he's Skip McDonald, guitarist in the original rap house band, The Sugarhill Gang, and co-conspirator on Sherwood's On-U label experiments (African Headcharge, Tackhead , Bim Sherman et al.). Confused? Well if you consider that this is a blues album made by people connected with the roots of hip hop, dub reggae and techno funk youproably should be confused. But have no fear, just one listen and everything will become clear. McDonald and Sherwood's strategy is simple and totally within keeping of their previous work. These are people who always instinctively knew that there was common ground in all roots music, from King Tubby to Howlin' Wolf. With this in mind they blend the basic forms of the delta blues and, using Sherwood's technological savvy, put all the extras that the 21st Century has to offer under a rudimentary framework of acoustic guitar and plaintive vocals. Like supercharging a Model T... McDonald states how his methodology included listening to early blues music until one sample or phrase sparked his muse. Thus we get little snatches of chain gang work songs ("Go Away Devil") and ancient scratchy hollers woven into the mix, while depth charges of dub bass and drums pour fire into the belly of each song. Meanwhile, collaborators such as Junior Delgado or Shara Nelson ("Say My Name") add elements of reggae or trip hop in their doomiest incarnations. What's most impressive about Champagne and Grits is the way it finds the common link between the ancient and modern, making the blues a viable form of musical protest for the21st century. This is real American folk music, alive and very much kicking. © Andrew McGregor, 23/9/04, http://www.bbc.co.uk/music/release/drdp/

One name often overlooked in the pantheon of nu blues is Little Axe. Little Axe, the brainchild of Bernard Alexander aka Skip McDonald, one of the original Sugar Hill Gang ('Rapper's Delight', "White Lines"), ingeniously pours the toughest, brooding edges of house, reggae, field hollers and blues into a giant boiling cauldron. © Terry Reilly - 07/12/2005, www.abc.net.au/dig/stories/s1525606.htm © 2008 ABC

ABOUT THE ARTIST

Little Axe was the alias of Skip McDonald, a blues performer whose list of credits also included work on some of rap music's most influential records. Born Bernard Alexander in Dayton, OH, in 1949, McDonald learned blues guitar from his father, and by the age of ten was already playing professionally with area jazz musicians. By age 12, his focus had shifted to doo wop, and he also played in a gospel quartet; after high school, he and several friends relocated to New York City, where they formed a group dubbed the Entertainers and toured extensively throughout the East Coast. In 1973 McDonald teamed with bassist Doug Wimbish and drummer Harold Sargent in the group Wood Brass & Steel, recording a pair of LPs before calling it quits in 1979. McDonald and Wimbish soon reunited under the auspices of the fledgling rap label Sugarhill, where they teamed with drummer Keith LeBlanc to become the company's house band. Over the course of the next three years, the trio played on a number of the most seminal records of the era, including the Grandmaster Flash classics "The Message" and "White Lines." After exiting Sugarhill's ranks, the group worked at Tommy Boy Records, where they teamed with producer Adrian Sherwood to develop his famed On-U Sound. Sherwood subsequently convinced the trio to relocate to London, where they were rechristened Tackhead and fronted by vocalist Gary Clail. They also began handling some of On-U's myriad production assignments, remixing material for artists including Nine Inch Nails, African Head Charge, Megadeth, and Living Colour, whom Wimbish later joined. By 1992, McDonald adopted the name Little Axe and returned to the blues of his youth, albeit a brand of blues informed by his latter-day musical experiences, which also incorporated elements of gospel, rock, reggae, and funk. Co-produced by Sherwood and recorded with the aid of Wimbish and LeBlanc as well as vocalists Kevin Gibbs and Saz Bell and Indian percussionist Talvin Singh, Little Axe debuted in 1994 with the single "Ride On (Fight On)"; the full-length The Wolf That House Built was released later in the year to wide acclaim. "Another Sinful Day" followed in 1995, with Slow Fuse appearing in 1996. For the next six years, McDonald worked on other projects until resuming Little Axe with Hard Grind on Fat Possum in 2002. By 2004, he had switched to the Real World label, releasing Champagne & Grits and Stone Cold Ohio two years later. © Jason Ankeny & Al Campbell, All Music Guide

BIO (Wikipedia)

Little Axe is the stage name of Skip McDonald (born 1949, Dayton, Ohio), an American blues musician. McDonald played jazz, doo wop, and gospel when young, and moved to New York City as a teenager with his band of friends, called The Entertainers. McDonald joined the group Wood Brass & Steel in 1973 with bassist Doug Wimbish and drummer Harold Sargent; the group recorded two albums before their 1979 breakup. Axe then became one of the members of the house band for Sugarhill Records and appeared as guitarist on many early rap albums, including "The Message" by Grandmaster Flash. After leaving Sugarhill, McDonald, Wimbish, and drummer Keith LeBlanc began working with Adrian Sherwood, and eventually formed the trio into the group Tackhead (fronted by Gary Clail and, later, Bernard Fowler). In the 1990s McDonald took the name Little Axe and began recording blues albums, continuing to appear as a guest act on other artists' albums as well. His most recent albums have been released on Real World Records.