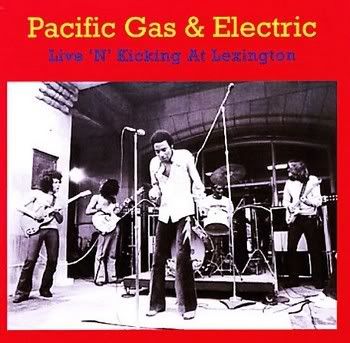 Pacific Gas & Electric - Live 'N' Kicking at Lexington - 2007 - Wounded Bird (Live recording from August 1970)

Previously unreleased jams from the legendary Pacific Gas & Electric -- material that was originally intended as an album on Columbia in the early 70s, but due to legal problems, Columbia never actually issued it. Supposedly it is only now finally seeing the light of day! Strangely enough, an album entitled, "Live 'n' Kicking at Lexington [Original]," was released on the CBS label in 1970, with a very different track listing to this 2007 release. (Scroll down for more details). Has anybody any info on this release? Given the live setting, the style here is even more open-ended and jamming than the group's studio work -- a raw and raunchy mix of rock and soul elements, performed live at the Federal Drug Rehabilitation Center in Lexington -- with a sound so heavy, we've gotta imagine a few folks there ended up having trouble kicking the habit! Some of the best tracks here are really long numbers -- and titles include "Old Slop In A", "32 20 Blues", "Jelly Jelly", "Motor City Is Burning", "Elvira", and "Next Time You See Me". This is a very good album, although understandably, the sound quality is a bit patchy in places. Nevertheless, it's a very enjoyable album, and a real "blast from the past." If you can find their 1971 album, "PG&E," give it a listen.

TRACKS

1. Old Stop In A
2. Are You Ready?
3. Next Time You See MeElvira
4. 32-20 Blues
5. One More River To Cross
6. Motor City Is Burning
7. Jelly Jelly

Another version of this album was released by CBS in 1970, entitled, "Live 'n' Kicking at Lexington [Original]," which contains the nine tracks listed below.

New Stop in a
John Lee Hooker
Every Day
Motor City Is Burning
Jelly, Jelly
Bad Like Jesse James
Are You Ready?
Wade in the Water
Bluesbuster

BAND (2007 RELEASE)

Charlie Allen-Vocals
Brent Block-Guitar
Frank Petricca-Bass
Ken Utterback-Lead Guitar
Ron Woods-Drums


BIO (Wikipedia)


Pacific Gas & Electric was an American rock band, best known for the song "Are You Ready?" released in 1970. Pacific Gas & Electric's history dates from 1967 in Los Angeles. Self-taught guitarist Tom Marshall met bassist Brent Block at a party thrown by Block's former art teacher and formed a band then named "Pacific Gas and Electric Blues Band", one of the first interracial bands to be part of the Los Angeles music scene. An early member was Charlie Allen, a drummer from the east coast, whose vocal abilities were so good that he moved from drums to lead singer and was replaced on drums by Canned Heat's former drummer, Frank Cook, who had earlier signed to manage the band. In 1968, the band name was shortened to "Pacific Gas & Electric", and included Allen, Cook, Marshall, Block, and guitarist Glenn Schwartz (also of James Gang and All Saved Freak Band). They released their first album, Get It On, that year on the Kent record label (it was subsequently released on Big Orange and Power Records as well). Although it only reached #159 on the album charts, someone at Columbia Records was listening, as they signed the band to a recording contract shortly after their appearance at the Miami Pop Festival in December of 1968. The next album, and the first released by Columbia, was simply called Pacific Gas and Electric, in 1969. However, it was the next release, the Are You Ready LP that included their first mainstream hit. The title track reached #14 in the summer of 1970, and featured the backing vocals of The Blackberries. Wholesale changes were in store for the group after recording the Are You Ready album. After a serious car accident, Cook was replaced on drums by Ron Woods, and he stayed on as manager. Schwartz announced his conversion to Christianity onstage during a concert and then later joined the All Saved Freak Band. Marshall also left, and the two were to be replaced by Frank Petricca on bass and Ken Utterback on guitar, with Brent Block moving to rhythm guitar from bass. This is the line-up that toured in support of Are You Ready. This version of the band recorded a self-titled album in 1971 (minus Block, who had left the band in late 1970), adding Jerry Aiello on keyboards, trumpet player Stanly Abernathy, sax players Alfred Galagos and Virgil Gonsalves, and percussionist Joe LaLa. At the request of the utility company sharing the same name, the band name was shortened to "P G & E". The band did countless concerts, often appearing with other big musical acts of the era. It was at one P G & E show that writer and film producer Lawrence Schiller filmed his documentary "The Lexington Experience". Disagreements with the owners to the rights to the music caused the film to be shelved after only a few showings, and the only copies known to exist are in Schiller's vault. They made more movie history when they appeared in, and provided music to, the Otto Preminger film "Tell Me That You Love Me, Junie Moon" starring Liza Minnelli. After 1972, the group's line-up became unstable, resembling more of an Allen solo project. One more album was forthcoming ...Starring Charlie Allen in 1973 on the Dunhill label, featuring Allen and a host of studio musicians.