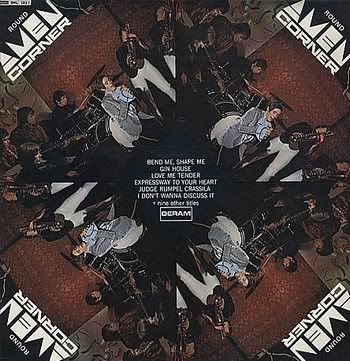 Amen Corner
-
Round
-
1968
-
Deram

Amen Corner was originally a 60s Welsh soul/blues/jazz/R&B-band featuring singer Andy Fairweather Low, organist Blue Weaver, guitarist Neil Jones, bassist Clive Taylor, saxophonists Allen Jones and Mike Smith, and drummer Dennis Bryon. They had six British chart hits including "Gin House" in 1967, and the huge No.1 "(If Paradise Is) Half as Nice" 1969. They also had a big hit with Roy Wood's composition, "Hello Susie". By 1970, the band had disbanded, and Andy Fairweather Low formed Fair Weather, who had a hit with the great "Natural Sinner". Andy also had a great solo career, releasing a few albums, and having two big chart hits with "Reggae Tune" in 1974, and "Wide Eyed and Legless" in 1975. Andy has since worked as a session man with artists like Roger Waters, Joe Satriani, Gerry Rafferty, Eric Clapton, George Harrison, The Who, Jeff Beck, Gary Brooker, Jack Bruce and Peter Green. Listen to Andy's "Sweet Soulful Music" album, and his great underrated 1974 "Spider Jiving" album, which is full of great funky blues/R&B tunes, all written by Andy. Blue Weaver went on to play with a number of 60s-70s bands, inluding Mott The Hoople & The Strawbs. Check out the Strawbs great "Bursting at the Seams" album on which Blue Weaver had a huge influence, both as a songwriter and keyboard player.
"Round" was Amen Corner's first album, which was good as regards musicianship, but lacked original material. Andy Fairweather Low was a good songwriter, but the album only featured one Amen Corner composition. The erratic track selection was not suited to a band of this quality, and tracks like "Love Me Tender" and " Let The Good Times Roll" were oddities in the British 13 track issue. Buy Amen Corner's "Hello Suzie" album, a "best of" compilation, which gives a wider spectrum of the band's songs. The band's 1969 "National Welsh Coast Live Explosion Company" album is also a good example of the band's true musical leanings, containing covers of Johnny Otis' "So Fine", Lennon, & McCartney's "Penny Lane", and the great Lucio Battisti song, "(If Paradise Is) Half as Nice".
Tracks
/
Composers
[UK Album Issue]

A1 Bend Me, Shape Me - Weiss , English
A2 Judge Rumpel Crassila - Amen Corner
A3 Love Me Tender - Presley , Matson
A4 In The Pocket - Clinton , Jackson , McCoy
A5 Something You've Got - Keen , Shaw
A6 I Am An Angel (But I Can't Fly)- Amen Corner
B1 Expressway To Your Heart - Gamble , Huff
B2 Good Times - Vanda, Young
B3 Let The Good Times Roll And Feel So Good - Lee
B4 Can't Get Used To Losing You - Pomus , Shuman
B5 Lost And Found - Keen, Shaw
B6 Gin House - Henderson , Troy
B7 I Don't Want To Discuss It And Amen - Beatty , Cooper , Shelby
N.B
:
US Release included "High In The Sky" and excluded "Judge Rumpel Crassila", "Something You've Got", and "Can't Get Used To Losing You".

BAND
Bass Guitar, Vocals - Clive Taylor
Drums, Vocals - Dennis Bryon
Guitar [Lead Guitar] - Neil Jones
Lead Vocals - Andy Fairweather-Low
Organ [Hammond], Vocals - Blue Weaver
Saxophone [Tenor] - Mike Smith
REVIEW
Featuring their British hits "Bend Me, Shape Me" and "Gin House Blues," Amen Corner's debut album was the work of a band who didn't either really fit into any of the trends of the late '60s or qualify as one of the era's more innovative or interesting groups. They were accomplished at what they did, however, which was offer a mix of blue-eyed soul-rock and British pop. Built around the distinctive high vocals of Andy Fairweather Low, they also had (unlike most British bands) a horn section, as well as a distinguished instrumentalist in organist Blue Weaver. The album was an erratic affair, dragged down by a cover of "Love Me Tender," a sort of vaudeville-ska hybrid in "Judge Rumpel Crassila," and some rather uninspired choices of material to interpret, like "Let the Good Times Roll" and Andy Williams' "Can't Get Used to Losing You." On the other hand, they ripped through straight-ahead blue-eyed soul like "Our Love (Is in the Pocket)" with flair, and "Something You Got" was almost like a U.K. equivalent to late-'60s Stax deep soul ballads. It offered barely any original material, a shame as a couple B-sides of the period with Fairweather Low compositions showed the kind of psychedelic pop-influenced writing more akin to a band like the late-'60s Small Faces. Fortunately, the 1990 CD added those B-sides, "Nema" and "I Know," as bonus tracks, along with two other cuts from 1967-1968 singles, "Satisnek the Job's Worth" (the B-side of "Bend Me, Shape Me") and the small British hit single "The World of Broken Hearts." © Richie Unterberger, All Music Guide
BIO
(Wikipedia)

Amen Corner was a successful British pop group, formed in late 1966 in Cardiff, Wales. The band was named after The Amen Corner, a weekly disc spin at the Victoria Ballroom (later to become The Scene Club) in Cardiff, Wales, where every Sunday night Dr. Rock would play the best soul music from America. Initially they specialised in a blues and jazz-orientated style, but were steered by their record companies into more commercial pastures. Their first singles and album appeared on Decca's subsidiary label Deram, but they left at the end of 1968 to join Immediate, where they were instantly rewarded with a No. 1, "(If Paradise Is) Half as Nice" (originally a song by Italian songwriter Lucio Battisti) in early 1969, followed by another top five entry with the Roy Wood composition "Hello Susie". After recording a live album, Farewell to the Real Magnificent Seven, and a final single, a rather premature cover version of The Beatles' "Get Back", they disbanded at the end of 1969. The band also appeared as themselves in the 1969 horror film Scream and Scream Again. While sax players Allan Jones and Mike Smith went on to form Judas Jump, guitarist and vocalist Andy Fairweather-Low led Dennis Bryon (drums), Blue Weaver (organ), Clive Taylor (bass) and Neil Jones (guitar) into a new band, Fair Weather. The band scored a UK No.6 hit with "Natural Sinner" in 1970 and recorded one album before disbanding a year later. Fairweather-Low went on to a successful solo career in the 1970s, notably with the top ten hit "Wide Eyed and Legless" (1975); he became a regular player with Eric Clapton, George Harrison and Roger Waters. He also worked with Strawbs and the Bee Gees. Blue Weaver also played keyboards for the Bee Gees from the mid 1970s through to the 1990s. Amen Corner's Decca back catalogue has been reissued as part of 'The Collection' series; and their Immediate work, including their singles, live album and material recorded for an unreleased studio album, on If Paradise Was Half as Nice: The Immediate Anthology.