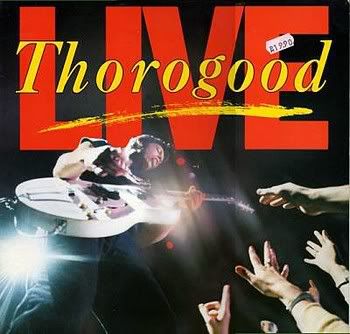 George Thorogood & The Destroyers - Live - 1986 - EMI America

George Thorogood was always better as a live performer than as a studio act. This concert set, recorded in Cinncinatti in 1986, captures his newly expanded Destroyers, their sound beefed up with the addition of a second guitarist and (a la Bo Diddley) a maracas player. As usual, the band's great, ungodly racket owes as much to '60s garage rock and punk as it does to Muddy Waters. Thorogood, who sounds like he's having a great time, blowtorches his way through familiar songs by Elmore James, Chuck Berry, and the aforementioned Diddley. He also resurrects the Hollywood Argyles' early '60s novelty "Alley Oop" and turns in a hilariously melodramatic performance of his ode to alcoholic solipsism, "I Drink Alone." Recorded at The Cincinnati Gardens, Cincinnati, Ohio on May 23, 1986. © 1996 - 2009 CD Universe

One music critic has said of George Thorogood, "If rock 'n' roll were a dinner menu, singer/guitarist George Thorogood would be the meat and potatoes". That is a great quote about the Baton Rouge born George Thorogood, who, with his band The Destroyers, have been one of the greatest exponents of blues rock bar boogie for over thirty years now. Heavily influenced by blues greats like John Lee Hooker, Elmore James, Chuck Berry, Willie Dixon, Muddy Waters, Howlin' Wolf, and Bo Diddley, George has also written many great blues rock songs including " I Drink Alone", and "Bad To The Bone", both tracks appearing on this album. George Thorogood has often been criticised for recording more cover versions than original songs. However, this is a minor criticism, as he does superb covers, and any blues/blues rock fan would have to be impressed by the quality of his great cover versions. "Live" is HR by A.O.O.F.C. George Thorogood, even after thirty years recording, is still playing his uncompromising style of rock. His music has changed very little in all that time, and a huge audience is still out there for George Thorogood & The Destroyers great music. The guy with his band has sold nigh on 15 million albums, and proves that great blues rock music is still a force to be reckoned with. Check out George Thorogood & The Destroyer's "Move It on Over" album. The album is a covers only album, but serves as a perfect example of how old blues classics should be played.

TRACKS / COMPOSERS

1 Who Do You Love? E. McDaniel
2 Bottom Of The Sea M. Morganfield
3 Night Time Feldman , Goldstein , Gottehrer
4 I Drink Alone G. Thorogood
5 One Bourbon, One Scotch, One Beer J.L. Hooker
6 Alley Oop D. Frazier
7 Madison Blues E. James
8 Bad To The Bone G. Thorogood
9 The Sky Is Crying C.L. Lewis , E. James , M. Levy
10 Reelin' & Rockin'C. Berry

BAND

Guitar [Rhythm, Lead] - "Sleeveless" Steve Chrismar
Guitar [Rhythm, Slide], Vocals - George Thorogood
Bass, Vocals - Bill Blough
Drums - Jeff Simon
Saxophone, Percussion - Hank "Hurricane" Carter
Maracas - H-Bomb Ferguson

REVIEW

This live release by George Thorogood & the Destroyers is a good representation of the live show of the band. However, it can be said that in places, the recording seems to fall a bit flat. One of the better sections of the disc, though, is the pairing of "I Drink Alone" with "One Bourbon, One Scotch, One Beer." That combo makes for a hard-drinking twosome of tracks, delivered in Thorogood's trademark take on retro blues and rock & roll. Other highlights of the disc include the obligatory "Bad to the Bone," "Who Do You Love," "The Sky Is Crying," and "Bottom of the Sea." The saxophone on many of the arrangements really stands out and makes a big difference in the power of the pieces. The only other complaint on the album is that the liner notes really leave a lot to be desired. Still, for fans of Thorogood, and blues or rock & roll in general, this is a good, solid introduction to the live sound of the group. © Gary Hill, allmusic.com

BIO (Wikipedia)

George Thorogood (born February 24, 1950) is a blues-rock performer from Wilmington, Delaware, USA. He was raised on Clearview Avenue in Naamans Gardens, a suburb of Wilmington. Thorogood's demo Better Than the Rest was recorded in 1974 and released in 1979. In 1976 he recorded his debut album: the eponymous George Thorogood & The Destroyers with his band, The Destroyers (sometimes known as The Delaware Destroyers or simply GT and D) and issued the album in 1977. Thorogood released his next album titled Move It On Over in 1978 with The Destroyers, which included the Hank Williams remake of "Move It On Over". "Please Set a Date" and their remake of the Bo Diddley song "Who Do You Love?" both followed in 1979 (many of Thorogood's songs were remakes of other hit songs). Before devoting himself exclusively to music, Thorogood played semi-pro baseball. In the late 1970s, Thorogood played on a team in Delaware in the Roberto Clemente League which was created in 1976. He was the second baseman and was chosen rookie of the year in the league. Soon after this achievement, The Destroyers forced him to quit playing the sport. In the 1970s, George and the band were based in Boston . George and the Delaware Destroyers were friends with Jimmy Thackery and the Nighthawks. While touring in the 1970s, the Destroyers and the Nighthawks happened to be playing shows in Georgetown (DC) at venues across the street from each other. The Destroyers were engaged at The Cellar Door, the Nighthawks at Desperados. At midnight, by prior arrangement, while both bands played the same song ("Madison Blues") in the same key (E), George and Jimmy left their clubs, met in the middle of M street, exchanged guitar cables and went on to play with the opposing band. George and the Destroyers are also notable for undertaking a rigorous touring schedule after appearing throughout the Rolling Stones tour in 1981. After two shows in Boulder, Colorado, George and his band flew to Hawaii and played for only one night. The next night they appeared in Alaska for one show. The following day the band flew to Washington State, met their roadies who had their Checker car and a truck, and continued a one show per state tour for all fifty states in exactly fifty nights. In addition, they played Washington, DC on the same day that they performed a show in Maryland. During the 1980s and 1990s, Thorogood recorded some of his most well known works. "Bad to the Bone" was used frequently in television and the big screen. Several appearances include Terminator 2: Judgment Day, the comedy Problem Child, Stephen King's Christine, and during many episodes of the television sitcom Married with Children. This track also was used during the intro to the movie "Major Payne". The same song is also featured in the game Rock 'n Roll Racing. It is also played during football pregame festivities at Mississippi State University. Quincy Jones once said to Thorogood, "The three things important in a record is the tune, tune, and the tune".

MORE ABOUT
GEORGE THOROGOOD
A blues-rock guitarist who draws his inspiration from Elmore James, Hound Dog Taylor, and Chuck Berry, George Thorogood never earned much respect from blues purists, but he became a popular favorite in the early '80s through repeated exposure on FM radio and the arena rock circuit. Thorogood's music was always loud, simple, and direct — his riffs and licks were taken straight out of '50s Chicago blues and rock & roll — but his formulaic approach helped him gain a rather large audience in the '80s, when his albums regularly went gold. Originally, Thorogood was a minor-league baseball player but decided to become a musician in 1970 after seeing John Paul Hammond in concert. Three years later, he assembled the Destroyers in his home state of Delaware; in addition to Thorogood, the band featured bassist Michael Lenn, second guitarist Ron Smith, and drummer Jeff Simon. Shortly after the group was formed, he moved them to Boston, where they became regulars on the blues club circuit. In 1974, they cut a batch of demos which were later released in 1979 as the Better Than the Rest album. Within a year of recording the demos, the Destroyers were discovered by John Forward, who helped them secure a contract with Rounder Records. Before they made their first album, Lenn was replaced by Billy Blough. Thorogood & the Destroyers' eponymous debut was released in early 1977. The group's second album, Move It On Over, was released in 1978. The title track, a cover of Hank Williams' classic, was pulled as a single and it received heavy FM airplay, helping the album enter the American Top 40 and go gold. Its success led to MCA's release of Better Than the Rest, which the band disdained. In 1980, Ron Smith left the band and the group added a saxophonist, Hank Carter, and released their third album, More George Thorogood and the Destroyers. Following the release of More George Thorogood, the guitarist signed with EMI Records, releasing his major-label debut, Bad to the Bone, in 1982. The title track of the album became his first major crossover hit, thanks to MTV's saturation airplay of the song's video. The album went gold and spent nearly a full year on the charts. Thorogood's next three albums after Bad to the Bone all went gold. Between Bad to the Bone and Thorogood's next album, 1985's Maverick, the Destroyers added a second guitarist, Steve Chrismar. By the beginning of the '90s, Thorogood's audience began to decrease. None of the albums he released went gold, even though the title track from 1993's Haircut was a number two album rock hit. Despite his declining record sales, Thorogood continued to tour blues and rock clubs and he usually drew large crowds; subsequent efforts included 1997's Rockin' My Life Away, 1999's Half a Boy/Half a Man, Live in '99, 2003's Ride 'til I Die, and 2006's The Hard Stuff. © Stephen Thomas Erlewine, allmusic.com