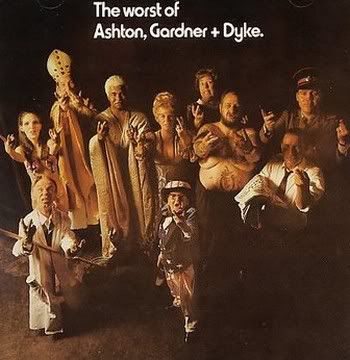 Ashton, Gardner And Dyke
-
The Worst Of Ashton, Gardner And Dyke
-
1971
-
Capitol
Ashton, Gardner and Dyke were a good British jazz/blues rock band from the late sixties, early 1970s. They released a few dud singles before releasing the huge radio hit, "Resurrection Shuffle". This was a brilliant R&B/funky track with terrific horn playing. The song hit No.3 in the U.K charts, and stayed there for fourteen weeks. It also reached No..22 in Germany and No..40 in the USA. A huge achievement for such an unknown band. "Resurrection Shuffle" typecast them, and not unusually, the public expected more of the same. Sadly, everything A,G&D released after this was compared to this song, and so, like so many good bands, they fall into the "One Hit Wonder" category. There was more to Ashton, Gardner and Dyke than "Resurrection Shuffle". This album has a mixture of soul-flavoured blues-rock , with a light, jazz rock touch throughout the album.,with shades of Procul Harum, and even BS&T. There are also some late sixties type psychedelic rock flavours, reminiscent of early Moby Grape, and some Cream type hard rock sounds. Eric Clapton and George Harrison played on "I'm Your Spiritual Breadman" and Stan Webb from Chicken Shack played on "Let It Roll". It's not a groundbreaking album, but is a good record, and it has it's moments. Although Ashton, Gardner And Dyke had success with other bands, they could have improved as a unit, and with stronger material, would have gone further. If you can find it, try and listen to the bands 1969 s/t album, and their "What A Bloody Long Day It's Been" album.
TRACKS
1. Let It Roll
2. I'm Your Spiritual Breadman
3. Hymn to Everyone
4. Mention My Name
5. Don't Want No War No More
6. Momma's Getting Married
7. Paper Head, Paper Mind
8. Oh Lord
9. Sweet Patti O'Hara Smith
10. Mister Freako
MUSICIANS

Tony Ashton R.I.P - Organ, Vocals
Kim Gardner R.I.P - Bass
Roy Dyke - Drums
Eric Clapton, George Harrison, Stan Webb - Guest Guirars
P.P.Arnold - Guest Vocals
BIO
(Wikipedia)
Ashton, Gardner and Dyke was a power rock trio, most popular in the early 1970s. Founding band member, Tony Ashton first met the drummer Roy Dyke, when playing with various Blackpool based groups. Ashton was invited to join the Liverpool beat group, The Remo Four as organist/vocalist, whilst Roy Dyke became the group's drummer, having joined them in 1963. Their best work came in 1966 when they released their album Smile!. Before their break-up in 1968, they backed George Harrison on his album Wonderwall Music. Ashton and Dyke then joined forces with the bass guitar playing Kim Gardner, who had previously played in minor British groups, The Birds and The Creation. The triad simply called themselves Ashton, Gardner and Dyke. Mick Liber formerly of Python Lee Jackson played lead guitar with the group. They released their first single "Maiden Voyage"/"See The Sun In My Eyes" on Polydor Records in 1969, but it flopped. However, their next single release on Capitol Records, made them household names. It was entitled "Resurrection Shuffle". They poached their brass section, Lyle Jenkins and Dave Caswell, from Birmingham band Galliard. It entered the UK singles chart on 16 January 1971, had a chart life of 14 weeks and peaked at Number 3, and reached number 40 in the US Charts. This one-off triumph ultimately garnered for them the tag of one-hit wonder. Equally unfortunately, their follow-up single "Can You Get It" lacked the general boisterous appeal of "Resurrection Shuflle", and failed to chart. Nevertheless, Ashton Gardner and Dyke persevered and recorded three albums. Their last recording together was a collaboration with Jon Lord on the soundtrack for a b-movie called "The Last Rebel", starring former gridiron star, Joe Namath. Ashton also appeared on Jon Lord's first solo album Gemini Suite in 1972. The trio finally split the same year. After their demise, Tony Ashton went on to play for Medicine Head, and was briefly in Family before teaming up again with Deep Purple's Jon Lord in Ashton & Lord. Later still he appeared with Lord and Purple's drummer Ian Paice as Paice, Ashton & Lord. Dyke and then Gardner joined Badger. Ashton died of cancer, on 28 May, 2001. Gardner also died of cancer in 2001, in Los Angeles on 24 October (also aged 55).
MORE ABOUT THE BAND
An esteemed, Jazz-Blues Rock power trio. Vocalist / keyboard player Tony Ashton, an ex-member of North West band THE EXECUTIVES born March 1st 1946 in Blackburn, and drummer Roy Dyke, a Liverpool native born February 13th 1945, had met with Liverpool Beat group THE REMO FOUR during 1963, releasing the 'Smile!' album in 1966. With the dissolution of this group the duo sessioned for GEORGE HARRISON on his 1968 album 'Wonderwall Music' and also backed P.P. ARNOLD on a UK tour. Ashton and Dyke forged a union with bass guitarist Kim Gardner, born January 27th 1946 in Dulwich, London and previously a member of Middlesex based THE BIRDS, flanking future ROLLING STONES man Ronnie Wood, and THE CREATION, in a brand new triumvirate taking the title ASHTON, GARDNER AND DYKE. They would be boosted to a quartet with the addition of the PYTHON LEE JACKSON credited lead guitarist Mick Liber. Polydor Records took the band on for a single 'Maiden Voyage' / 'See The Sun In My Eyes' in 1969. However, this effort failed to make an impression. ASHTON, GARDNER AND DYKE switched labels to Capitol. Their next outing, 'Resurrection Shuffle' featuring Lyle Jenkins and Dave Caswell, both from Birmingham act GALLIARD on brass, hit the UK charts in style, peaking at number 3 in January 1971. A major radio hit, 'Resurrection Shuffle' hung on for a 14 week tenure on the charts and hit no. 22 in Germany and no. 40 in the USA. Unfortunately a follow up, 'Can You Get It' / 'Delirium', did not chart. Despite this, ASHTON, GARDNER AND DYKE persevered issuing the 1971 album 'The Worst Of Ashton, Gardner And Dyke'. This set was highlighted by the song 'I'm Your Spiritual Breadman', featuring notable guests ERIC CLAPTON and GEORGE HARRISON. In addition, CHICKEN SHACK's Stan Webb played guitar on 'Let It Roll'. 'What A Bloody Long Day It's Been' arrived in 1972 but did not register on the charts. Their swansong came in the form of a collaboration with DEEP PURPLE keyboard player JON LORD with the soundtrack to a movie entitled 'The Last Rebel' starring erstwhile gridiron star Joe Namath. Ashton also involved himself with Lord's 1972 solo album 'Gemini Suite'.That same year ASHTON, GARDNER AND DYKE folded. Subsequently, Tony Ashton worked heavily with Jon Lord in ASHTON & LORD and PAICE ASHTON LORD as well as a tenure in CHICKEN SHACK. His skills have found him much in demand having appearances on the legendary GREEN BULLFROG sessions, solo albums for JON LORD and JOHN ENTWISTLE as well as TUCKY BUZZARD, THIRD WORLD WAR, WINGS and FAMILY. Gardner and Dyke founded BADGER with ex-YES keyboard player Tony Kaye. Dyke later joined the PAT TRAVERS band. Tony Ashton died of cancer on May 28th 2001. Kim Gardner also passed away due to cancer in Los Angeles on October 24th 2001. Credit/s: Garry Sharpe-Young Copyright: © 2001-2008 Musicdetector Websites