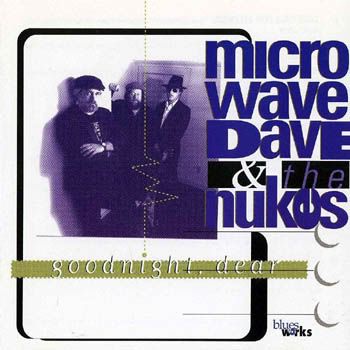 Microwave Dave and the Nukes
-
Goodnight, Dear
-
1995
-
Blues Works
"This band deserves high marks as a true blues band that is keeping alive the blues tradition while adding originality and personality to the music." © BLUES REVUE
"Dave turned the public into a shouting and dancing crowd, and such moments were rare with the other bands." © BACK TO THE ROOTS (Belgium)
This Huntsville, AL trio are joined by a host of guest musicians. Dave Gallaher's vocals are Georege Thorogood-like, gruff and alcohol hones. His guitar work is strong and rocking, and he's pretty nifty on the maraccas as well. Jerry Mccain does a beautiful harp job on Last call For Alcohol. Rick Godfrey's bass and Mike Alexander's drumming, on most of the tracks, provides a solid rhythmic force. A number of tracks start with acoustic, deltaesque openers and after a few bars, break into serious jumping . An exception is Peace In The Alley, a gentle acoustic tribute track. Bo Diddley is paid humorous homage with his traditional sound. Born To Boogie Woogie is a fast swing-like tune with a good middle build-up. Got My Mind Made Up has great slide work and breaks into gentle, slightly distorted, skin-tingling guitar rifts. They do Body And Fender Man with a background road trip rhythm. Don't You Just Know has a Louisiana feel. Atomic Powered also has a cajun touch with a touch of latin/surf guitar. The acoustic start of Highway's Like A Woman breaks into slide with spine-moving fretwork and fill-in-the-blank humor making this tune especially fun.
N.B
:
The 1995 release propelled the band to Europe when their cover of Bo Diddley's "Road Runner" became a soccer stadium smash in Paris and subsequently a solid dance hit across America. Goodnight, Dear was re-released in Europe as Nothin' But The Blues on the Dixie Frog label.
Two other selections from the album appeared in the film soundtrack of The Poor & Hungry, broadcast on the Independent Film Channel, but "Road Runner" has remained the top seller and most-leased record in the Icehouse catalog to date. Buy the band's great "Down South Nukin'" album.
TRACKS / COMPOSERS
1. Last Call For Alcohol - Gallaher
2. Pay Bo Diddley - Wilson/Nicholson
3. Born To Boogie Woogie - Gallaher
4. Got My Mind Made Up - Williams
5. Road Runner - McDaniel
6. If The Four Winds Don't Change - Reed
7. 20% Alcohol - Hutto
8. Nothin' But The Blues - Nicholson/Smith
9. Body And Fender Man - Pomus/Robillard
10. Start Me To Drinkin' - Godfrey
11. Atomic Powered - Boyer/Thurman
12. Highway's Like A Woman - Mayfield/James
13. Jesus Was Smart - Gallaher
14. Peace In The Alley (For Arvine Clark) - Gallaher
MUSICIANS
Dave Gallaher (vocals, guitar);
Kelvin Holly (guitar);
Scott Boyer (guitar, background vocals);
Jerry McCain (harmonica);
Joe Walk (piano);
N.C. Thurman (electric piano);
Rick Godfrey (bass, background vocals);
David Hood (bass);
Mike Alexander, Roger Hawkins, Bill Stewart (drums)
BIO
Eighteen-plus years of performances in the U.S and Europe and six albums—with more on the way—have helped Microwave Dave & The Nukes establish a wide multinational audience. Venues vary from French soccer stadiums to Bike Week in Daytona Beach, from blues cruises on the Big Red Boat to neighborhood saloons, but the thousands of shows delivered by the band all reflect one core element: the heritage blues music enjoys as a lifter of spirits. As Microwave Dave puts it: "Blues is America's first—and still best—self-help program." While major-label stars gauge success by sales figures and chart positions, the predominate barometer for traditional blues artists is simpler: repeat bookings. Microwave Dave & The Nukes' annual itinerary features music festivals and holiday engagements that have billed the act for fifteen consecutive years; motorcycle events for more than a dozen; and a considerable list of major hotels, international deep water fishing tournaments, schools and social organizations that re-acquire the group's services year after year. Indeed, it is such continuous work that led the Alabama Blues Society to present the band it's Blues Achievement Award in 2001, "for accomplishments in performing, writing and preserving blues music." Formed in 1989, Microwave Dave & the Nukes' blues apprenticeship included a three-year stint as Jerry 'Boogie' McCain's back-up band, interspersed with shows backing Bo Diddley both of whose styles are integral flavors in the band's recipe. Microwave Dave produced Gotta Get A Cadillac as a cassette release in 1991; the album was re-released and promoted world-wide on compact disc by Australia's Full Moon Records in 1999. Producer Johnny Sandlin, legendary in his work with the Allman Brothers Band, Delbert McClinton, and Widespread Panic among others, recorded the group's next release, Goodnight, Dear, for Ice House (BluesWorks) Records. The 1995 release propelled the band to Europe when their cover of Bo Diddley's "Road Runner" became a soccer stadium smash in Paris and subsequently a solid dance hit across America. Goodnight, Dear was re-released in Europe as Nothin' But The Blues on the Dixie Frog label. Two other selections from the album appeared in the film soundtrack of The Poor & Hungry, which has enjoyed broadcast on the Independent Film Channel, but "Road Runner" has remained the top seller and most-leased record in the Icehouse catalog to date. Johnny Sandlin returned to produce 2000's Wouldn't Lay My Guitar Down for Duck Tape Records, on which Microwave Dave fronted an all-star band of veteran players from the Muscle Shoals Rhythm Section, The Amazing Rhythm Aces, Cowboy, and Little Richard's band. The title cut and a swampy cover of Roosevelt Syke's "Don't Care Blues" became staples on XM Satellite Radio's 'Bluesville' channel, and "Hat" was later covered by Little Milton. Atomic Electric was released on the Distant Farmer label in 2003. Producer/engineer Tom Gallaher returned to the band's own players and, utilizing vintage analog methodology and gear, garnered the best critical responses for the band's music to date and Atomic Electric found a home on many blues program playlists. The album scored well at Canada's REAL BLUES Awards, gathering wins in the 2003 Southern blues releases and Southern blues band categories, and naming Microwave Dave "2003 Southern Blues Guitarist Of The Year/Modern." "Trail Of Tears", the LoweBow instrumental composed by Dave for the album, received a nomination in the "Best Other Instrument" category from Nashville's Music City Blues Society in the fall of 2004. American Peasant is Microwave Dave's fifth cd, a live recording documenting the groundbreaking solo electric blues style Dave has developed utilizing real-time loop accompaniment. The Distant Farmer release, also produced by Tom Gallaher, received excellent notices internationally and is the premier release showcasing live looping in the traditional blues idiom. An invitation to perform live on Public Radio International's "Whad'ya Know? With Michael Feldman" in November 2006 brought the band high praise from the broadcast's 1.5 million listeners on XM Satellite Radio and National Public Radio stations nationwide, adding power to the launch of the Nukes' long-awaited live album, Down South Nukin', also produced by Johnny Sandlin for Rockin' Camel Records. MICROWAVE DAVE (Dave Gallaher) was born in Chicago, raised in Texas and has lived most of his life in the Deep South. His first performances were in the children's choir at First Presbyterian Church in Amarillo, Texas, and he heard his first blues songs there on late-night radio. After moving to Dallas, then Houston, Dave took up ukulele, followed by his father's old Stella guitar when the uke broke. After a few accordion lessons, he began studying trumpet in the 7th grade, continuing on several brass instruments in school while picking guitar at home and listening to the all-night blues dj's on KYOK. During his sophomore year in high school, he was switched from French horn into the drum section for football season, and began playing a drumkit as well, landing a job in the Houston Oilers' dixieland band, called the Supersonic Philharmonic during the AFL's inaugural season. When Dave's family relocated to Atlanta, his exposure to soul music and r&b began to supplement his blues and dixie background, and a Fender bass got him jobs in several area bands. After high school graduation (during which he produced and participated in a Beatles act), he enrolled as a journalism major at Georgia State College and formed the Majestics to play horn-driven r&b, and the band worked the college circuit initially before finding employment at Atlanta's top chitlin circuit venue, the Royal Peacock. There, the Majestics backed Carla Thomas, William Bell, The Tams, Billy Stewart and appeared with a young Aretha Franklin and began to secure occasional session work. However, before the band could hit full stride, the Viet Nam draft began pulling members, and soon Dave was in the Air Force as an intelligence specialist and on his way to Saigon. During his tour in Viet Nam, Dave found solace in a GI soul band called the Rotations, with members coming and going as their tours completed. During this period, he made the decision to become a full-time musician after the service, and following his reassignment to Langley AFB, Virginia (where he played at rough backwoods jukes in a band called the Empacts), he mustered out and enrolled as an arranging and composition major at Berklee College Of Music in Boston with guitar as his instrument. In Boston, Dave joined the Cameron Company and moved to Ft. Lauderdale, Florida for a twelve-year run. Eventually renamed Cameron, the band recorded three albums and played 300+ dates a year, including many concert appearances with name attractions of the period. During this period, Dave met and studied blues guitar with Johnny Shines in Tuscaloosa, Alabama. The last Cameron recordings, accomplished in Muscle Shoals, Alabama under producer Barry Beckett, fostered connections that led Dave into the Thrasher Brothers, a Grammy-winning gospel group that was courting mainstream country audiences. During three years of Nashville-based touring, Dave began to long for music that was closer to his blues/r&b foundation, and he moved to Huntsville, Alabama in the mid 1980s and took up woodworking, and the Nukes were formed in 1989. Concurrently, an opportunity to produce a local blues radio program began Microwave Dave's sideline as a dj and host. His programs were nominated for a WC Handy award in 1995. Around 1993, Dave began playing regular weeknight solo blues performances in Huntsville when the Nukes were not on tour. Both radio and solo work are ongoing. RICK GODFREY plays bass, neck-rack harmonica and sings backup vocals in the band. A Huntsville native, Rick worked for twenty years as a visual artist in stained glass and woodworks in his own shops. His lifelong desire perform music was first exercised when he was drafted to play bass in a 7th grade talent show, and he took up acoustic guitar during high school, writing songs and occasionally performing in public. Dave began working for Rick in 1987 and the band was born during lunch-hour jams in the woodshop, Rick returning to the bass. When the group suddenly found itself booked on a public radio fundraiser, his on-the-job training in professional musicianship began in front of audiences hungry for blues. Since no formal instruction was involved, Rick developed a unique thumb-and-fingers style that is conceptually his own. This style was further individualized by his altering the tuning on his Fender Telecaster bass to match the lower four strings of a five-stringed instrument, and the deeper tones add to the large sonic footprint of the Nukes. Rick continues to write songs, some of which are in the band's recordings and live playlists, and his domestic and overseas performances have continued without missing a single gig since the band was launched. Recently, Rick has begun a series of acoustic guitar solo performances in the Tennessee Valley on the band's nights off, featuring an entire repertoire of his original compositions. JAMES IRVIN has taken over the drum-chair in the Nukes, beginning with performances at the Trail of Tears Ride on September, 2004, replacing Skip Skipworth after his departure from the band following six and one-half years of fine performances. James was born into a musical family in Decatur, Alabama, and his first performances were at home jam sessions, where he played snare drum from age 4 onward. His eighth birthday got him his first drum kit, but by 10 he was learning to play bass and guitar as well on a diet of classic rockers such as Buddy Holly and His Crickets, Creedence Clearwater Revival and Dire Straits. This experience allowed him to secure his first professional performances at the young age of 15, working local dances, parties and VFW clubs with more experienced musicians. James' solid groove and creative accompaniment led to offers with a number of country bands around his hometown of Arab, Alabama. Two years later, James recorded demos featuring his singing and a twelve-string guitar for the purpose of working solo gigs. While he was successful in landing his first solo at the Kaffeeklatsch in Huntsville in 1999, little work availability in this mode at that moment influenced him to accept slots in larger local acts on guitar and bass that eventually appeared at area festivals and provided James experience with larger audiences, and these associations led to his becoming the 'house drummer' at Sunday blues jams and Monday open mics. It was at the Kaffeeklatsch Sunday night blues jam that Microwave Dave first encountered James' drumming, and he was invited to join the Nukes on the spot. His work has garnered him consistent praise from long-time Nukes devotees who are happily surprised to see a young man play the blues so well. JamBase Inc. All Rights Reserved. © 1998 - 2009
MORE ABOUT
MICROWAVE DAVE
(DAVE GALLAHER)

MICROWAVE DAVE (Dave Gallaher) was born in Chicago, raised in Texas and has lived most of his life in the Deep South. His first performances were in the children's choir at First Presbyterian Church in Amarillo, Texas, and he heard his first blues songs there on late-night radio. After moving to Dallas, then Houston, Dave took up ukulele, followed by his father's old Stella guitar when the uke broke. After a few accordion lessons, he began studying trumpet in the 7th grade, continuing on several brass instruments in school while picking guitar at home and listening to the all-night blues dj's on KYOK. During his sophomore year in high school, he was switched from French horn into the drum section for football season, and began playing a drumkit as well, landing a job in the Houston Oilers' dixieland band, called the Supersonic Philharmonic during the AFL's inaugural season. When Dave's family relocated to Atlanta, his exposure to soul music and r&b began to supplement his blues and dixie background, and a Fender bass got him jobs in several area bands. After high school graduation (during which he produced and participated in a Beatles act), he enrolled as a journalism major at Georgia State College and formed the Majestics to play horn-driven r&b, and the band worked the college circuit initially before finding employment at Atlanta's top chitlin circuit venue, the Royal Peacock. There, the Majestics backed Carla Thomas, William Bell, The Tams, Billy Stewart and appeared with a young Aretha Franklin and began to secure occasional session work. However, before the band could hit full stride, the Viet Nam draft began pulling members, and soon Dave was in the Air Force as an intelligence specialist and on his way to Saigon. During his tour in Viet Nam, Dave found solace in a GI soul band called the Rotations, with members coming and going as their tours completed. During this period, he made the decision to become a full-time musician after the service, and following his reassignment to Langley AFB, Virginia (where he played at rough backwoods jukes in a band called the Empacts), he mustered out and enrolled as an arranging and composition major at Berklee College Of Music in Boston with guitar as his instrument. In Boston, Dave joined the Cameron Company and moved to Ft. Lauderdale, Florida for a twelve-year run. Eventually renamed Cameron, the band recorded three albums and played 300+ dates a year, including many concert appearances with name attractions of the period. During this period, Dave met and studied blues guitar with Johnny Shines in Tuscaloosa, Alabama. The last Cameron recordings, accomplished in Muscle Shoals, Alabama under producer Barry Beckett, fostered connections that led Dave into the Thrasher Brothers, a Grammy-winning gospel group that was courting mainstream country audiences. During three years of Nashville-based touring, Dave began to long for music that was closer to his blues/r&b foundation, and he moved to Huntsville, Alabama in the mid 1980s and took up woodworking, and the Nukes were formed in 1989. Concurrently, an opportunity to produce a local blues radio program began Microwave Dave's sideline as a dj and host. His programs were nominated for a WC Handy award in 1995. Around 1993, Dave began playing regular weeknight solo blues performances in Huntsville when the Nukes were not on tour. Both radio and solo work are ongoing. © www.vergie.com/microwave_dave.html