Motor City Josh
&
The Big 3
-
Covered Up
Live
-
2007
-
Cock Records
"Seeing Motor City Josh and his band live is like riding on a Mississippi river boat during a storm. The rhythm section churns the waters like a paddle wheel and Josh's guitar brings on the lightning. He extracts sounds from his Fender Telecaster like a mad surgeon who knows exactly what he's doing, but is having a little too much fun doing it." Phranc D'Lux The Scene ( Atlanta )
"Unlike so many younger players, Josh consistently resists the temptation to go blazing over the top, choosing instead to seek and find each and every note for just the right occasion." The Metro Times ( Detroit )
"It's very rare you come across something genuinely different in the Blues idiom. Step right up Motor City Josh." Sound Check Magazine ( United Kingdom )
"Josh is a masterful guitarist! The picking is just jaw droppingly good..." Blues Bytes Online
"Ford is a smooth slider with an angry vibrato..." Blues Review Magazine
"It's serious Blues" The Atlanta Constitution Journal
A terrific live album from the great Detroit bluesman, Motor City Josh & his band, The Big 3. This is great "down home" blues. The covers here are amazing. George Harrison would have loved the band's version of "Something". Music like this is what the blues is all about. Albums and artists like this have got to be promoted. MCJ has performed or shared the bill with Buddy Guy, Leon Russell, Buddy Miles, Delbert McClinton, Savoy Brown,The Wooten Brothers, Gatemouth Brown, Cheap Trick, Tinsley Ellis, Robert Jr. Lockwood, and many many more blues greats. Don't neglect artists like this. Buy MCJ's "Made In Detroit", and "Forty Four" albums. Info from http://www.motorcityjosh.com/home.html Really electrifying stuff
TRACKS / COMPOSERS
Born Under a Bad Sign - Booker T.Jones/William Bell
Dust My Broom - Robert Johnson
Jessica - Dickey Betts
Something - George Harrison
Little Red Rooster - Willie Dixon
Boogie Thing - Matt "Guitar" Murphy
Shes 19 Years Old - McKinley Morganfield
I Cant Be Satisfied - McKinley Morganfield
On Line - Jim David
Honey Hush - Lowell Fulson/Ferdinand Washington
The Little Drummer Boy - Davis/Onorati/Simeone
Stopped by the Poe-Poe - "it just happens"
BAND
Motor City Josh - Guitar, Vocals
Johnny Rhoades - Guitar, Vocals
Chris Wiley - Bass
Justin Headley - Drums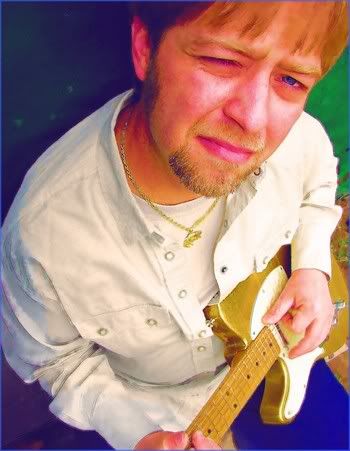 SHORT BIO
Joshua Ford aka Motor City Josh is a straight up singin', guitar slingin', songwriting, crowd-pleasing Blues man. Son of a preacher man and woman, at 33 Josh has achieved incredible success and proves to be one of the most skillful and animated Blues performers around. An absolute entertainer, Josh manages to keep everyone happy no matter what their age or musical tastes - Everybody loves Motor City Josh & the Big 3! Having played all over the US and in Europe since 1989, his fan base continues to grow and grow, as do his CD sales. Josh has recorded 7 albums and sold over 30,000 copies from the stage and through his website motorcityjosh.com. Josh is popular for both his award winning ( International Blues Finalist 2003) foot stomping downhome Blues solo acoustic act, and his electrifying 'funky blues you can't refuse' 4-piece band. The Detroit native spent 10 years working up an MCJ frenzy in the Motor City area, then moved to Atlanta in 1999 to do the same. In 2003 he moved to Chicago, where he recruited bassist extraordinaire, Chris Douglas. After a year in Chicago, he moved back to Detroit where he then enlisted the services of Joe Neely on keyboards and Matt Kelly on drums. Now, Motor City Josh & the Big 3 at it again, doing what they does best.... making people smile, dance, laugh and get high on life.