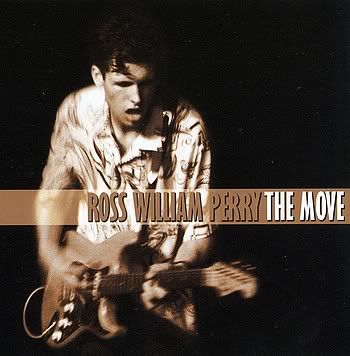 Ross William Perry
-
The Move
-
2003
-
Ross William Perry
Ross William Perry has been quoted as saying, "A lot of people put a stereotype on blues and shut it out," he said. "I think a lot of people think blues music is moping around in your sorrows. But people can pick up on the vibe that we're having a good time".
The Minnesota guitarist and singer is a talented guy. "The Move" is quite a good blues rock album, with many blues, jazz, and rock influences. Everything is played and sung well, but perhaps the material could be stronger. Ross William Perry is an excellent lyricist, but as enjoyable as the tunes are, they suffer from a "sameness" and lack of originality at times. This is not a major criticism, as the guy will obviously improve. He has the potential to be a Grade A Bluesman. For a far better understanding of Ross William Perry's talents, buy his brilliant "Live: Blues In Greenville" album which comtains 12 great covers, including outstanding versions of Elmore James' "Wild About You Baby", Jimi Hendrix's "Manic Depression", and Stevie Wonder's "Superstition". Promote this great talent !. Check out http://www.rosswilliamperry.com/index.htm for more info
TRACKS

1.The Move
2.Too Much Of This
3.Without You
4.Take It All
5.Another Deal Gone Bad
6.Everything's Alright
7.Drive Me Wild
8.Waiting
9.One Night Stand
10.Almond Sundae
All songs composed by Ross William Perry
MUSICIANS
Ross William Perry: vocals, guitars, and percussion
Scott Schultz: drums and percussion
Brad Pelkey: bass guitar and percussion
Tom Garneau and Jimmy Silloway: percussion
QUOTES
"I've played with most of the young, up coming guitarists, but Ross just might be one of the best ever."
- Debbie Davies, blues singer/guitarist
"Ross William Perry lit up and literally burned down the main stage. With his powerful, passionate guitar work and steadily improving vocals, Ross had the crowd standing and cheering for more in the middle of his set."
- Richard Benson, Twin Cities Blues News
"Ross William Perry never fails to impress. The kid is a full package. Great vocalist, chilling and talented guitarist and an artist that understands and respects the blues."
- Tom Tourville, Twin Cities Blues News
"He's only 19, but he sure plays like a seasoned veteran."
- Blues Deluxe Radio of Arlington, Texas
"This kid won't be the next blues prodigy, he already is. He has some amazing lyrics that tell a great story."
- Mike Lahti, KUMD Radio Duluth, MN
"Perry proved that he is a 'true voodoo chile'. The band epitomized the blues with fervor, intensity and pure talent."
- Daily Reporter/Spencer Iowa
"Another not-yet-20 virtuoso. His new CD is a fine collection of licks with excellent vocals."
- Ed Ivey, Blues Revue Magazine
"Not yet of drinking age, Perry has great road-dog instinct. Anybody who leads a release with a blasting cover of surf hymn "Pipeline" knows how to stoke a crowd. Perry's sweat-soaked leads have punk-rock energy and classic Texas electric blues intensity."
- Blues Revue
"Ross William Perry has done his homework."
- Twin Cities Blues News
"Can Minnesota handle yet another teenage blues-rock star? Yes, indeed!"
- Tom Surowicz, Minneapolis Star Tribune
REVIEW
The last few years have seen the emergence on both sides of the pond of power trio blues bands who place the emphasis more on rock than blues. Although this has upset some of the more conservative blues journalists, the situation is perhaps understandable as it gets harder for bands to make a living out of just playing straight blues. On the evidence of "The Move," twenty-something mid-west guitarist Ross William Perry will be upsetting a few journalists, then. Perry hits the ground running with the title track. This instrumental has a solid Chuck Berry beat underpinning it, courtesy of Scott Schultz (drums) and Brad Pelkey (bass). Perry is content to keep things relatively restrained, and gets positively mellow on the opening of "Too Much Of This" which has a touch of Hendrix's "The Wind Cries Mary" about it. Although the tune is shot through with blues, it is here that Perry's rock leanings start to emerge. If you can imagine something to the rock side of a slideless version of the Gun Club (if you can remember them) you are in the right sort of territory. The Gun Club also spring to mind on "Take It All" and "Waiting." The straightest blues tune here, "Another Deal Gone Bad," shows that Perry can take it down low and slow. It does, however, also show the limits of Perry's vocals. In general, Perry seems much more at home with the rockier material such as "Drive Me Wild" with its Robert Ward guitar tone. It is therefore somewhat ironic that the best track is the closing almost jazzy "Almond Sundae." It opens in a mellow mood, with some very tasteful guitar from Perry, sounding a little like "Gone For Good," before the band wind the pace up on the second half, but without ever straying into rock territory. "The Move" is a solid album, and Ross William Perry is an accomplished guitarist. If you like your blues served up with a fair sized helping of rock, then "The Move" fits the ticket. If you want something more traditional, however, you can safely omit it from your Christmas wants list. On the other hand, those people who like their blues with a smattering of jazz (think of people like Dave Specter in the USA and Sonny Black in the UK) should check out "Almond Sundae." If it is a taster of where Perry is heading, the next album could be a cracker. © Gordon Baxter, December 2003, © 2003 Ray M. Stiles & Blues On Stage
BIO
Many an aspiring bluesboy stoked his passion by wearing out albums of the masters and sneaking into bars to hear the locals.Count Ross William Perry among them. But the young guitarist from Minnesota did his peers one better: He raided the library.After discovering the wonders of blues guitarist Stevie Ray Vaughan, Perry made a shopping list of albums by musicians that Vaughan liked. "Then I went to the library and found a ton of books on the blues, and tried to track it that way," a very youthful-sounding Perry says."In school we had study halls. I was never doing homework, I was reading books on music and the blues."Perry, who will play at the Roadhouse on Saturday with his three-piece band, was primed at an early age to love music. His father owned a bar with live music, but more importantly jam sessions were held at the Perry house starting when Ross was about 3 years old.A few years later he was given his first guitar."I'd go out there in the living room and irritate them, strum my open-strung guitars as loud as I could and not make any music," Perry says with a chuckle."For the first couple of years Dad taught me chords, taught me some surf songs. Then when I was about 7, 8, 9, I wanted him to teach me a song. He said, 'You know what I think, it's time for you to learn on your own.' "Cutting the leash was tough on the young pup. "It really upset me. I didn't realize what he was doing back then, but I eventually figured how to play by ear."His dad had records from the Rolling Stones, Creedence Clearwater Revival and Booker T. and the MGs. Perry and his buddies were naturally drawn to that music, "but we didn't really know why.""Then I stumbled upon Stevie Ray Vaughan. I started reading some interviews that he did and found out that the style of music that we really liked and didn't know what to call was called blues music."Perry, 24, formed his first band when he graduated from high school and has performed mainly in Minnesota, Iowa and Wisconsin. The gig at the Roadhouse is part of an effort to expand the band's touring base.Perry has released two albums, 2000's "Live: Blues in Greenville," with a mix of originals and covers such as "Pipeline" and "Superstition," and 2003's "The Move," with all original songs."I enjoy writing. It's interesting to give your own perspective,"Perry says, all of a sudden sounding older. "Playing other people's songs is great, but art is about expressing yourself and sometimes you feel like you can do that better playing your own material."Perry says he struggles with his desire to remain true to the blues yet at the same time expand his horizons."I don't want people to think that I forgot my roots. I'm torn between two things because I don't want to keep doing what Howlin' Wolf and Muddy Waters have done, I want to come up with my own thing. I don't want it to be a final destination." © Kevin Sheedy, The Wichita Eagle
MORE ABOUT
ROSS WILLIAM PERRY
Twin Cities' guitar sensation Ross William Perry has been making waves on the blues scene throughout the Midwest for the past 6 years. Ross' musical education began at the age of 4 when he got his first guitar. He spent many nights tucked away in the kitchen of his dad's bar listening to the live music in the other room and playing along with the bands. One night when he was 7, one of the bands heard him playing and insisted he join them. "I reluctantly got up on stage," recalled Ross, "and played 'Pipeline' and 'Walk Don't Run' with them. I'll never forget it, my knees were shaking so much I had to sit down to play." When Ross got off stage his dad asked him if he was nervous, and he said "yeah." Then he asked Ross if he wanted to do it again, and he replied, "YEAH!" Ross was smitten. At that point he knew that this is what he wanted to do. Listening to blues music before he even knew what to call it, he knew there was something special about the blues. An early fascination with the Rolling Stones, Eric Clapton, and the Yardbirds led him to discover the roots of their music. He began listening to Albert King, Freddie King, Albert Collins, T. Bone Walker and Hound Dog Taylor and absorbed their music like a sponge. Since graduating from High School in 1998 and forming his own band, Ross has been hitting the clubs and touring the Midwest almost non-stop, developing an enthusiastic following along the way. After joining Debbie Davies on stage one night, she had this to say about Ross – "I've played with most of the young, up and coming guitarists, but Ross just might be one of the best ever." © Blues On Stage