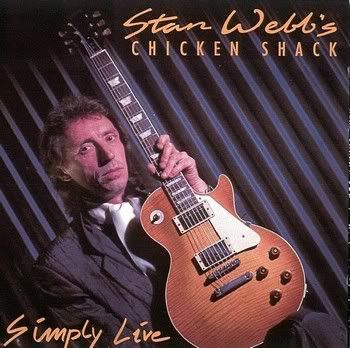 Stan Webb's
Chicken Shack
-
Simply Live
-
1989
-
SPV
(Germany)

"Simply Live" was recorded in Hamburg, Germany on March 3rd, 1989 with (Rev) Gary Davies on back up guitar and is a "must have" album for all Chicken Shack/Stan Webb fans. A superb live album from one of Britain's blues institutions, Stan Webb and the ever changing Chicken Shack. Is it true that Stan was the only UK guitarist ever to play with the great blues boogie rock band Canned Heat? You can find info on Chicken Shack's "The Collection" album @
CHICSHK/COLL
and Stan Webb's Chicken Shack "Poor Boy: In Concert 1973 & 1981 [LIVE]" album @
STANWBSCS/PBICL
TRACKS / COMPOSERS
1 Everyday - S.Webb
2 Thrill Is Gone, The - Darnell, Hawkins
3 Broken Hearted Melody - S.Webb
4 Running And Hiding - S.Webb
5 Nightlife - P. Buskirk/W. Breeland/W. Nelson
6 Sweetest Little Thing - Reznor, Webb
7 C.S. Opera - S.Webb
8 Poor Boy - S.Webb
BAND
Stan Webb - Guitar, Vocals
Gary Davies - Guitar
Dave Wintour - Bass Guitar
David Wilkinson - Keyboards
Bev Smith - Drums
BIO
So where does it all begin? According to recent CD releases Stan was born in London on February 3 1946, and then at an early age moved to Blakedown in Worcestershire, and eventually became based in nearby Kidderminster. In fact Stan's first instrument was the old favourite of the time - the tea-chest bass, an essential item for any skiffle band. It was not until he heard Barney Kessel playing guitar on an Oscar Peterson record that he decided to take up the guitar.Whatever, it was in Kidderminster that Stan put together his first group - the Blue Four. Pete Frame's Family Tree describes how his first real band was Sounds of Blue formed in 1964, a Stourbridge-based r n' b band.It included Christine Perfect, Andy Silvester and Chris Wood (later to join Traffic) amongst others in their line up. On a personal note, I was actually living in Stourbridge at the time, but I must admit I don't recall seeing Sounds of Blue although the lead singer's name (Dave Yeats) does ring a bell from my schooldays. Anyway, moving on from Sounds of Blue, in early 1965 Stan put together the first incarnation of Chicken Shack with Andy from Sounds of Blue plus Alan Morley, and then Al Sykes and then Hughie Flint and finally Dave Bidwell on drums. This line-up paid their almost obligatory rock dues in Hamburg (five hour sets at the Star Club) for a couple of years before returning to the Midlands in 1967. It was then that Christine Perfect joined them and they recorded their first album for Blue Horizon. (They had sent Mike Vernon a tape, but because the quality wasn't brilliant he came up to the Midlands to see them...and I suppose the rest is history.)You can read an account of their set at the 8th National & Jazz Blues Festival at this time here. However after the first two albums, Christine Perfect left in August 1969, ironically just as Chicken Shack achieved chart success with the single 'I'd Rather Go Blind'. Christine was replaced by Paul Raymond, ex-Plastic Penny. This line up recorded two further albums for Blue Horizon. However by the recording of the last Blue Horizon album (Accept) there were clear musical differences between Stan and Mike Vernon, and in many ways the split was inevitable, although Chicken Shack moved labels anyway. With the loss of the Blue Horizon deal, at the end of 1970 Stan disbanded this version of Chicken Shack (apparently Kim Simmonds got Paul Raymond first). According to a Canterbury Scene web site, Pip Pyle was a drummer with Chicken Shack around this time - for a very short time. He claims he was fired by Stan after laughing at his version of If I Were A Carpenter! Whatever, in early 1971 Stan launched his new three-piece set up. This version of Chicken Shack had, besides Stan, Paul Hancox on drums and John Glascock on bass. John Glascock later joined Jethro Tull, and subsequently tragically died. However it would appear that this line up lasted just a year before further changes came about - John Glascock being replaced by Bob Daisley, and then just as Unlucky Boy was being released it was all change yet again. Basically Stan's rhythm section left. For replacements he got David Wilkinson (remember that name please) on keyboards, Alan Powell on drums and Rob Hull on bass. However no sooner had they recorded a live album, with it all ready for release, when in 1974 Stan announced he was disbanding Chicken Shack and joining a reformed Savoy Brown with Kim Simmonds and Miller Anderson. By all accounts their live performances were good, and they recorded one album Boogie Brothers, but the tensions of having three composers, three guitarists, and, I imagine, three egos on board led to its inevitable demise. Kim Simmonds reformed Savoy Brown bringing back in Paul Raymond on keyboards and Dave Bidwell on drums, while Stan put together Broken Glass featuring Robbie Blunt on guitar, Mac Poole on drums and Rob Rawlinson on bass - Miller Anderson was still around as well. Broken Glass perhaps fitted in well with the kind of mid seventies calm before the punk storm, and released one album in 1975, toured for a bit, but after that they broke up (1976), and Stan was back on his own with the Chicken Shack name. For the next few years it gets difficult to track Stan's progress and bloody frustrating to get hold of his recorded output. In effect Stan put together a touring and occasional recording band. According to Pete Frame's Family Tree, Chicken Shack members during this time included Paul Martinez and Steve York on bass, Robbie Blunt on guitar, Ed Spivock on drums, and Dave Winthrop on sax. Stan continued to build on his strong popularity on the continent, especially Germany, and recorded two albums in the late seventies. Then in October 1979 a new version of Chicken Shack, with Paul Butler (ex-Jellybread, Punch n'Judy and the Keef Hartley Band) on guitar, Keef Hartley himself on drums and Bob Daisley back on bass played a one-off gig at Banbury football ground. Hmm, I was living in Banbury at the time and had no bloody idea such a gig took place till now! However it was with a rather different line-up that Stan took Chicken Shack into the 1980s. In May 1980 Stan put together yet another version of Chicken Shack. The only survivor from Banbury was Paul Butler, joining them on bass was Alan Scott and ex- TYA drummer Ric Lee. Alan Scott was soon to be replaced by Andy Pyle who was ex-Juicy Lucy, Savoy Brown, Blodwyn Pig, Colosseum II, Kinks, Keef Hartley Band amongst others! Stan and this line-up, augmented by Tony Ashton back on keyboards recorded the live Roadies Concerto album (released April 1981)which featured a more bluesy sound. However once again this line up was not to last the course, and Stan went into 1982 with a new band calling itself Stan Webb's Speedway. This featured Andy Pyle on bass, Russ Alder on drums and Miller Anderson back on second guitar. By 1983 it was back with Stan Webb's Chicken Shack, but there wasn't a really settled line-up for the next three years which saw on occasions Miller Anderson as well as Andy Scott and Andy Pyle on bass, Roger Saunders on guitar and John Gunzell on drums. By 1986 and the release of 39 Bars Stan was supported by John Gunzell on drums, Jan Connolly(Campbell?) on bass, Dave Winthrop back on saxophone and David Wilkey (or is that Wilkinson?) on keyboards. However in1987 he was touring with a line up of himself plus David Wilkinson on keyboards, Bev Smith on drums and Wayne Terry and later David Wintour on bass. By 1988 Gary Davies on 'back up guitar' had been added to the line up, and they were very much a blues band again. In 1989 a live album was released. In 1991 a new studio album, Changes, was released which revealed that James Morgan was now to be found on bass. This album featured a more mellow Stan, although he still found time to showcase a revamping of I'd Rather Go Blind and Poor Boy. However by 1993 and the release of Plucking Good it appeared that David Wilkinson was no longer around. This new line up recorded another live album in 1995, and carried on as a four-piece until 1998 when James Morgan was replaced by Jim Rudge. This was the line-up which took Stan into the 21st Century, but in 2002 Bev left, and after a couple of drummers Stan has settled with Mick Jones, and this is the current line-up in 2004 © 2009 Stan Webb's Chickenshack. All Rights Reserved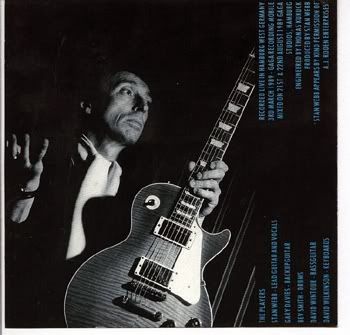 MORE ABOUT STAN WEBB
In 1968 Chicken Shack were a major signing to MIKE VERNON'S now legendary BLUE HORIZON label. Led by the mercurial Stan Webb on guitar and vocals, Chicken Shack were a band brimming full of talent, far outweighing the bands, groups and solo performers purveying the BLUES – a musical tradition in many forms, taken from the 'Folk Roots Of Black America'. Probably the bands most well known member was CHRISTINE PERFECT (later McVie) who went on at a later date to even greater fame and fortune with FLEETWOOD MAC. The late sixties were a prolific time for Chicken Shack with their first two albums "40 Blue Fingers Freshly Packed And Ready To Go" and "O.K. Ken" storming into the U.K. top twenty, whilst the singles "When The Train Comes Back" and "Tears In The Wind" also scored heavily in the charts. Stan's blistering guitar style matched with a huge stage presence have made Chicken Shack a firm favourite of rock and blues fans everywhere. Since those heady days of the late sixties a further fifteen albums have been released together with numerous compilations proving that Stan, really is "The Man".Throughout a distinguished career Stan Webb has played and recorded with the very best, including, STEVIE WONDER, HOWLING WOLF, TAJ MAHAL, PETER GREEN and CANNED HEAT, whom he joined on guitar for a U.K, tour following the departure of the bands guitarist. As the '60's have given way to the '70's; '80's and '90's, Stan Webb and Chicken Shack show no sign of slowing down, continually touring the U.K. and Europe to packed houses and rave reviews. In 1997 Stan received the BLUE HEART AWARD for services to blues in Germany, in 1996 that went to BB KING, a glowing testament to Stan Webb and his ongoing love of playing the blues. 2006 saw Stan embarked on an extension UK tour with John Mayall. "Stan The Man" shows no sign of slowing down.
CHICKEN SHACK BIO
(Wikipedia)
Chicken Shack was a British blues band, primarily of the late 1960s, consisting of Christine Perfect (vocals and keyboards), Stan Webb (guitar and vocals), Andy Sylvester (bass guitar), and Alan Morley (drums). The band was formed in 1967 and reputedly named themselves after the chicken coop in Kidderminster where they rehearsed. Their first concert was at the 1967 National Blues and Jazz Festival at Windsor and they were signed by the Blue Horizon record label in the same year. Chicken Shack enjoyed modest commercial success, with Christine Perfect being voted Best Female Vocalist in the Melody Maker polls, two years running. Christine Perfect left the band in 1969 when she married John McVie of Fleetwood Mac. Pianist Paul Raymond, bassist Andy Sylvester, and drummer Dave Bidwell all left in 1971 to join Savoy Brown. Although the band went through several subsequent incarnations, it never equalled its earlier successes. However, Webb remains as its only constant band member.
MORE ABOUT CHICKEN SHACK
Along with late 60's early 70's blues based bands such as Savoy Brown, Fleetwood Mac and John Mayall's Bluebreakers, Chicken Shack was a big part of the genre. Originally formed in 1965, Chicken Shack started out as, more or less, a house band at the Star Club in Hamburg, Germany. They signed a recording contract with the newly formed Blue Horizon label in '67. That same year, former Sound Of Blue vocalist/keyboardist Christine Perfect, who was at one time considered one of the U.K.'s finest blues vocalist, joined. With the release of their debut album, 1968's Forty Blue Fingers Freshly Packed And Ready To Serve, and their 1969 follow up, O.K. Ken, Chicken Shack was in the forefront of the British Blues boom of the late 60's. Although Perfect would leave the group in the summer of '69 to join Fleetwood Mac (she would marry bassist John McVie), Chicken Shack would continue with a good live reputation as at this point their shows were mostly based around the guitar and soulful theatrics of Stan Webb who would keep the group together through many personel changes but by 1973, Chicken Shack had run it's course as Webb would join Savoy Brown. After staying with Savoy Brown for one album, Webb formed Broken Glass which at one time included guitarist Robbie Blunt (later with Robert Plant) and drummer Keef Hartley. Webb would reform Chicken Shack under his own name in '77. Like John Mayall's Bluesbreakers and Savoy Brown, many musicians would pass through the various formations of Stan Webb's Chicken Shack through out the 80's. Through the 90's, Webb's Chicken Shack line up has remained pretty much intact as his devoted fans and fans of traditional British blues remain faithful.