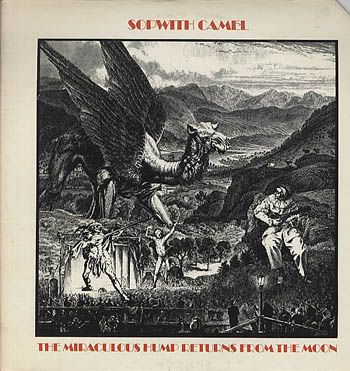 The Sopwith Camel
-
The Miraculous Hump Returns From The Moon
-
1973
-
Reprise Records
After sitting in the Warner Bros. Vault for 28 years, the Camel's long awaited early 70's album has finally been put on CD. 2002. © amazon.com
"The Miraculous Hump Returns from the Moon" made in 1971, received national attention and exceptional reviews for its evolutionary sound and direction. The recording was way ahead of it's time, and still sounds fresh today.
Peppino
gives a really well written review on this great album on amazon.com, as follows -
""HELLO HELLO"- a song that gives absolutely NO indication as to the contents of this recording. Sopwith Camel were not a guitar driven group, but rather emphasis was on jazzy and (way ahead of the current craze) "world" and quasi-Latin grooves,with sax/ keyboards sound predominant. The basslines are subtlely funky, the vocals understated in an almost "bossa nova" fashion ( as in whisper/spoken sung).The compositions are dreamy, floating sound poems, no instrumental "stretching out", but appropriate & tasteful soloing- emphasis is on the songs . What maks the musics all the more enjoyable are the scathing lyrics, in the fashion of ZAPPA & STEELY DAN in their sardonic outlook or in direct criticism of the "hippy movement" and other of life's absurdities.Quite a dadaist approach, at times.As for the musics.............. "Fazon" is the centerpiece, with its hip groove & trancelike arrangement. It was a minor "hit" on FM underground radio, and owes a little in comparison to Jimi Hendrix's suite "1983, a merman I should turn...."in lyrical content, and it's etherial sound. "Coke, Suede, & Waterbeds simply skewers the hippies, and is not only "right on" lyrically, but is a hip melody to boot! "Orange Peel" takes you closer to the Indo/Asian continent than any western rock group ever could! A great lost treasure of the early 70s is "found " again! A galaxy of stars for this release! Sopwith Camel do indeed "return from the moon", a most "miraculous HUMP"! " © Peppino, © amazon.com

A perfect description of this album by
Peppino
. Check out more of Peppino's intelligent reviews, and reviews of TSC @
Amazon
"The Miraculous Hump Returns From The Moon" is a brilliant album, and HR by
A.O.O.F.C
. More albums of this genre need to be "dusted down", remastered and re-released by record companies. There is a big demand out there for music as good as this. If you haven't heard of The Sopwith Camel before, try and track down the bands "Hello Hello" album.
TRACKS / COMPOSERS
A1 Fazon - Kraemer, MacNeil, Mayell, Beard
A2 Coke, Suede, And Waterbeds - Kraemer, MacNeil, Mayell, Beard
A3 Dancin' Wizard - Kraemer, MacNeil
A4 Sleazy Street - Kraemer, MacNeil
B1 Orange Peel - Kraemer, MacNeil
B2 Oriental Fantasy - Kraemer, MacNeil
B3 Sneaky Smith - Kraemer, MacNeil
B4 Monkeys On The Moon - Kraemer, MacNeil
B5 Astronaut Food - Kraemer, MacNeil
B6 Brief Synthophonia - Kraemer, MacNeil, Mayell, Beard
BAND
Norman Mayell - sitar, harmonica, marimba, drums, percussion
Martin Beard - bass
Peter Kraemer - vocals, flute, saxophone, ARP synthesizer
Terry MacNeil - guitar, piano
GUEST MUSICIANS
Bob Feldman - saxophone
Jim Stringfellow - saxophone, keyboards, guitar
REVIEW
Imagine a jazzy John Sebastian who's into Eastern culture and vaudeville. This is pleasant, unambitious hippie groove music for a lazy, sunny afternoon. If you're in that mood, it will take you to a warm, fuzzy place. © Mark Allan, All Music Guide
ABOUT
THE SOPWITH CAMEL
The Sopwith Camel gained some passing mentions in rock histories as one of the first San Francisco psychedelic-era bands to record for a national label; in fact, they were the first to have a Top 40 hit, with the vaudevillian "Hello, Hello" in early 1967. They were not, however, one of the best San Francisco bands, nor were they even very good or psychedelic. Usually they sounded like a second-rate Lovin' Spoonful (with whom they shared producer Erik Jacobsen), emulating the more unfortunate camp aspects of that group with sleepy, good-timey pop-folk. Personnel changes delayed completion of their first album until nearly a year after "Hello, Hello" was a hit. The record, which would have been dated had it come out a year earlier, sounded hopelessly out of touch when it finally emerged; after moving to Warner Brothers, The Miraculous Hump Returns from the Moon was released in 1972. Those two would be the Sopwith Camel's only albums, except for a comeback LP in the early '80s. © Richie Unterberger, All Music Guide
BIO
(Wikipedia)

Sopwith Camel was a rock music band associated with the San Francisco psychedelic rock scene of the late 1960s. The band formed in late 1965, and their lineup consisted of vocalist and saxophone player Peter Kraemer, guitarists Terry MacNeil and William Sievers, bassist Martin Beard and drummer Norman Mayell. Sopwith Camel is best known for being the second San Francisco band to get a recording contract with a national record label, and the first to have a Top 40 hit. Sopwith Camel released their first album (and only album recording during the 1960s), the eponymous Sopwith Camel, in 1967 on the Kama Sutra Records label. The band's only hit single, "Hello, Hello", became the first hit title to emerge from the San Francisco rock scene and reached #26 on the U.S. pop music charts in January 1967. The band's first album, and the vaudevillian "Hello, Hello" in particular, had more in common soundwise with earlier songs by The Lovin' Spoonful than typical 1960s psychedelic rock; producer Erik Jacobsen produced for both Sopwith Camel and The Lovin' Spoonful. The band was unable to follow up the success of their first album and hit single and disbanded later in 1967. Sopwith Camel's debut album has been re-released twice as Frantic Desolation in 1986 and as Hello Hello Again in 1990. Sopwith Camel reformed in 1971, and recorded their second album, 1972's The Miraculous Hump Returns from the Moon on Warner Bros. Records' Reprise label. The band broke up again in 1974. After sitting in the Warner Bros. vaults for 30 years, the Camel's 1972 album, "The Miraculous Hump Returns from the Moon," became a CD in 2001. It was called, "The Millennium Edition." In 2006, the 2nd CD release of the "The Miraculous Hump Returns from the Moon," is called "Remastered 2006".