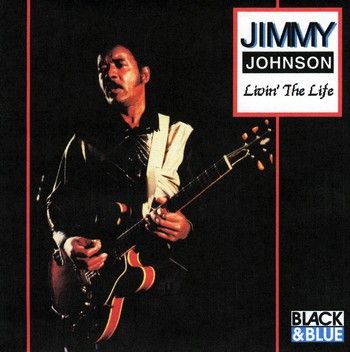 Jimmy
Johnson
-
Livin' The Life
-
1993
-
Black & Blue

Jimmy Johnson's music was once called "good ol' fashioned, head hangin' Chicago blues" by the Chicago Tribune, "Livin' The Life" lives up to that description. This is a great soulful blues album with good, understated, laid back guitar by the Mississippi born bluesman, very much in the style of Robert Cray. Jimmy was greatly influenced by bluesmen like Kenny Burrell, Matt "Guitar" Murphy, Freddie King, Magic Sam, and Otis Rush. He helped revitalize blues in the '80's with his funked-up rhythm, upper register teardrop vocals and delicately phrased jazz chords. Try and listen to his "Tobacco Road [live]" album. He also plays guitar on Dan Penn's "Do Right Man" album. Check out Jimmy's back catalogue, buy an album, and promote the blues!
TRACKS / COMPOSERS

01 - I Used To Be A Millionnaire - J.Johnson
02 - You Don't Have To Go - J.Reed
03 - Drowning On Dry Land - M.Gregory, A.Jones
04 - Something You Got - C.Kenner, A.Domino
05 - Livin' The Life - J.Johnson
06 - The Sky Is Crying - E.James, B.Robinson, C.Lewis
07 - Bring It On Home To Me - S.Cooke
08 - Pretty Baby - H.Parker Jr
09 - Born Under A Bad Sign - B.T Jones, W.Bell
10 - Quick Sand - J.Cloyd, M.Paterno, B.Finchum
11 - Where There's A Will, There's A Way - J.Lockridge
N.B:
The album was also reissued in 2002 with the bonus track "Next Time You See Me"


MUSICIANS
Jimmy Johnson - Guitar, Harmonica, Vocals
James Cloyd - Bass, Vocals
Jesse Lockridge III - Piano, Organ, Vocals
David Rusel - Drums
BIO
Grammy Award nominated guitar player and vocalist, Jimmy Johnson has carved out his own unique niche in a world renowned Chicago blues scene that is teeming with talent. A consummate bandleader, his soulful vocals and jazzy guitar licks are rendered with a tasteful passion that emphasizes the groove, placing the group sound above the individual. Jimmy's performing experience spans the globe from Europe to Japan, as well as prestigious festivals, concert halls and universities across the US and Canada. Raised in an exceptionally musical family in the small town of Holly Springs, Mississippi, Jimmy's younger brothers became professional musicians while older brother Jimmy was still working as a welder. Mac spent many years as Magic Sam's bassist, while brother Syl Johnson, became a popular soul singer with a string of R&B hits to his credit (including the original version of "Take Me To The River"). Jimmy began singing in the local church choir, and later, sang and played guitar with several spiritual groups in Memphis and eventually Chicago. It wasn't until the late fifties that Jimmy became a professional performer himself. In 1959 he began playing with bluesmen Magic Sam and Freddie King, and gigged with harmonica Slim Willis and others. Though his first love was the blues, there was a better living to be made as a R&B artist. Jimmy spent the next 20 years jobbing as a highly successful soul/R&B guitarist and bandleader on Chicago's south and west sides. But Jimmy grew tired of covering everyone else's hits. He wanted to be his own man, a bluesman. In 1974 he began his "back to the blues" campaign when he signed on as rhythm guitarist with Jimmy Dawkins. He toured Japan with Dawkins and Otis Rush, appearing on Rush's live Japanese recording and two Dawkins' studio LPs, before putting together his own band. Jimmy's approach to the blues is straight-ahead and sincere, earning him a variety of national and international awards. In 1978, Johnson's name first garnered national attention, as well as a Grammy nomination, when Alligator included four of his tracks on Living Chicago Blues, Vol 1. These cuts, and the soon-to-follow records on the Delmark label (Johnson's Whacks in 1979 and North/South in 1982), established Johnson as a witty and prolific songwriter combining elements of soul, R&B, jazz, and gospel into a blues style all his own. His first W.C. Handy Award (presented by the International Blues Foundation) for Best Contemporary Foreign Blues LP of the Year came by way of his 1985 album on the Red Lightnin' label. I'm A Jockey (1995), his first world wide release on Verve/Polygram, garnered yet another Handy Award for Comeback Album of the Year. This followed his critically acclaimed album Bar Room Preacher (1985), on Alligator Records where Village Voice called his original compositions "as thoughtful and every bit as striking as Robert Cray's." Jimmy's latest world-wide release Every Road Ends Somewhere (1999), is available on Ruf Records. Whether preaching the blues from festival and concert hall stages, or packing the dance floor at colleges and clubs, Jimmy has the special ability to please any audience, uninitiated and die-hard blues lovers alike. © 2008. SRO ARTISTS INC. ALL RIGHTS RESERVED © http://www.sroartists.com/artists/jimmyjohnson/index.php
MORE
Chicago guitarist Jimmy Johnson didn't release his first full domestic album until he was 50 years old. He's determinedly made up for lost time ever since, establishing himself as one of the Windy City's premier blues artists with a twisting, unpredictable guitar style and a soaring, soul-dripping vocal delivery that stand out from the pack. Born into a musical family (younger brother Syl Johnson's credentials as a soul star are all in order, while sibling Mack Thompson was Magic Sam's first-call bassist), Jimmy Thompson moved to Chicago with his family in 1950. But his guitar playing remained a hobby for years -- he toiled as a welder while Syl blazed a trail on the local blues circuit. Finally, in 1959, Jimmy Thompson started gigging with harpist Slim Willis around the West side. Somewhere down the line, he changed his surname to Johnson (thus keeping pace with Syl). Since there was more cash to be realized playing R&B during the 1960s, Jimmy Johnson concentrated on that end of the stylistic spectrum for a while. He led polished house bands on the South and West sides behind Otis Clay, Denise LaSalle, and Garland Green, cutting an occasional instrumental 45 on the side. Johnson found his way back to the blues in 1974 as Jimmy Dawkins's rhythm guitarist. He toured Japan behind Otis Rush in 1975 (the journey that produced Rush's album So Many Roads -- Live in Concert). With the 1978 release of four stunning sides on Alligator's first batch of Living Chicago Blues anthologies and the issue of Johnson's Whacks, his first full domestic set on Delmark the next year, Jimmy Johnson's star began ascending rapidly. North/South, the guitarist's 1982 Delmark follow-up, and the 1983 release of Bar Room Preacher by Alligator continued to propel Johnson into the first rank of Chicago bluesdom. Then tragedy struck: on December 2, 1988, Johnson was driving his band's van when it swerved off the road in downstate Indiana, killing bassist Larry Exum and keyboardist St. James Bryant. Understandably, Johnson, himself injured in the wreck, wasn't too interested in furthering his career for a time after the tragedy. But he's back in harness now, cutting a solid set for Verve in 1994, I'm a Jockey, that spotlights his blues-soul synthesis most effectively. Every Road Ends, recorded in France and released on Ruf, followed in 1999. A collaboration with his brother Syl appeared in the summer of 2002, the cleverly titled Two Johnsons Are Better Than One." © Bill Dahl © 2010 Rovi Corporation. All Rights Reserved http://www.allmusic.com/artist/jimmy-johnson-p91052/biography