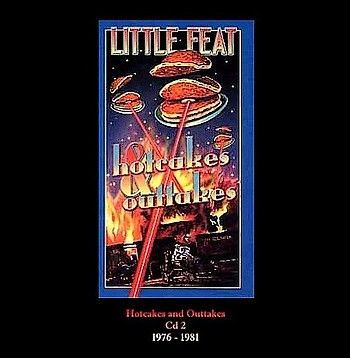 Little Feat
-
30 Years Of Little Feat
Hotcakes and Outtakes
CD 2
1976 - 1981
-
2000
-
Warner/Rhino

Rhino's four-disc box set Hotcakes & Outtakes treats all of Little Feat's incarnations with equal respect. This even-handed approach has advantages, even if Lowell George dominates the proceedings. How could he not? He was a musician of immense talents, shaping the band's core sound while building an impressive body of songs. This set reveals that the rest of the band, while not writers of George's ilk, still wrote their share of great songs and, best of all, their fusion of funk, blues, country, rock and jazz still sounded lively, even when they reunited a decade after his death. Yes, it was missing his unique brilliance and vision, yet the reunited Feat still carried the torch well, which this set proves. Still, the best thing about the box is the fourth disc, devoted to "Studio Artifacts," all dating from George's heyday with the band. Actually, it goes a little further than that, beginning with cuts from George and Roy Estrada's mid-'60s band the Factory and pre-Warner Bros recordings, plus a generous selection of outtakes and demos, including selections from George's solo album, Thanks I'll Eat It Here. It's a treasure trove for any Little Feat fan, filled with amazing cuts like the barn-storming "Rat Faced Dog" -- tracks so good, it's hard to believe they haven't been released before. The fourth disc is reason for any devoted fan to pick up this set, but is this worthwhile for the curious? Well, yes, since this offers a great summary of their fascinating career, even if it duplicates some songs at the expense of album tracks like "A Apolitical Blues" which really should be here. Even with that flaw, Hotcakes & Outtakes performs its job well, proving that Little Feat is an American rock & roll band like no other. © Stephen Thomas Erlewine, All Music Guide
"Hotcakes and Outtakes" provides a common ground for old and new fans to observe the rich, musical talents of a band that bravely never quite fit into any programmable radio format. The first three cd's offer a rich menu of the band's talents, humor, and innovative sound. Replete with an 80 page history of the band, the Little Feat story makes both sense and nonsense out of the band constantly in conflict, but totally dependent on the emotional traction each player brought to the table. However, it is the fourth cd that the die hard Little Feat fan will find the most gratifying. Here, demos and outtakes rule the day. It is a poignant reminder of a time when an entire band shunned sleek studio wizardry and produced simple nuts and bolts rock and roll. Lowell George, Billy Payne, Paul Barrer, Richie Heyward, Sam Clayton, Kenny Gradney, Shaun Murphy, Fred Tacket, and Craig Fuller all make up the tribe called Little Feat: a band intent on befuddling the record industry, and a band smart enough to go straight to their audience. Believe me, bands today could learn a few things from Little Feat (© Gene Bruner).
It is worthwhile buying the full four-disc box set "Hotcakes & Outtakes". Most reviews credit CD 4 of this release as being the most worthwhile. However the post here covers LF's 1976 to 1981 period, and includes seven live tracks of classic Little Feat, including "Fat Man in the Bathtub", "All that You Dream", "Mercenary Territory", and "Spanish Moon". Sublime stuff, and
VHR by A.O.O.F.C.
Never underestimate the importance of Little Feat . If you are not familiar with this monumental band it is worth buying their albums "Waiting for Columbus" and "The Last Record Album". They will provide you with an idea of how great rock music is supposed to sound.
TRACKS / COMPOSERS

1 Hi Roller - Barrere 3:37
2 Time Loves a Hero - Barrere, Gradney, Payne 3:48
3 Rocket in My Pocket - George 3:23
4 Old Folks' Boogie - Gabriel Paul Barrere / Paul Barrere 3:32
5 Day Time Dog Races - Barrere, Clayton, Gradney, Hayward, Payne 6:28
6 Fat Man in the Bathtub (Live) 4:57
7 All That You Dream (Live) - Barrere, Payne 4:31
8 Mercenary Territory (Live) - George, Hayward, Lowell 4:38
9 Spanish Moon (Live) - Lowell 5:01
10 20 Million Things - George, Levy 2:49
11 Down on the Farm - Payne 3:49
12 Six Feet of Snow - Gabriel Paul Barrere / Paul Barrere 2:32
13 Gringo - Payne 6:34
14 Lonesome Whistle - Davis, Williams 3:14
15 Front Page News - Payne 4:50
16 The Fan (Live) - George, Payne 6:16
17 Red Steamliner (Live) - Payne, Tate 4:57
18 Teenage Nervous Breakdown (Live) - George 4:14
CREDITS
See CD 2 Inside Cover

BIO
Read about this unique band
@
http://en.wikipedia.org/wiki/Little_Feat