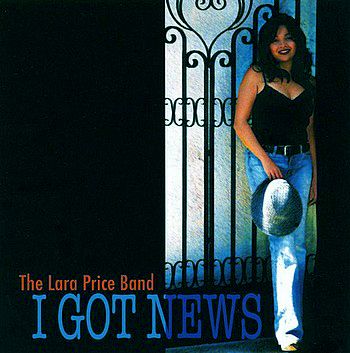 Lara Price Band
-
I Got News
-
2005
-
Price Producitons
"When you listen to Lara Price, there is a little bit of Bessie Smith, a chunk of Susan Tedeschi, a generous helping of Aretha Franklin. She's a singer with a sultry stage presence and a voice that demands your attention-smoky, lonely, sexy, and powerful". "I Got News" features mostly original songs penned by Lara and Laura Chavez. At the Fog Bank in Santa Cruz, Laura Chavez from Mountain View, California, has been called "the next Stevie Ray Vaughan", and is known as ''The girl who plays 'Little Wing,''' the Hendrix classic. "I Got News" is an exceptional album and
HR by A.O.O.F.C.
Buy the band's "Faces of the Blues" album. Read an interview with Lara Price @ http://barrelhouseblues.com/lara_price.htm and a talk with Laura Chavez @ http://triviana.com/BLUES/chavez/chavez.htm
TRACKS
I Got News
Crazy
Game of Love
Movin' On
Song For You, A
Same Ole Song
It's Alright
Little Wing
Have You Ever
MUSICIANS
Lara Price (vocals, drums, rhythm guitar)
Laura Chavez (guitar, vocals)
Jack Cannon (bass, vocals)
Alex Specht (keyboards)
Bald Head Fred (drums)
ALBUM NOTES
A Little About Lara: - With her operatic training, and love of the blues, Lara was born to perform. She has come a long way in a short time, earning loyal fans nationwide. After an impressive showcase at the Los Angeles NAMM Show 2003, Lara embarked on an ambitious tour playing from California to Maine to promote her second album entitled "Faces of the Blues," (released June 2002 at the Monterey Blues Festival; a unique honor for any local musician). The album is currently getting airplay in several countries around the world. Lara and her band have shared the bill with headliners Etta James, Little Richard, James Brown, Bobby Blue Bland and many more; Lara also lent her talent to sing back-up with Triple Seven at the Fillmore in San Francisco, opening up for the pop band Smashmouth. Lara fronts and leads 2 bands. Velvet Plum, a popular bay area cover band that lends talent from San Jose's finest musicians, and the Lara Price band, a soulful rockin' blues band. It was with the Lara Price band that she performed at the 14th world-renowned Annual San Jose Jazz Festival 2003. It's no wonder her music transcends the blues and crosses the line into music that is unequivocally superb. Her musical journey started at the young age of 6, taking piano lessons with Legendary 80's music innovator Howard Jones. At 12 she was singing solo and went on to take operatic voice lessons at Boise State University. She arrived in the Bay Area in 1998 in search for her dreams of singing in a band. Lara began running her own blues jam at JJ's Blues, and was featured in an inspiring article about blues jams in September 2000 issue of the Blues Revue. Lara fell in love with the blues without expecting to, "I didn't find the blues, the blues found me". Currently Lara looks forward to promoting her 4th CD, entitled "I Got News" with song writting partner and lead guitar player Laura Chavwez, released this year, and a Tour in China. She's an All American singer with a sultry stage presence and a voice that demands you're attention-smoky, lonely, sexy, and powerful. It's all about the love of music and letting the crown share in her passion. What they say about the duo... "Lara can belt out a song, purr through a ballad, knock you out with her sensuality and make you want to get up and dance." (Richard Kamins,Hartford Courant) ".. the proof is in the performance. Price's vocal instrument is as strong as it is sensual, confident in covering the breadth of material in her songbook." (Jeff Kaliss San Francisco Chronicle) "Laura Chavez plays the blues with such age defying tact, knowledge and finesse it's almost scary. And she is unassuming and shy off stage and on. You look at her and you can't believe these glorious sounds are coming from her fingers. She'd be worth the price of admission alone." (Brad Kava, San Jose Mercury News) "Lara Price Band with 22year old phenom Laura Chavez on guitar; they sound, amazingly, like Janis Joplin backed by Albert Collins. I hope they don't end up on the "Best Bands That Never Made It" list." (Brad Kava, San Jose Mercury News) Lara and Laura have currently been entertaining fans with a full band (The Lara Price Band) racking up great reviews from Connecticut to San Francisco. To add a different flavor to their already vast repertoire, the female duo take an acoustic adventure covering a range of songs by Etta James, Radio Head and their own creations. In a short time the 2 created a must see bluesy, rockin', sultry night of great music.
SHORT BIO
Her musical journey started at the young age of 6, taking piano lessons with Legendary 80's music innovator Howard Jones. At 12 she was singing solo and went on to train operatically with Dr. Lynn Berg at Boise State University. She arrived in the Bay Area in 1997 in search of her dream of singing in a band. By 1998 she began running her own blues jam at JJ's Blues, and was featured in an inspiring article about blues jams in the September 2000 issue of the Blues Revue. Lara fell in love with the blues without expecting to; "I didn't find the blues, the blues found me". She has come a long way in a short time, earning loyal fans worldwide. The journey of Lara's blues band (The Lara Price Band) includes 4 great CD's, a tour across the U.S.A. and China, and many performances at world renowned festivals such as the Monterey Blues Festival, San Jose Jazz Festival and Greater Ozarks Blues Festival. Lara and her band have shared the bill with headliners Etta James, James Brown, Buddy Guy, Leon Russell and many more. Lara also lent her talent to sing back-up with Triple Seven at the Fillmore in San Francisco, opening up for the pop band Smashmouth. Lara fronts and leads several musical projects: Lara Unplugged, an acoustic duo; Velvet Plum, a popular bay area cover band that includes talent from San Jose's finest musicians; the Lara Price band, a soulful rockin' blues band, and Lara Price & Yesterday's Band a wonderful mix of jazz, blues and R&B. Lara makes her reputation based on hard work, great players and great music. As of late Lara looks forward to recording a 5th CD with guitar great, Mighty Mike Schermer. She's an All American singer with a sultry stage presence and a voice that demands you're attention-smoky, lonely, sexy, and powerful. It's no wonder her music transcends the blues and crosses a line into music that is unequivocally superb. "It's all about the love of music and letting the crowd share in my passion." © http://64.233.183.104/search?q=cache:y-StWf11f0MJ:www.laraprice.com/bio.htm+Lara+Price+Band+bio&hl=en&ct=clnk&cd=1&gl=ie
ABOUT
LAURA CHAVEZ
Laura Chavez traveled the same path to the blues as countless guitar players before her: hearing Jimi Hendrix and Led Zepplin blues-rock on the radio, then finding B.B. King and falling in love with the real deal. The difference between her and most blues guitarists -- besides her being a cut or two above most club players -- is that she's only 21. ''Led Zepplin'' was released in 1969, 13 years before Chavez was born. Hendrix wowed the crowd at Monterey 15 years before she was born. And King? He was a hitmaker before Chavez' parents, Tony and Catherine, were born But here she is, all 5-foot-3 of her, pulling big, rich, sweet tones out of her Fender Stratocaster or her Gibson 335, pushing music through a 1964 Fender Super Reverb amp that is 18 years older than she is. Those little tiny hands of hers reaching around the guitar neck Hendrix style, using her thumb more than her little finger, and wrestling with heavy gauge strings -- she says she likes a guitar that fights back -- Chavez plays with soul, depth and intensity that is rare among younger players. ''I don't want to force the music,'' she says of the way she plays, ''I've never been about seeing how many notes I can play per measure.'' Instead, Chavez lets the notes stretch out when that works best for the tune, with a style that reminds of B.B. King, the late Albert King, or South Bay greats Chris Cain and Michael Osborn. ''A lot of the music I listen to isn't guitar-based,'' Chavez says. ''I listen a lot to singers ... it's more melody based.'' Chavez has been a regular at JJ's Blues in San Jose since she was 18. She wasn't allowed near the bar and had to take her breaks outside the club. She is guitarist for the excellent Lara Price Band, which used to run the Tuesday jams, and now is striking out for bigger clubs and more lucrative gigs. Weekend shows at JJ's, maybe, and shows at clubs in San Francisco, Santa Cruz, Monterey and other cities. The band recently completed a nationwide tour. Chavez herself was one of three featured players at the 2004 Guitar Extravaganza January 30, 2004, at JJ's, the other two being club vets René Solis and John Wedemeyer. Solis' band, the Persuaders, backed all three. Solis is an excellent guitarist who has played just about every type of music ever heard from an electric guitar, and usually slings a Gibson 336; Wedemeyer is a magician with his 335, doing more with it than is dreamt of in most guitarist's philosophies, Horatio. Chavez can be heard on ''Faces of the Blues,'' a fine album by the Lara Price Band for which she co-wrote (with Price) a majority of the tunes. Perhaps Chavez' best performance on that disc is ''Where ... When ... Why?'' -- which was recorded live. (To buy the CD, visit the web site for the Lara Price Band.) At the Fog Bank in Santa Cruz Chavez is known as ''The girl who plays 'Little Wing,''' the Hendrix classic. She started with classical guitar lessons when she was ''about 8,'' but ''couldn't stand the teacher. My feeling was that -- being a girl -- he wasn't sure I should be playing the guitar.'' But when she was 13 or 14, she hooked up with Greg Vaughn at Draper's Music in Palo Alto. Vaughn was willing to teach her to play By the time she was at St. Francis High School in Mountain View, she was playing guitar in the jazz band, and also playing drums. the rock 'n' roll she was interested in at the time.When she got into the blues, she started playing at the JJ's jams, hooked up with Lara Price, and now the two have one of the better blues bands working in the Bay Area. And Chavez is now teaching guitar herself at Draper's Music. ''The great thing about teaching,'' she says, is that her students get her to listen to all kinds of music that they want to play. ''There's not a single kind of music I don't listen to,'' she says, ''or that I don't like.'' And Chavez is still coming up against sexism, from fans who are surprised when the find the guitar player is a petite woman. ''People look at me and -- I always get the surprised looks -- 'What's this gonna be about?' I had one guy say, 'You're the guitar player? I'll try not to throw things at you.''' But, after the shows, Chavez gets her props. ''It's nice to see people eat their words,'' she says. (from Lara's Partner In Crime…Laura Chavez [ © John Orr, January 30, 2004 , http://64.233.183.104/search?q=cache:kXIzXv7ay-QJ:www.laraprice.com/review2.doc+Lara+Price+Band+-+Faces+of+the+Blues&hl=en&ct=clnk&cd=7&gl=ie ])